Hedman, Kucherov impacting Lightning beyond the points
Nikita Kucherov and Victor Hedman are undoubtedly two big reasons the Tampa Bay Lightning have got within a pair of wins away from lifting the Stanley Cup.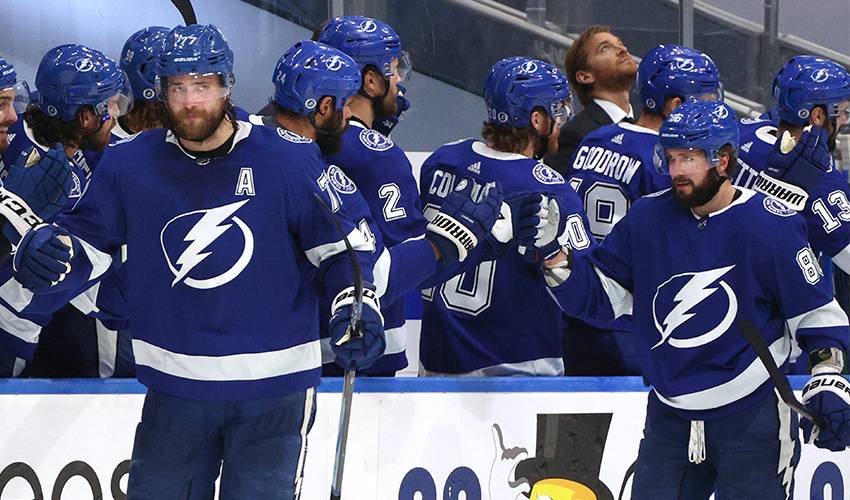 Feature photo: Getty Images
---
What do you get when you combine a Ted Lindsay Award (TLA) recipient with a Norris Trophy winner?
One of hockey's most potent one-two punches.
Nikita Kucherov (last season's TLA recipient) and Victor Hedman (selected as the league's top defenceman in 2018) are undoubtedly two big reasons the Tampa Bay Lightning have got within a pair of wins away from lifting the Stanley Cup.
Kucherov tops all players in playoff assists (23) and points (30). Hedman, who leads the way in plus/minus rating (plus-17), ranks second in goals (nine) and has 20 points to his name. With his 10th goal of the year, a Game 3 game-winning goal, Hedman became just the third defenceman in league history to reach the mark in a single playoff year, joining the likes of Paul Coffey (12) and Brian Leetch (11).
Hedman has netted three game-winning goals this post-season and Kuchervov has one.
In order to get the point about just how impactful the pair has been throughout the Lightning's 2020 Stanley Cup chase, teammate Blake Coleman suggests you actually look beyond the points.
"With Heddy, I'd say his ability to take over the game at both ends of the ice is what stands out for me," Coleman told NHLPA.com. "And he's an extremely competitive person. For Kuch, his vision is one of the best I've ever seen. Before the puck touches his stick, he already knows where all of his passing options are."
Bottom line: Hedman and Kucherov are game-changers at both ends of the ice.
In the 2019-20 regular season, Hedman recorded 55 points (11 goals and 44 assists) in 66 games while averaging 24:04 of ice time. He was third in scoring among defencemen, behind this season's fellow Norris finalist John Carlson and eventual recipient, Roman Josi. It's the third straight year the strapping Swede has been on the Norris shortlist.
The 27-year-old Kucherov, who earned the TLA, Art Ross and Hart Trophy in 2018-19, reached the 30-goal mark for the fifth straight season, lighting the lamp 33 times in 68 games. In 515 career regular-season games, the right wing has amassed 547 points.
Hedman, selected second overall by the Lightning in 2009, has 65 career post-season points in 105 games.
In 86 playoff games, Kucherov, selected 58th overall by Tampa Bay in 2011, has 89 points.
Over the first three games of the Stanley Cup Final, Hedman and Kucherov continued to contribute with a combined nine points while inserting their names into the franchise record books.
"Victor's an extremely competitive person who has become more vocal in the room as the playoffs have gone on," Coleman noted of the 29-year-old Hedman, who also serves as one of Tampa Bay's alternate captains.
Competiveness, noted Coleman, is one trait that immediately comes to mind when describing Hedman and Kucherov.
"With Nikita, he's also extremely competitive and hates to lose," continued Coleman. "He drags the team into the battle."
It's a sentiment echoed by teammate Brayden Point.
"He's got such good puck skills; he can put the puck wherever he wants," said Point of Kucherov, in a post-game interview during the Eastern Conference Final. "He sees the ice better than most guys. He sees it so well, even if you don't think he sees you, he sees you. He puts guys in great spots."
Something that Coleman has seen time and again with Hedman and Kucherov.
"They're great players, guys who come to play every night. Those are the guys you love to have on your team, especially when the games take on more meaning."