TLA finalist spotlight: Nathan MacKinnon
When you ask Nathan MacKinnon's teammates for a thought or two on what makes the 2020 Ted Lindsay Award finalist special, expect a long – and highly complimentary – response.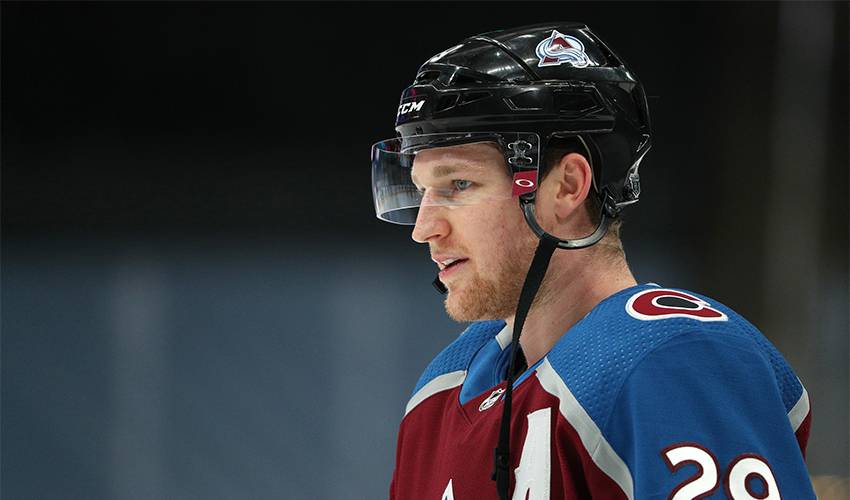 Feature photo: Getty Images
---
When you ask Nathan MacKinnon's teammates for a thought or two on what makes the 2020 Ted Lindsay Award finalist special, expect a long – and highly complimentary – response.
Now a two-time finalist for hockey's most prized individual honour, MacKinnon enjoyed a monster season for the Colorado Avalanche.
The 24-year-old skated in all but one of his team's 70 regular-season games, playing a huge role in helping the Central Division club to the second-best regular-season points percentage in the Western Conference.
MacKinnon led all NHL players in shots on goal (318). His 93 points ranked fifth in league scoring, 43 points ahead of his closest teammate. Across the league, he slotted in at third in even-strength points (62), fourth in power-play points (31) and tied for fifth in points per game (1.35).
It was more than enough to catch the attention of his fellow players. July 24, MacKinnon, along with Leon Draisaitl and Artemi Panarin, were named the three finalists for the award that goes "to the most outstanding player in the NHL," as voted by fellow members of the NHLPA.
Those MacKinnon suits up with were suitably impressed with the centre's exceptional performance throughout the 2019-20 campaign.
Impressed, but not surprised.
And they're also more than happy to share their praise for the player who was selected No. 1 overall in 2013.
"Before I played with Colorado, I watched a lot of Avalanche games on TV, just watching Nathan play, you could see that he was a very competitive guy," said defenceman Cale Makar, who is one of the finalists (along with Quinn Hughes and Dominik Kubalik) for this year's Calder Trophy as the league's top rookie. "He wants to win. It's pretty special to see that up close. You feel very fortunate that he's on your side, that's for sure."
Two-time Stanley Cup winner Ian Cole, who signed as a free agent with Colorado in July 2018, also noted MacKinnon's highly competitive ways.
The veteran defenceman discovered that side of MacKinnon moments into his first morning skate with the Avalanche.
What does Cole appreciate the most when it comes to No. 29?
"A lot of things, really. One thing that stands out to me is his hyper-competitiveness. He is so driven and so focused on winning. Everything he does is completely geared towards putting himself and the team in the best position to win hockey games. As a player, there is nothing I respect more than a guy who is willing to forego – whether it's on or off the ice – some personal things to win hockey games. He is very much that guy."
Left wing J.T. Compher agrees.
"Nathan will do whatever it takes to put the team in the best position to win games," said the 25-year-old forward. "He is as competitive a player as you'll find. And he's the type of player that can change the course of a game with one rush. I've seen that happen so many times."
A model of offensive consistency, MacKinnon has scored at least 35 goals and 90 points while also recording exactly 58 assists for three straight seasons in a row.
According to Makar, he's the type of player a teammate relishes the opportunity to go up against before two points are on the line.
Practicing with MacKinnon, the defenceman noted, is a welcome chance to test your talents against one of the best.
"Exactly. That's one big thing for me. You want to challenge each other in practice, and when you get that chance to go one-one-one with one of the top players in the game, it makes you raise the bar. With Nate, he's very intense, and he's loves that competitive edge, even in practice. He's always going 110 percent in practice. I think that's why we all feed off that. When you see someone approach every aspect of the game with the same intensity, it's a really inspiring thing."
And something none of his teammates takes for granted.
"He's super-strict diet-wise, recovery-wise and treatment-wise," said Cole. "Literally, everything he does in his life is geared to winning. That's all he cares about. I respect the heck out of that. If you try to draw up a team, you need guys like that on your team if you want to be successful. Success isn't one of those things you just wade into, and say, 'Well, we'll go out and see how it goes.' No. You need to want to win as badly as you want to breathe. And he is very much that person. He's not only one of our captains, he drives our team as far as play on the ice as well. Having a guy like that, who drives our team, and pulls guys along with him, is invaluable to a hockey team."
Friday, MacKinnon was named the 2020 Lady Byng Memorial Trophy winner as the NHL player who best combines sportsmanship, gentlemanly conduct and ability. He joined Joe Sakic (2000-01) and Ryan O'Reilly (2013-14) as the third Avalanche player to win the award.
Should MacKinnon be named the recipient of this year's Ted Lindsay Award, he would become the second Avalanche player to earn the honour. Hall of Famer Joe Sakic received the award in 2000-01.