Player of the Week | Gabriel Landeskog
Gabriel Landeskog extended his point streak to eight games while leading the league with nine points in four games including three straight multi-point outings.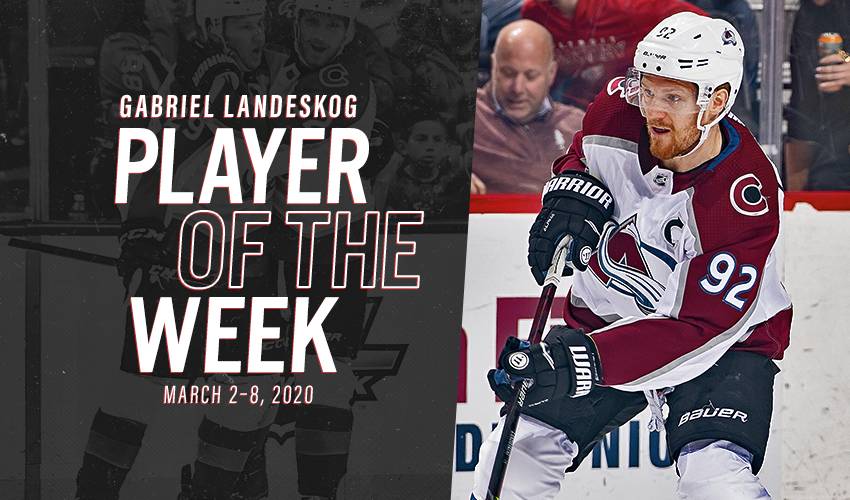 Feature photo: Getty Images
Gabriel Landeskog
MARCH 2–8, 2020
3-6

–

9 OVER 4 GP
3 CONSECUTIVE MULTI-POINT GAMES
EXTENED POINT STREAK TO 8 GAMES
TIED FOR LEAGUE-LEAD WITH 4 PRIMARY ASSISTS
---
Gabriel Landeskog extended his point streak to eight games while leading the league with nine points in four games including three straight multi-point outings. He also recorded four primary assists over the four games, which was good for a share of most in the league.
Landeskog reached the 20-goal mark, with his tally March 6, for the seventh time in his career despite missing time earlier this season with a lower-body injury.
Scoring vs the Canucks tonight, Gabriel Landeskog passed Peter Forsberg & Paul Stastny for 4th all-time with the @Avalanche (1995-present) & 6th all-time in QUE/COL franchise history when it comes to career 20+ goal seasons (7)

—

StatsCentre (@StatsCentre) March 7, 2020
The captain of the Colorado Avalanche has picked up steam with a club dealing with injuries to key players such as Mikko Rantanen, Nazem Kadri, Philipp Grubauer and rookie Cale Makar. Over Landeskog's last eight games, the 27-year-old has five goals and 13 points.
"For that play to come from our leader is not really surprising," Avs coach Jared Bednar said about Landeskog stepping up with the team shorthanded. "We needed someone to do it and we've had different guys step up on different nights.
Landeskog has been a little banged up too as he has been playing with a broken nose, but isn't letting that stop him from stepping up in a crucial stretch for his team.
Colorado continues their push for top spot in the Western Conference, sitting two points back of the St. Louis Blues who lead the Central Division.
''It's going to be fun down the stretch no doubt,'' Landeskog said. ''That's our goal, to chase those guys down.''
Away from the rink, Landeskog also showed off his acting skills in a commercial with Denver Nuggets guard Gary Harris.

LOOKING BACK

MARCH 2
0-1

–

1, 1 SOG, 20:55 TOI, GAME'S FIRST STAR
---
COL 2
DET 1
Landeskog notched an assist to extend his point streak to five games, helping lead the Avalanche to their seventh straight victory with a 2-1 win over the Detroit Red Wings Tuesday night at Little Caesars Arena.
With the game tied 1-1 in the second period, Landeskog assisted on the eventual game-winner by teammate Logan O'Connor while taking a big hit from Red Wings forward Robby Fabbri in the process.
When asked about making the play while he was lined up for a big hit, Landeskog knew he had to get the puck to O'Connor somehow when he saw the opening.
"I kinda saw Fabbri coming late," Landeskog told reporters. "But I still had time to see that O'Connor had his guy beat at the blueline. I wasn't trying to make a great tape-to-tape pass but that was just how it ended up working out."
The selfless play didn't go unnoticed as O'Connor made sure to give his captain a shoutout when asked about his goal.
"Gabe taking a selfless play there to take the hit and lead to my breakaway was awesome," O'Connor said. "Just little plays like that have really snowballed this team ahead."

MARCH 4
1-2

–

3, 6 SOG, 23:32 TOI, GAME'S SECOND STAR
---
COL 3
ANA 4, F/OT
Landeskog had a goal and an assist to extend his point streak to six games as the Avalanche came up short against the Anaheim Ducks, losing 4-3 in overtime Wednesday night at Pepsi Center.
Landeskog helped get Colorado on the board by assisting on teammate Vladislav Namestnikov's goal as the new Avalanche forward scored in his second straight game.
Then with the Avalanche trailing 2-1 late in the first period, Landeskog scored his 19th goal of the season with a perfect wrist shot on the power play to beat Ducks goalie Ryan Miller.
With Anaheim retaking the lead in the second period, Landeskog would find Nathan MacKinnon in the neutral zone on his way to scoring a game-tying goal with a nice individual effort midway through the third.
Just when it looked like the game was heading to a shootout, Rickard Rakell would stun the Avalanche with a shot that beat netminder Pavel Francouz with 1.2 seconds left in overtime ending Colorado's winning streak at seven games.
''I thought we should have won this one, but you let them hang around and you don't capitalize on your chances you end up with one point,'' Landeskog said after the game.

MARCH 6
1-1

–

2, 3 SOG, 20:35 TOI
---
COL 3
VAN 6
Landeskog extended his point streak to seven games with a goal and an assist as the Avalanche dropped their second straight game with a 6-3 loss to the Vancouver Canucks Friday night at Rogers Arena.
After Vancouver took a 2-0 lead, Landeskog tallied a helper on teammate Erik Johnson's goal to cut the lead in half heading into the second period.
Just over a minute after the Canucks added to their lead, Landeskog beat Canucks netminder Thatcher Demko with a wrist shot on the stick side for his second point of the game and 20th goal of the season.
For the third straight season and seventh in his nine years in the league, Landeskog has scored 20 or more goals.

MARCH 8
1-2

–

3, 2 SOG, 22:06 TOI, GAME'S SECOND STAR
---
COL 4
SJS 3
Landeskog notched his third straight multi-point game with a goal and two assists as the Avalanche got back in the win column with a 4-3 victory over the San Jose Sharks at SAP Center Sunday night.
After assisting on MacKinnon's 35th goal of the season on the power play in the first period, Landeskog gave the Avalanche the lead by scoring in his third straight game. The captain picked up the rebound for his 21st goal of the season after MacKinnon split the defence and had his initial shot stopped by Sharks netminder Martin Jones.
Landeskog added another helper on Namestnikov's 16th goal of the season as the top line played a big part in securing Colorado's 10th win in their last 11 games on the road.
''I thought our big guys had a really good night,'' Bednar said. ''Our top line tonight was outstanding. They end up scoring three goals, one on the power play. We'll take it.''

LOOKING AHEAD
Landeskog will try to match his career-high for points in a season as the Avalanche finish their California road trip against the Los Angeles Kings March 9, before returning home to take on the New York Rangers March 11. The Avs end the week hosting the Vancouver Canucks March 13 and Vegas Golden Knights March 15.