2020 NHL All-Star in review
Over two days, the best hockey players on the planet put on an entertainment spectacular in St. Louis, all to the delight of an appreciative crowd at Enterprise Center.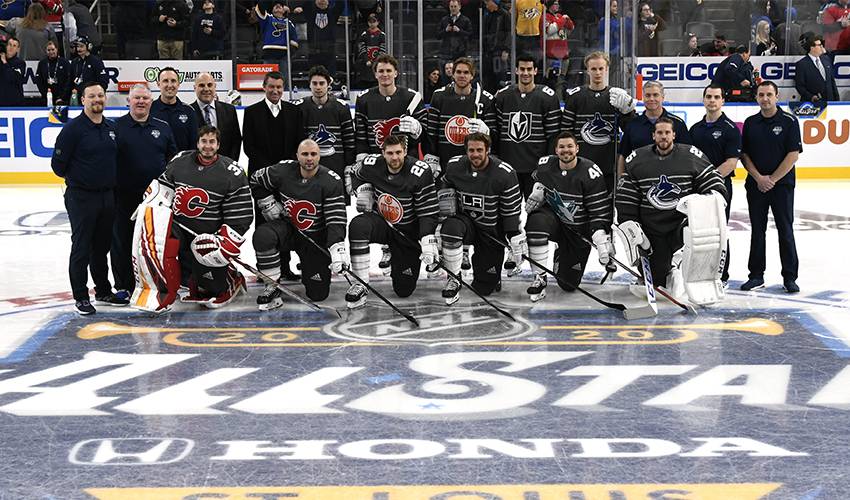 The 2020 NHL All-Star Weekend produced several sensational moments and a thrilling championship game. Over two days, the best hockey players on the planet put on an entertainment spectacular in St. Louis, all to the delight of an appreciative crowd at Enterprise Center.
Tomas Hertl scored the game-winning goal to lead the Pacific Division to victory in the All-Star Game final, a 5-4 win over the Atlantic Division. David Pastrnak, who leads the NHL this season with 37 goals, was named MVP with four goals and a pair of assists. The Boston Bruins right wing had four goals on the night.
Here are some of the other (many) highlights from All-Star Weekend.
FASHION STATEMENTS
St. Louis teammates Ryan O'Reilly and Jordan Binnington showed some love for the Super Bowl-bound Kansas City Chiefs. O'Reilly donned a Chiefs helmet during warm-ups for the NHL All-Star competition, while Binnington rocked a (Kansas City QB) Patrick Mahomes jersey on the red carpet.
Vancouver goaltender Jacob Markstrom wore a special black tuxedo to honour his friend, actor and model Godfrey Gao, who passed away after a heart attack in late November. He was 35.
Anthony Duclair sported a sharp-looking burgundy tux and sneakers, while Auston Matthews, unable to participate due to injury, did his best Ron Burgundy/Anchorman impression. The players weren't the only ones to turn heads – NHL mascots also strutted their stuff for the fans.
HAIL TO THE HOCKEY HEROES
The United Heroes League (UHL) and the NHLPA, through their All-Star Hero campaign, which honours military personnel and their families for their services through the players' NHLPA Goals & Dreams fund, welcomed Staff Sergeant Michael Spidell (US Army), Canadian Forces Master Corporal Lucas Mayo, US Army Sergeant First Class Sean Harjala, US Navy Chief Petty Officer Roy Jaquez, and Marine Corps Major James Brophy (represented by his widow, Erica) to St. Louis for All-Star Weekend.
Each one was chosen by the UHL after the public was asked to nominate their military hero. The winners, who received air travel and tickets to attend the 2020 All-Star Weekend with a guest, rubbed elbows with the players, took in all the sights and sounds, and took home some great memories (and memorabilia) from their once-in-a-lifetime experiences.
FAMILY TIME
Several all-stars shared the All-Star Weekend with their kids, bringing them on the ice to soak up the atmosphere, and introducing them to their fellow players. T.J. Oshie and his two adorable daughters, Lyla and Leni, had front-row seats to take in all the action for the Elite Women's 3-on-3 (see more below) Could there be two more hockey players in the Oshie household set for stardom?
TO THE NINES
Nine young talents made their first All-Star appearance, a list that includes Toronto's Mitch Marner, Detroit's Tyler Bertuzzi, brother act Matthew (Calgary) and Brady (Ottawa) Tkachuk, and Ottawa's Anthony Duclair.
JUST LIKE DAD?
Alex Letang, son of Pittsburgh Penguins defenceman Kris, has already got game – and not just on the ice. The seven-year-old showed off his superlative interviewee skills, covering a wide variety of topics, from thoughts on his own NHL future, to seeing his dad captain the Metro Division squad.
2021 VISION
Save the date! Next year's NHL All-Star Game takes place in Sunrise, Florida, home of the Panthers.
2020 NHL ALL-STAR SKILLS COMPETITION
The perennial fan favourite delivered top-rate speedsters, top-shelf shooters, top-tier stoppers... and 'Justin Bieber.'

Elite skills
Part of the 2020 NHL All-Star Skills showcase featured the Elite Women's 3-on-3, with American All-Stars and Canadian All-Stars facing off in a 20-minute, 3-on-3 tournament.
The game was one of six must-see events at the skills competition, complementing the Bridgestone NHL Fastest Skater, the Bud Light NHL Save Streak, Honda NHL Accuracy Shooting, Enterprise NHL Hardest Shot, and a new entry, the Gatorade NHL Shooting Stars.
The Canadian side, led by goals from Melodie Daoust and Rebecca Johnston, bested the United States by a score of 2-1 in the high-energy tilt.
Hockey Hall of Fame inductee Jayna Hefford coached Canada, while fellow Hall of Famer Cammi Granato was the U.S. bench boss.
Need for (lots of) speed
Flashing a time of 13.175, Mathew Barzal eked out a win in the Fastest Skater event, narrowly defeating three-time champ and two-time Ted Lindsay Award winner Connor McDavid (13.215). Barzal's time just missed netting him the quickest lap in Fastest Skater history, only .003 seconds behind the standard set by Dylan Larkin.
Seeing stars
The new Shooting Stars event brought the players up close and personal – literally – with fans. Donning sneakers, players stood atop a platform in the 100-level concourse and fired orange pucks at numerous on-ice targets, earning points for each one they managed to hit. Patrick Kane and Mitch Marner went to overtime after they each scored 22 points, with the former coming out on top with an extra two-pointer in sudden death.
Hot shots
The hardest shot competition once again delivered some serious shows of strength, including St. Louis Blues legend, 56-year-old Al MacInnis, who ripped off a 100.4 mph shot (with a wooden stick!) before the current big guns stepped into the spotlight. Shea Weber (106.5 mph) claimed his fourth (2015-17, 2020) Hardest Shot crown, topping John Carlson (104.5 mph) and Elias Pettersson (102.4 mph).
Ready, aim…
Jaccob Slavin, who replaced injured Carolina teammate Dougie Hamilton at the All-Star Game, hit all five targets in Accuracy Shooting contest in a blistering 9.505 seconds. It was the quickest time recorded since the League shifted to a timed, five-target format in 2012. Slavin's triumph also represented the first time a defenceman won the contest since Tomas Kaberle took top honours in 2008.
Arch Madness
St. Louis backstopper Jordan Binnington was a perfect 10 in the eyes of the hometown crowd and for what he did on the ice. Binnington notched 10 stops in the Save Streak event, the highlight coming when he went one-on-one with pop music icon 'Justin Bieber' (actually, San Jose forward Tomas Hertl donning a Bieber mask).
Said the winning netminder, live on TV, "You gotta stay humble and continue to build and prepare for The Biebs. I know you're training, buddy. Keep working." Recently, Binnington challenged Bieber to a shootout challenge, with the money going to charity. The challenge was accepted, but stay tuned for more.
2020 NHL ALL-STAR GAME
For the fifth straight year, the NHL All-Star game showcased a 3-on-3 format with players from each division filling out the rosters. At stake… bragging rights and a grand total prize of $1 million.
The Metropolitan and Atlantic divisions were first up, a game that saw a pair of goals before the contest was a minute old. David Pastrnak lit the lamp 26 seconds after the puck drop, and Shea Weber doubled the Atlantic lead just 23 seconds later. After the Metropolitan stormed back to take a 4-3 lead, Pastrnak tallied again to tie the game at 4-4 after the first period. Pastrnak and Anthony Duclair each recorded hat tricks and four points as the Atlantic scored five straight goals en route to a 9-5 win. Victor Hedman (one goal, three assists) and Tyler Bertuzzi (four assists) also had big games for the Atlantic, while Nico Hischier (two goals, one assist) and Seth Jones (one goal, three assists) were the top scorers for the Metropolitan.
The second matchup put the Central and Pacific divisions in the spotlight. It was the Pacific side that got the early jump, rhyming off three consecutive goals (Matthew Tkachuk, Leon Draisaitl and Tomas Hertl) before Mark Scheifele, hometown favourite David Perron, and Patrick Kane responded for the Central to knot the game at 3-3. Quinn Hughes (Pacific) and Tyler Seguin (Central) then tallied to make it 4-4 after one period. Hertl (four goals) netted a natural hat trick in the second period, as the Pacific scored five unanswered goals en route to a 10-5 triumph. Draisaitl (three goals, one assist), Tkachuk (two goals, two assists) and Hughes (one goal, three assists) also had four-point games for the Pacific, while Kane had two goals for the Central.
It set the stage for an Atlantic versus Pacific final.
The Atlantic side, with goals from Victor Hedman, Jonathan Huberdeau and David Pastrnak, held a 3-1 (Max Pacioretty scored for the Pacific) advantage after the first 10-minute period, despite being outshot 9-7. Elias Pettersson and Leon Draisaitl scored seven seconds apart in the second period to tie the score, but Tyler Bertuzzi responded for the Atlantic to put his team ahead 4-3. The see-saw affair continued when Pettersson tied the game less than two minutes later, before Tomas Hertl played hero for the Pacific, scoring with 2:36 left for the 5-4 win.