After the Buzzer | Noel Acciari
Based on what he has been able to two twice this season already, should Noel Acciari and his wife, Kaitlyn, expect triplets this July?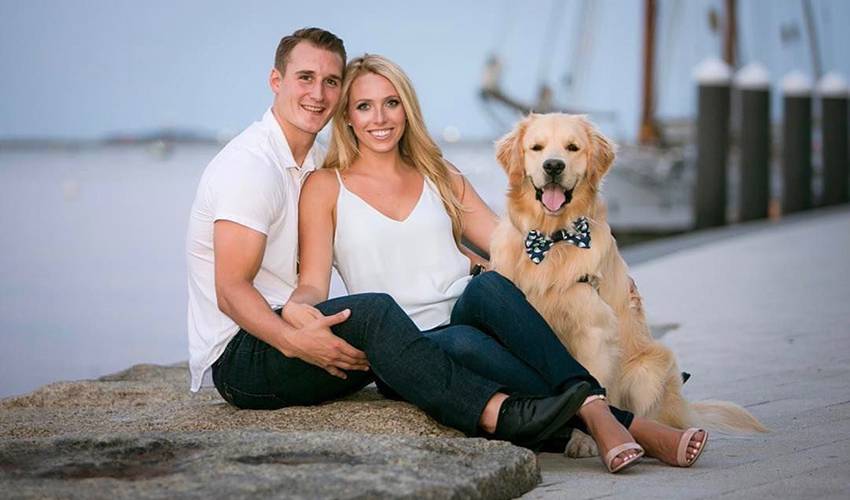 Feature photo: Courtesy Noel Acciari
From their bond with fans to their efforts in the community – and everything in between – 'After the Buzzer' is a weekly series taking readers beyond the rink to shine a light and provide insight on players' lives away from the game.
---
Based on what he's done (twice) this season already, should Noel Acciari and his wife, Kaitlyn, expect triplets this July?
The Florida Panthers forward, enjoying his best offensive NHL season to date, posted back-to-back hat tricks on December 16 and December 20.
When he's not busy making the goal light turn red, the 28-year-old Rhode Island native, along with Kaitlyn, are busy preparing for the arrival of their first child this summer.
In between delivering goals and an upcoming special delivery, Acciari spoke with NHLPA.com about his goal rush, favourite movies and a little love for the mighty Thor.
HATS OFF TO NOEL
After 41 games in 2019-20, Acciari had 17 goals, seven more than his previous career high set in 2017-18 with the Boston Bruins.
He was recognized for his back-to-back hat tricks with NHLPA Player of the Week honours for December 16-22, and both trios earned $1,000 for the charity of his choice through the Enterprise Hat Trick Challenge.
Acciari also managed to grab himself a new nickname for his efforts.
"He's like the best guy in the world, so to see him score back-to-back hat tricks, it couldn't happen to a better guy," Panthers' centre Vincent Trocheck said. "It was a lot of fun watching him turn into 'Noel Gretzky' out there, so hopefully it continues."
Can Acciari ever recall being on such a roll?
"In prep school, we had a hockey tournament before Christmas, and I played in it the two years I was there. I had a couple of back-to-back hat tricks there."
MAGIC OF THE SEASON?
Born on December 1. Back-to-back 'hatties' in high school and the NHL, both coming in December.
Is there something about the twelfth month of the year that brings out the best in Acciari?
"I guess around Christmastime is a good time for me. I think having the opportunity to play with top guys and produce in that way is something I'm grateful for. That's the only way I think about it. I just want to do what I can to help the team. Being in Florida has been a good fit and good opportunity for me."
EXPECTING HAPPINESS… AND A FEW SLEEPLESS NIGHTS
Noel and Kaitlyn are making sure all systems are go when they welcome their first child into the world. Some final touches, however, won't be decided until the baby is born.
"We're very excited for our first child, who is due in July. It's good timing. The season will be over by then, even if we make it to the Stanley Cup Final. It will give us a chance to spend some quality time with the boy or girl. It will be nice to have the chance for that downtime and get used to waking up in the middle of the night. But we both can't wait for July.
"We're doing a room in our house now and we're going to have to paint it when we find out the gender of the baby. We're doing what we can now."
MARVEL-OUS DOG
When the Acciaris aren't readying their Florida home for the baby, the couple typically enjoys quiet time together, a list that includes watching movies or going for a walk with Thor, their adorable golden retriever.
"We like to catch up on some shows, do some errands… I'm a big movie person and I'm trying to turn Kaitlyn into one. So, when we get a chance, we'll either go to a movie or rent one on TV. My favourite movie of last year? I'm a big Marvel fan, so the Avengers: Endgame movie was probably my top one from 2019. You can tell I like Marvel because my dog's name is Thor. He's three and he'll be four in June. He's a great dog. We're doing walks around the neighbourhood with him. He's loving the warm weather."
PARTING SHOT
"I'm just taking it one day at a time and having fun with it. On the ice, it's been going well and I'm having a lot of fun with my teammates. Off the ice, getting ready for a child is an awesome feeling. I'm very lucky." – Acciari, on how life is good both at the rink and at home.