Homework then hockey: Beagle connects with East Vancouver youth
It's likely not the last time Beagle will take to the streets of East Vancouver for some outdoor hockey.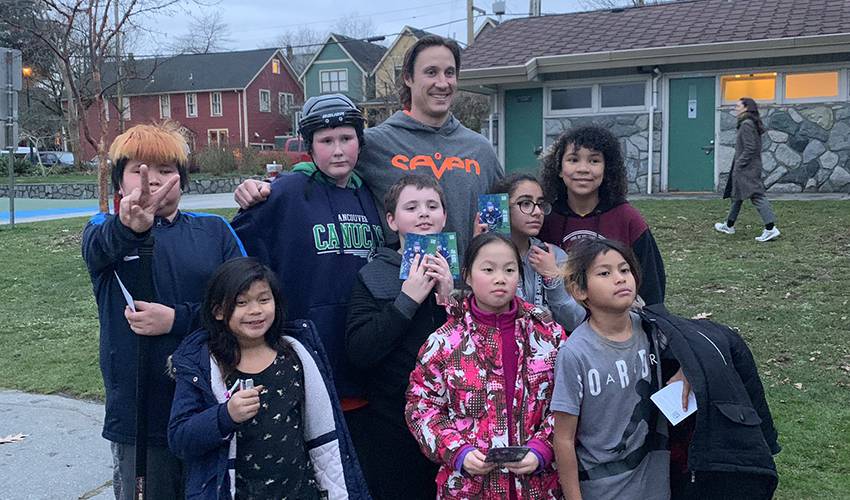 Jay Beagle decided to take his love of hockey to the streets.
On December 5, Beagle, who recently surpassed the 550 NHL games-played mark, ventured outside Rogers Arena to play street hockey with kids who are part of a homework club put on by the Union Gospel Mission (UGM), an organization that fights poverty, homelessness and addiction in Vancouver.
"UGM got in touch with our public relations staff and asked if I'd come out and play street hockey with the kids," Beagle started. "We found a date that would work for both us. Before I got out there, I got a tour of the UGM facility, learned all about what they do, and how they are working alongside people in East Vancouver, and how much they do to help people. They have so many important programs – I had no clue how much they did. They also have a program for kids where they play street hockey every Thursday."
The 34-year-old Canucks forward put a smile on plenty of faces, and also stepped outside his traditional centre role for a few minutes.
"The kids get out of school and head right over to where they play. They were super excited. We jumped right into it. There was a little introduction and they asked some questions. Then they grabbed their sticks and it was game on.
"At the end, they wanted to do a shootout, put me in net and rip some hard orange plastic balls at me. I said, 'Let's go for it.' We all had a great time. It was a lot of fun."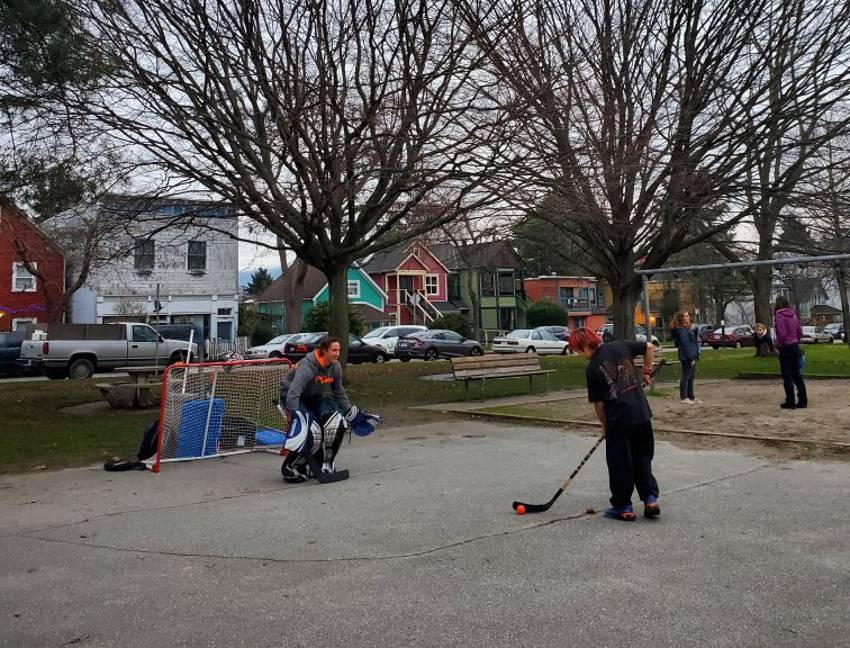 UGM is grateful to have had Beagle spend time with the kids.
"Lots of families in the Downtown Eastside in Vancouver don't necessarily have the opportunity to go to hockey games or other professional sporting events, so Jay's gesture was greatly appreciated," said Rachael Allen, Media & Communications Officer with UGM. "It honestly means so much to us and to these kids and their families that Jay came down last week. To have the Canucks and Jay make this gesture to our kids and this community means the world.
"This is an amazing opportunity for these kids in our Eastsiders after-school program from the Downtown Eastside to actually be with a Canuck and play street hockey with him. For a lot of these kids who would dream to see a Canuck up close and even play hockey one day (some are even in community hockey programs), this is an amazing opportunity for them to actually be with a Canuck and play street hockey with him. They've dreamt about this before, but never really thought that it would happen. And to just be directly a part of it, right there in front of them, is just amazing to see. It makes us smile because we know how much this means to them."
Beagle, admittedly, didn't quite have the same road hockey skills he once possessed.
Known for his excellent defensive skills and proficiency in the face-off circle, the Calgary-born forward was on the receiving end of some good-natured ribbing from his fellow street hockey players.
"I don't think I have it any more," Beagles with a laugh. "There were a couple of kids there – it was pretty funny. We were having fun and playing right away, but they were chirping me. 'Why can't you score more? 'Why can't you get more goals on us?' Street hockey has gotten a lot harder for me. It's easier to glide on the ice."
Perhaps he could have taken a few more draws.
"That's right. Just put me in the face-off circle and let's go to work. It just really brought back a lot of good memories. That's how I grew up playing. You got out of school, you got your friends together and then you played for hours."
It's likely not the last time Beagle will take to the streets of East Vancouver for some outdoor hockey.
The player who won a Stanley Cup ring with the Washington Capitals in 2018 has a deep appreciation for what the game represents and how it can help develop a passion for the sport.
"To work with an organization like that, I definitely want to do more with them. It's something (working with kids) that's always been close to my heart. Also, it's growing the game. Not everyone can afford to play hockey and it's getting to be even more of an expensive sport. I think it's something that a lot of us in the NHL… we wouldn't have been able to play the great game that we love if it were in these times.
"Street hockey is a great way to continue to build the game and to get kids introduced to our game and grow the love for it. There were a lot of kids that hadn't really held a stick, so it was pretty cool to do a little teaching on that and then get into some playing. It was a great experience."
UGM took to Twitter to share photos of Beagle's visit. One particular retweet noted, "Thanks for showing these kids how much they matter."
The pleasure was all his.
"This was a lot of fun, just to see how much joy the game of hockey brings, how it brings together people from all walks of life and different cultural backgrounds to play the game. I think that's what I love about hockey."
It's no surprise that Beagle has picked up a new group of fans, including those who work at UGM.
So much so, in fact, that one staff member offered up a wishful suggestion.
"It's clear that Jay has a really genuine and compassionate heart and really cares about the kids in the community," praised Allen. "We were impressed by the way Jay played and interacted with our kids, so much so that one of our Eastsiders (our after-school program) staff asked, 'Can we keep him?!' He's so good with the kids. The whole time Jay was smiling, asking the kids their names, and starting up conversations with them. He really used his unique ability as a professional athlete to speak into these kids' lives as a role model and positively impact them.
"Not only that, but Jay specifically was encouraging all the kids in their hockey skills and teamwork, he built team spirit and camaraderie, had such a good attitude, and gave each kid his full attention. He treated them all like they were great and special players to him – that really impacted them. Watching, you almost didn't even notice there was a Canucks player there, except that he stood head and shoulders above everyone."
Amazing!! HUUUUGE thanks to the @Canucks and Jay Beagle for spending time playing street hockey with us in the Downtown Eastside today. Thanks for showing these kids how much they matter @ugm! Best line: "hey Jay, have you kissed the cup?" pic.twitter.com/gweSpNBUzl

—

Jeremy Hunka (@JeremyHunka) December 6, 2019