Hinostroza draws inspiration from new friend, Leighton
If Vinnie Hinostroza is ever in need of a little inspiration, he doesn't have to look any further than his locker room stall.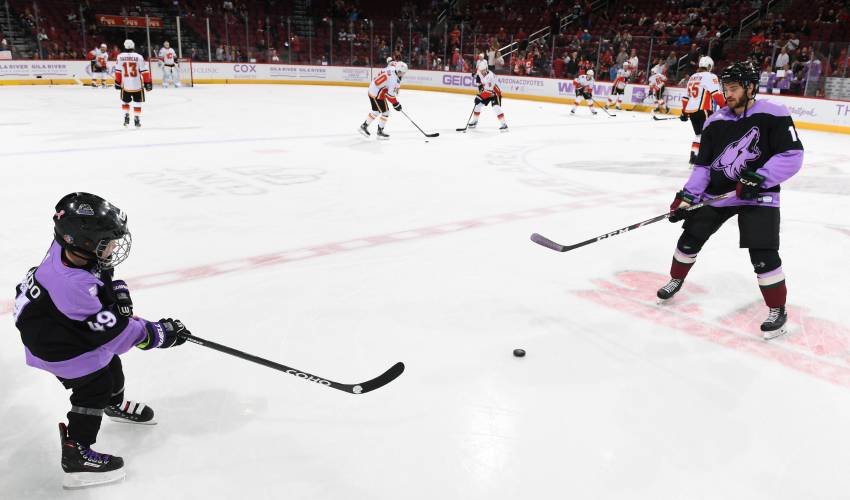 If Vinnie Hinostroza is ever in need of a little inspiration, he doesn't have to look any further than his locker room stall.
It's more than just a photo or a simple gesture. For Hinostroza, it's about as special as it gets.
"She actually gave me a little picture and I hung it up in my stall in the locker room," started the 25-year-old Arizona Coyotes centre, in speaking of Leighton Accardo, a local eight-year-old hockey player who is battling Stage IV malignant germ cell tumors.
"It's a picture of us passing the puck together. She drew a little heart on it. I gave her a stick and had the chance to talk to her a little bit. With what she's going through at a young age – that's tough to see. But the moment you meet her, you can tell how strong she is."
Hinostroza, along with his teammates, recently got to see that resiliency, first-hand.
Accardo, who plays with the 8U Arizona Hockey Union Knights, inked a contract with the Western Conference squad on November 16 as part of the club's recognition of Hockey Fights Cancer, the joint NHLPA and NHL initiative that's dedicated to raising money and awareness for cancer research.
But that was just for starters.
After giving the team a pep talk before they headed out to the ice, Accardo took part in pre-game warmups, passing the puck around with both Hinostroza and Lawson Crouse.
"I don't think it was planned for us to do that, but she was sitting on the bench and I thought it would be a good idea to get on her on the ice," said Hinostroza, now in his second season with Arizona. "She was thrilled."
After standing on the Arizona blue line for the anthem along with the players who comprised the team's starting lineup, she accompanied Coyotes captain Oliver Ekman-Larsson to take the ceremonial faceoff against Calgary captain Mark Giordano.
With Ekman-Larsson's stick in hand, Accardo won the draw.
"She's amazing," said Hinostroza. "From the moment she walked in to see us, she had a big smile on her face. The whole time she was around us, she was smiling and was just so happy. You could tell how strong she is. It's very inspiring for all of us. For us, to see how high her spirits are and how happy she is – we're definitely playing for her."
You can count the Illinois native, who played the first 106 games of his NHL career with his hometown Chicago Blackhawks, as a big fan of Accardo.
"She was great," said Hinostroza, who was traded to Arizona from Chicago in July 2018. "She gave a few speeches. She was a little shy, but she opened up, and I know all the guys really loved having her there with us. She was our teammate that day."
Accardo also brought along some good luck for the home team during her visit.
Arizona won the game by a score of 3-0, getting goals from Crouse, Carl Soderberg and Derek Stepan.
It was quite the fitting end, offered Hinostroza, who now has a picture-perfect reminder of Accardo's special day.
"That picture was a really nice gesture and I don't take it lightly. I'm definitely always thinking of her in the back of my mind. I know how hard she's battling and if I'm having a tough day or I'm not feeling good, I just see her picture in my stall and I just keep going for her."