Player of the Week | Patrick Kane
Patrick Kane scored eight points in four games (4-4–8) including a pair of three-point performances to extend his point streak to a season-high six games.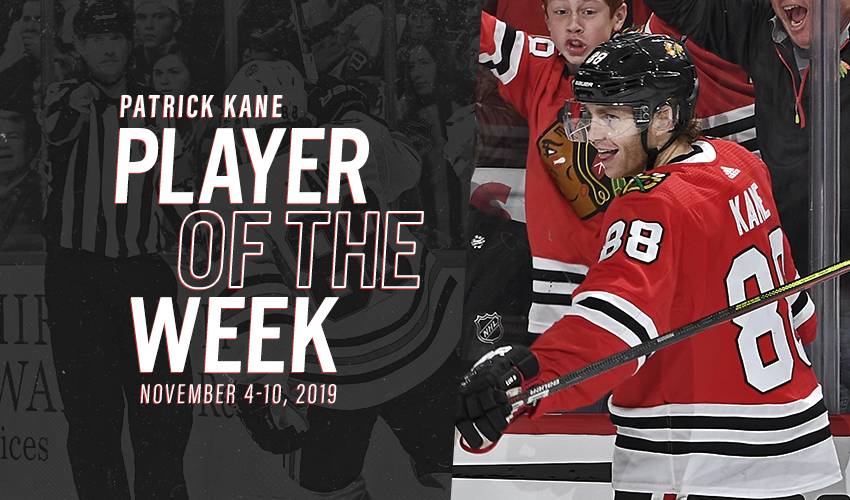 Feature photo: Getty Images.
Patrick Kane
NOV. 4–10, 2019
4-4

–

8 OVER 4 GP
T-2 NHL LEAD IN POINTS (8) AND T-3 IN GOALS (4) FOR THE WEEK
---
Patrick Kane scored eight points in four games (4-4–8) including a pair of three-point performances to extend his point streak to a season-high six games.
Kane has goals in three straight games, as well as three multi-point outings in November after recording just two such outings in October. Kane's resurgence has helped the Blackhawks in a big way as they are 6-4-2 when he records a point and 0-3-2 when he doesn't get on the scoresheet.
He also had some fun with some young Blackhawks fans while showcasing the team's black jerseys in honour of Veteran's Day.

LOOKING BACK

NOV. 5
0-1

–

1, 2 SOG, 23:35 TOI
---
CHI 2
SJS 4
Kane extended his point streak to three games by notching an assist in the Blackhawks' 4-2 loss to the San Jose Sharks at SAP Center Tuesday.
With Chicago trailing 3-1 in the third period, Kane assisted on Duncan Keith's first goal of the season, but the Blackhawks were unable to complete the comeback.

NOV. 7
1-2

–

3, 4 SOG, GWG 19:23 TOI, GAME'S FIRST STAR
---
CHI 5
VAN 2
Kane scored a goal and two assists to help the Blackhawks beat the Vancouver Canucks 5-2 at United Center Thursday.
Before the game, the Blackhawks gave away 10,000 hats with Kane's No. 88 and a silhouette of his iconic goal celebration.
While Kane was the first star of the game, Alex DeBrincat had the goal of the game as the 21-year-old somehow got the shot off while he was falling to the ice – in apparent it tribute to his linemate who scored a similar one back in 2016 against the Montreal Canadiens.
After recording two assists in the first period, Kane would get in on the goalscoring with a power-play goal for his fifth tally of the season off a shot that got through a couple of bodies in front of the net.
Kane extended his scoring streak to four games and helped the Blackhawks match their best output of the season with five goals. His three-point effort was also his 82nd career game in the NHL with three or more points.
Teammate Andrew Shaw decided to have some fun with Kane joining in on his scrum with reporters and answering all of his questions.

NOV. 9
1-0

–

1, 3 SOG, 24:28, GAME'S THIRD STAR
---
CHI 2
PIT 3 F/SO
Kane scored for the second-straight game but it was not enough as the Blackhawks lost 3-2 in the shootout to the Pittsburgh Penguins at PPG Paints Arena Saturday night.
The first overall pick from the 2007 NHL Draft would give the Blackhawks a 2-0 lead with a perfectly placed wrist shot past Matt Murray in the second period, extending his scoring streak to a season-high five games.
He wasn't done there as he kept Chicago alive in the shootout by beating Murray again this team waiting him out before going five hole.

NOV. 10
2-1

–

3, 5 SOG, 18:45 TOI, GAME'S FIRST STAR
---
CHI 5
TOR 3
Kane put up three points in the first period including two goals to help the Blackhawks beat the Toronto Maple Leafs 5-4 at United Center Sunday night.
Chicago would strike first with Kane extending his goal streak to three games and his point streak to six games. He would get his second of the period 10 seconds after rookie Kirby Dach scored to put Chicago up 3-0.
This was the fourth time in Kane's career where he scored two or more goals in the first period while Chicago improved to 85-7-5 when Kane and Jonathan Toews both score in the same game.
With the win Chicago, improved to 2-0-1 in their last three games and continue to make a push to get into the playoff picture.

LOOKING AHEAD
After moving past Vincent Lecavalier to get into the NHL's top 100 on the all-time scoring list Nov. 3, Kane currently sits 98th on the list with 958 career points (364-594–958). The 30-year-old has a chance to move past the likes of Henrik Zetterberg and Hall of Famer Maurice Richard this week.
Kane will also look to continue his pursuit of 1,000 career points as he needs only 42 points to reach the milestone. His head coach hopes his hot streak continues and credits Kane for remaining patient when things weren't going his way to start the season.
"I think it's been coming on for a while, as far back as a couple weeks," Blackhawks head coach Jeremy Colliton said of Kane's streak. "Getting a little more comfortable with the plays he was making, starting to get his chances even if they weren't going in. He's the type of player, when he does get it going, he feeds off the energy, whether that's within a game or just within a week. When he gets hot he can go on a huge streak and hopefully we're at the beginning of that."
The Blackhawks head on the road to play the Vegas Golden Knights Nov. 13 and Nashville Predators Nov. 16 before returning home to end their week against the Buffalo Sabres Nov. 17.