Heritage Classic lends special moment to Josh Morrissey and family
Josh Morrissey thought of two people in particular when he stepped on the ice at Mosaic Stadium.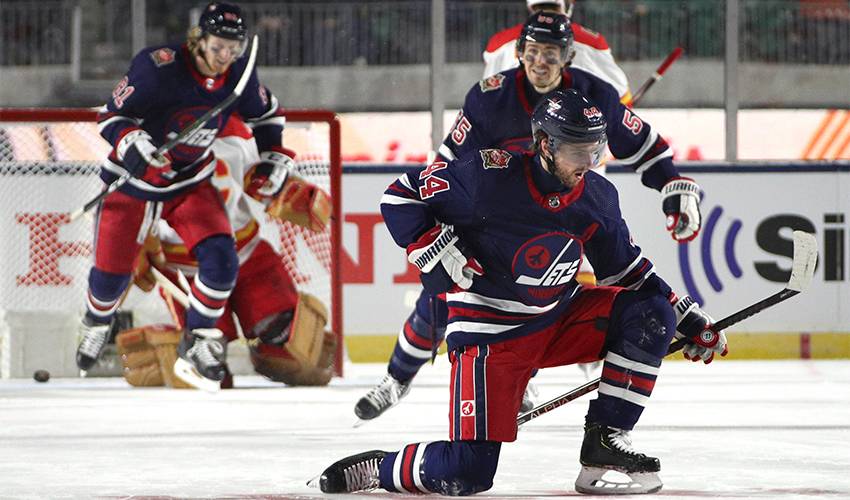 Feature photo: Getty Images.
For Josh Morrissey, the Heritage Classic was a skate down memory lane.
One day after his Winnipeg Jets celebrated a 2-1 overtime win against Calgary in the outdoor game played at Mosaic Stadium in Regina, Saskatchewan, Morrissey was content to enjoy a relaxing indoor afternoon back home in Manitoba.
But the defenceman still had plenty to say about the NHL's 28th outdoor game since 2003, and the ninth in the past three years, including his longstanding appreciation for playing in the open air.
"I remember my dad built an outdoor rink, probably when I was four," recalled the 24-year-old Morrissey, a first-round pick (13th overall) of the Jets in the 2013 NHL Draft. "It evolved over the years. The boards had to be a little higher once I could raise the puck. All of the sudden, you had a better quality net because the old one was starting to break down. There are so many memories playing out there on that rink."
Growing up in Calgary, Morrissey had ample opportunity to play the game, indoors and outside.
There was a local outdoor rink that stood between the family home and the school he attended, a perfect spot for aspiring big leaguers to hone their skills under the lights.
"As I got older, in my teenage years, what ended up happening was that we'd walk home from school and my friends and I would play on that rink, for a long time, basically, until we got called home for dinner. It was always so much fun. I did a lot of dreaming out there, thinking about scoring that Stanley Cup-winning goal, or an Olympic gold medal-winning goal. For me, it's where hockey was at its most pure. There was no scoreboard – you obviously kept score – but it was just everyone out there playing for the fun of it."
The only thing that topped hockey was homework. Hitting the books and earning good grades translated into more ice time.
"It made you want to work that much harder at school, so you didn't have as much homework when you got home. That allowed you to play on the rink for as many hours as possible. But homework always came first."
Morrissey, who starred for the Western Hockey League's Prince Albert Raiders, came out on the losing end in his first NHL outdoor game.
Barely into his rookie NHL season, the defenceman was in the Winnipeg lineup when they played host to Edmonton at IG Field (formerly Investors Group Field) in 2016, with the Oilers coming out on top 3-0.
The second time was the charm, as Morrissey scored the game-tying goal in the third period, logging 29:00 minutes of ice time – the most for either team.
"Now I've had the chance to play twice outdoors. Both times, it brought back a lot of memories."
The game in Saskatchewan was memorable for a number of reasons.
Morrissey's grandparents called it home, his father grew up there, and the blueliner, who was a Calgary Flames fan growing up, knew the province well from his WHL days.
All of that crossed his mind before puck drop in the Heritage Classic.
"It was kind of the perfect combination," said Morrissey. "Growing up a Flames fan in Calgary – obviously that allegiance has changed now – and playing junior hockey in Saskatchewan for a majority of my career. That's where my grandparents are from on my dad's side. The whole side of my dad's family is from there, and my dad grew up there."
Morrissey thought of two people in particular when he stepped on the ice at Mosaic Stadium.
"My grandparents spent their whole lives in Saskatchewan. I always dreamed of having them watch me play in the NHL. We always talked about that. They were two of my biggest supporters. Unfortunately, they passed away before I was in the NHL, so it was kind of nice to go back and play there, and feel like they were there with me too. It was pretty special for our family."
And also for a veteran of the outdoor hockey scene.