Player of the Week | Mika Zibanejad
Mike Zibanejad wasted no time getting his season off to a torrid start.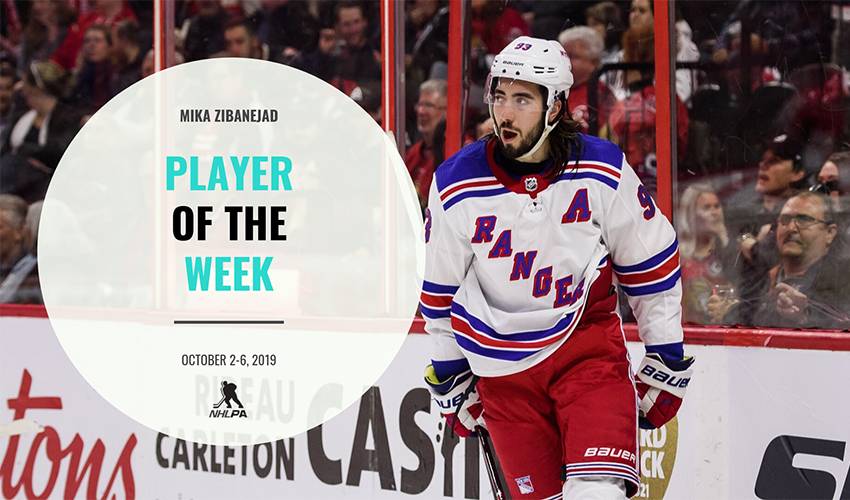 Feature photo: Getty Images.
Mika Zibanejad
OCT. 2-6, 2019
4-4

–

8 OVER 2 GP
LEAGUE-LEAD IN POINTS; 2ND IN GOALS
FIRST PLAYER TO SCORE 8 OR MORE PTS IN FIRST 2 GAMES SINCE 1995-96
---
Mike Zibanejad wasted no time getting his season off to a torrid start by putting up a league-high eight points (four goals, four assists) in just two games.
After setting career highs in goals, assists and points in 2018-19, the 26-year-old became just the second player in New York Rangers history to record eight points through his first two games of the season. He is also the first player to score eight or more points two games into the season since Jaromir Jagr did it back in 1995-96 with the Pittsburgh Penguins.
The Rangers centre also joined John Cullen, Wayne Gretzky, Phil Esposito, Syd Howe and Reg Noble as the only players in NHL history to score four or more points in their first two games of the season.
Not only has Zibanejad been on a tear on the ice to start the season, he also provided a touching moment to young Rangers fan, who got emotional when his favourite player took a moment to fulfill his request.
LOOKING BACK

OCT. 3
1-3

–

4, 7 SOG, 20:39 TOI, GAME'S SECOND STAR
---
NYR 6
WPG 4
In the Rangers' season opener Thursday, Zibanejad tied a single-game career high with four points (one goal, three assists) against the Winnipeg Jets in a high-scoring affair at Madison Square Garden.
Zibanejad was named the game's first star while teammate Jacob Trouba – who scored a goal and two assists against his former team – was named the second star after becoming the first defenceman in Rangers history to register three points in his regular-season debut.
It didn't take long for Zibanejad to develop some chemistry with Artemi Panarin, who was making his regular-season debut after signing with New York in the off-season. The top line was on the ice for the Rangers' first four goals of the game and Zibanejad was also on the ice for five of the Blueshirts' six goals in the contest.

OCT. 5
3-1

–

4, 3 SOG, GWG, 20:32 TOI, GAME'S FIRST STAR
---
NYR 4
OTT 1
Going up against the team that drafted him sixth overall back in the 2011 NHL Draft, Zibanejad and the Blueshirts spoiled the Ottawa Senators' home opener with a hat trick as part of another four-point game in a 4-1 win Saturday night.
It was the third NHL career hat trick for Zibanejad, who continues to thrive with Panarin and Pavel Buchnevich as part of a line that has been on the ice for eight of the Rangers' ten goals this season.
This game featured some highlight-reel goals including a couple of potential goal-of-the-year candidates from Zibanejad.
In seven games against his former team, Zibanejad has seven goals and nine points since he was traded to the Rangers in 2016. When it comes to his strong start to the season, the Swede isn't too sure what the reason behind has been.
"I can't really explain what's going on right now," Zibanejad said postgame. "I'm playing with good teammates and unbelievable players out there. I'm getting a lot of chances and now they're going in so I'll try to take advantage as that as much as I can."
Even though Zibanejad doesn't expect to maintain the pace that he's scoring at, his head coach believes he is finally reaching his potential.
"He's gotten to the level I know he's capable of getting to and I couldn't be happier for him because there's not a better guy," Rangers head coach David Quinn said of Zibanejad. "He's put an awful lot of work into it. I'm not surprised he's getting the results he's getting."

LOOKING AHEAD
The Rangers won't be in action again until Oct. 12 when they host the Edmonton Oilers for a Saturday matinee with puck drop at 1:00 p.m. ET.