Zucker family and community celebrate community impact
When Jason Zucker first met Tucker Helmstrom in 2015 during a team visit University of Minnesota Masonic Children's Hospital, they bonded immediately.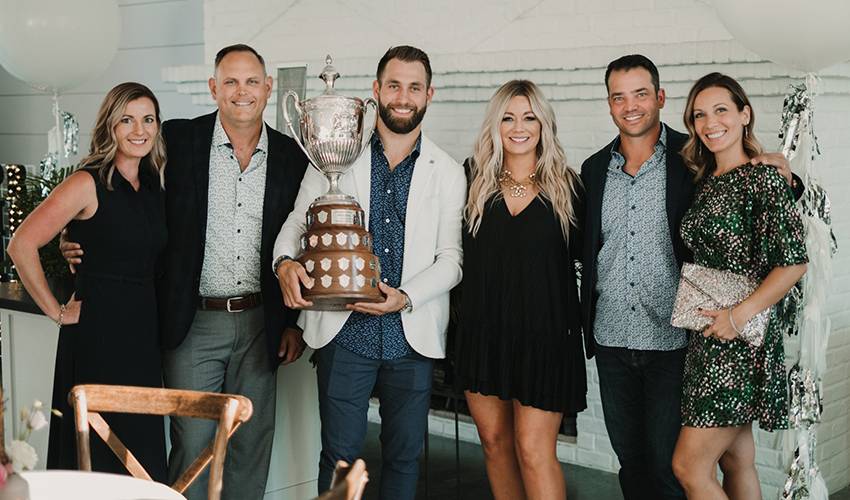 "From the moment I walked into Tucker's hospital room, a friendship between us kindled. From then on, our life was changed forever."
When Jason and Carly Zucker took the stage on August 28 for the inaugural GIVE16 Honors, a night that celebrated 16 individuals, organizations, teams or nonprofits that make an impact in Minnesota – they no doubt remembered the one who inspired it all.
Carly and I are so incredibly thankful to all our partners, friends, family & this community for supporting the inaugural GIVE16 Honors presented by the @3MOpen. It was amazing to hear more about what the 16 recipients are doing in this community to make an impact. #Give16Honors pic.twitter.com/9jGSkAvwEQ

—

Jason Zucker (@Jason_Zucker16) August 29, 2019
When the Minnesota Wild forward first met Tucker Helmstrom in 2015 during a team visit to University of Minnesota Masonic Children's Hospital, they formed an immediate bond.
After their first chat, Zucker often returned to the hospital to play video games with Tucker, the young hockey player from Hopkins, Minnesota, who was battling osteosarcoma (a rare bone cancer).
And each time, including moments together before almost every round of Tucker's chemotherapy, the pair would exchange big hugs and big smiles when Zucker had to leave.
On July 2, 2016, at the age of nine, Tucker lost his fight with cancer.
Just three days after his death, Zucker had the boy's initials tattooed onto his wrist, along with the words "shoot more."
He doesn't need to look at his arm to remind himself of Tucker.
It was through that friendship that GIVE16 was established. In 2017, in honour of Tucker's memory, the Zuckers created the GIVE16 campaign – kick-started by the couple's $160,000 donation – an initiative that's already raised over $1 million.
The campaign, named in part after Zucker's uniform number, encourages people to donate in denominations of $16.
Monies raised benefit the Zucker Family Suite and Broadcast Studio. The suite is located at the University of Minnesota Masonic Children's Hospital, an 800-square foot theatre where families and children can watch TV, produce and host their own show, and enjoy time spent together away from a hospital room.
"GIVE16 is so meaningful because it was inspired by a young boy who we got to know for a brief, but impactful time in our lives," said Carly. "GIVE16 is our way of honouring him and supporting University of Minnesota Masonic Children's Hospital."
"This all stems from Tucker," said Jason, who was born in California and raised in Las Vegas. "It's been that way forever with GIVE16. We never go very long without thinking of him and what he means to us."
He remembered his friend on the night of June 19 when Zucker was named the recipient of the 2019 King Clancy Memorial Trophy.
The trophy is awarded to the player who best exemplifies leadership qualities on and off the ice and has made a noteworthy humanitarian contribution in his community.
"For this event (GIVE16 Honors), it was definitely something we realized after winning the King Clancy… we wanted to recognize everyone else that was a part of it," said Jason. "We obviously didn't do that by ourselves. We felt it was a community award and I think this is something that reflects that, and shows the great work that's being done in Minneapolis and the Twin Cities. It's important to recognize what these people are doing."

The former 59th overall pick of the Wild in 2010 points to Carly as a major reason for the success of GIVE16.
"It's our passion now. She is the driver of this, and she's so good at doing it. It's a lot of fun to see her come up with these great and ideas, and then to see them come to fruition. She takes my opinion every once in a while, but this is definitely our passion."
Why is it so important for them to give back?
"We feel fortunate to have a platform through hockey and radio to make a positive impact in our community," offered Carly, radio host of the popular Overtime with Carly Zucker on KFAN. "That is not lost on us, so we do our best to make the most of it with our time and resources. We've met wonderful people and developed life-long relationships through our philanthropy."
"I think we have a platform to do this," said Jason. "And when you have that platform, you use it. Obviously, Tucker inspired us and wanted us to make a change and do some meaningful things there. For us, it was a goal to set forth, and we wanted to get after it."
Whether it's in his work with GIVE16 or in his everyday life, the veteran of nearly 450 NHL games regularly recalls the conversations he had with Tucker.
And one thought always comes to mind.
"You can change somebody's life in a very small way. For us, being able to build this space, and to allow the families, the siblings, the parents, the kids, the patients, the nurses and the doctors to have a small part of their day affected in a positive way, and to put a smile on their face for a little bit is just incredible."