Hughes brothers have arrived and they're eyeing a long stay
Jack and Quinn Hughes have come a long way from playing mini-sticks together in their basement.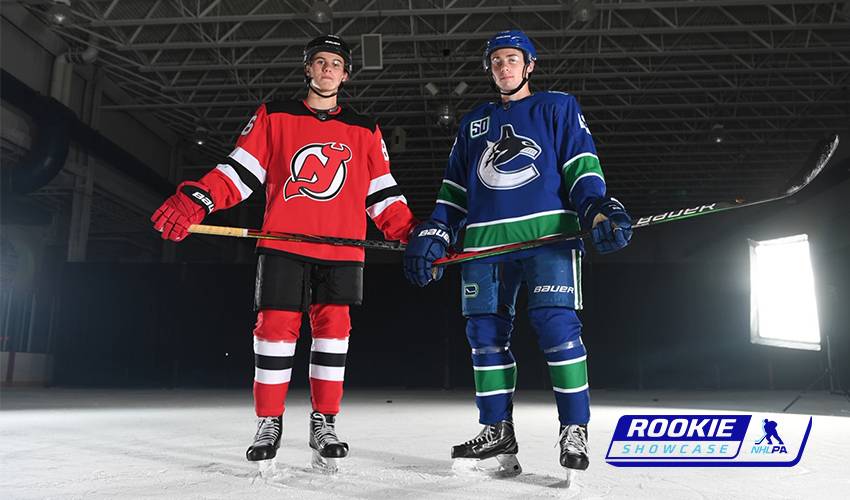 Jack and Quinn Hughes have come a long way from playing mini-sticks together in their basement.
With a couple of weeks left in the off-season, both Hughes brothers are preparing for their first NHL training camps after a year of excitement and anticipation.
Leading up to the 2019 NHL Draft, all eyes were on Jack as he sat atop most draft rankings before being selected first overall by the New Jersey Devils.
"I've had a good summer to just train focus on myself and be able to be around friends and family," Jack said from 2019 NHLPA Rookie Showcase in Washington. "It was good to get away from all the craziness and just focus on myself."
Older brother, Quinn, made his jump to the NHL with the Vancouver Canucks last season.
While they are both excited for the opportunity to live out their dreams of playing in the NHL, they knew they wouldn't be satisfied with just making it.
"It's really rewarding but the goal is not just about getting there," said Jack. "It's about wanting to be one of the best players once you get there."
Quinn agrees with Jack that neither one can be content with just making the NHL and that they need to remain focused on their long-term goals.
"It's satisfying but I think we both have our own goals in our heads," said Quinn. "We know this isn't the end goal and we want to have really good careers, so I don't think either of us are satisfied yet."
As part of their off-season training, the Hughes brothers made the trip to Halifax, Nova Scotia, to train with Sidney Crosby, Nathan MacKinnon, and Brad Marchand. It was a memorable experience but one that provided a lot of teachable moments about what life is going to be like in the NHL.
"It was crazy because you grow up watching these guys and idolizing them but then you realize you have to stop fanboying when you're on the ice with them," Jack said of his experience. "You realize when you're training with them that soon you're going to start competing against them on a daily basis. So, I mean, it was a cool experience but at the same time, it teaches you to be more focused as well."
For Quinn, he has already been given a taste of what life in the NHL is like putting up three assists in five games with the Canucks in the final five games of 2018-19. He believes getting that head start to his career will be beneficial to him when he hits the ice during training camp.
"It was huge for me, I kind of know what to expect, I'm not guessing anymore," said Quinn about getting a head start on his NHL career. "At the end of last year I was saying 'I wish there 30 more games to go' but that wasn't the case, so I'm really excited to get there."
When it comes to making his NHL debut, Jack knows there will be a lot of emotions and anticipation leading up to it considering all the moves the New Jersey Devils made during the off-season.
"I'm sure there will be a crazy adrenaline rush considering it is a dream come true for me," said Jack. "The fans in New Jersey are really excited and hungry, it has a really good off-season for them and we're really excited to come into camp with the team we have in Jersey."
When it comes to going up against each other, Quinn hasn't tried to think too much about it but knows it will be a memorable one when it does happen.
"I haven't really thought about it too much because I'm just trying to stay day-to-day and think about getting through training camp and the first couple games," Quinn explained. "When that does come, I'll be very excited because we'll probably have a lot of friends and family coming down for it and it should be a good game."