With contract in hand Bennett retreats, recharges for season to come
When it comes to one of his favourite hobbies, Sam Bennett is by no means fishing for compliments.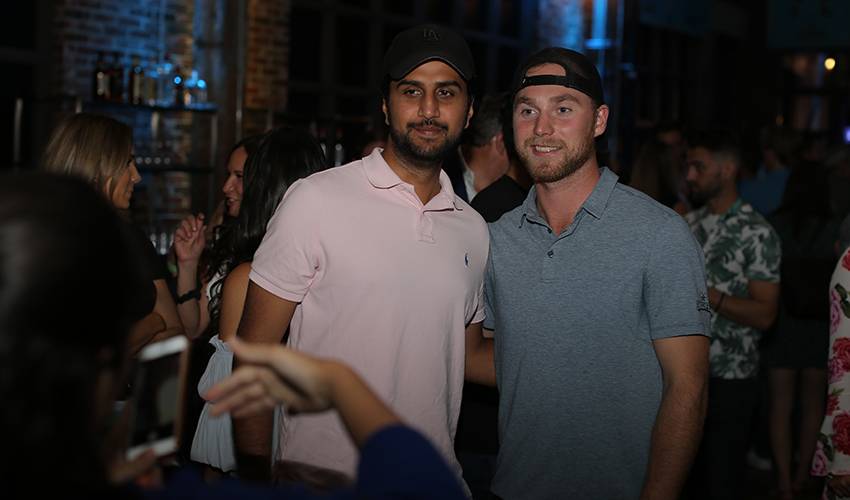 When it comes to one of his favourite hobbies, Sam Bennett is by no means fishing for compliments.
Moments before he took his best shot at winning this year's Smashfest charity ping-pong title (that honour would go to five-time champ Patrick Eaves), Bennett took a few minutes to talk about his summer, specifically, how he's spending some of his down time.
"One of the main things I like to do in the summer is golf," said the 23-year-old native of Holland Landing, Ontario. "I'm a big golfer and I love to do that. The other thing I like to do is going up to my cottage [in Haliburton, Ontario], going out on the water, and doing some boating and fishing."
Bennett, who recently signed a two-year contract with an average annual value of $2.55 million (US) with the Calgary Flames, somewhat sheepishly admitted his golf and fishing games are both somewhat lacking.
Which one is he more proficient at?
"Neither," grinned Bennett.
That being said, the fourth overall pick of the Flames in 2014 does have at least one memorable fishing tale he can boast of.
"I think the biggest fish I've caught in my lake was an eight-pound bass," offered Bennett. "It was a pretty good-sized bass. Recently, I've haven't had much success. The last couple years, I don't have any good fishing stories to talk about. It was a pretty good tussle with that bass though. I think I was 14 when I caught it – made me work for it. It was a good battle, for sure. Definitely happy with the outcome."
The forward is hoping for the same scenario for Calgary in 2019-20. The Flames, who topped the Western Conference standings last season with 107 points, were knocked out of the playoffs in the first round courtesy of the Colorado Avalanche.
Bennett and his teammates will face the Avalanche October 3 for the first regular-season games for both clubs.
Hockey is definitely on his radar these days.
"Where our cottage is, there's no cell service at all. Your phone is completely shut off and you're shut off from the rest of the world. Sometimes that's nice for a little while. For the most part, you try and use the summer not to think about hockey too much. But the moment you start skating and working out, you start thinking about the little things you want to improve upon and then you get that adrenaline going for the upcoming season."
Ahead of the Flames' date in Denver, Bennett will have some more opportunity to cast a line and perhaps have a happy fishing story to share in the locker room.
"I'd be good with that," said Bennett. "I've still got some time to see if we can get one. I'll give it my best shot."
As for which celebrity he'd like to hit the lake with, the former Kingston Frontenacs star picked a Hollywood comedy legend. "I think someone funny, like Will Ferrell, would be great. Even if you didn't catch anything, you'd definitely have a good laugh the whole time."