My Top 5 | Jaden Schwartz
Get the inside scoop on No. 17 in this week's edition of My Top 5!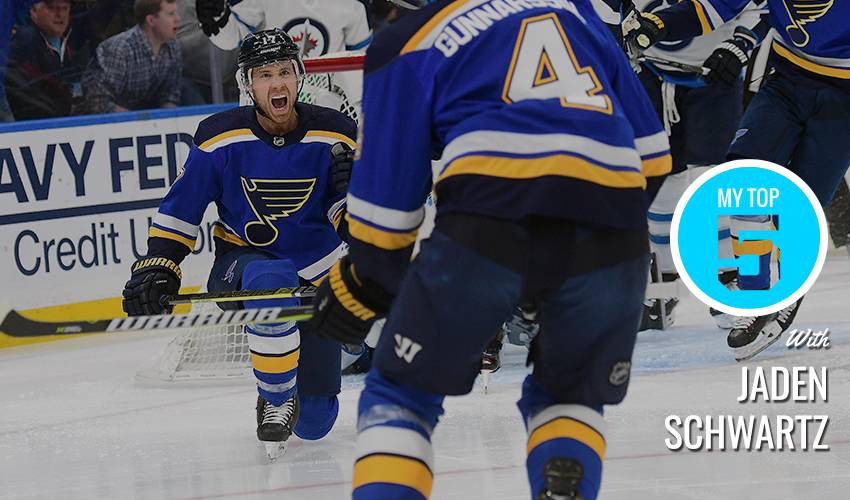 He's had the opposition singing the blues through the Stanley Cup Playoffs, racking up goals and game-winning tallies as St. Louis looks to defeat Dallas in Game 7 of their thrilling Western Conference semifinal series.
Selected 14th overall by St. Louis in 2010, there's no doubt Jaden Schwartz is in the zone these days.
Get the inside scoop on No. 17 in this week's edition of My Top 5.
5 fast facts on Jaden Schwartz
---
1. One-two punch
Schwartz made a memorable NHL debut on March 17, 2012 when he scored a power-play goal against the Tampa Bay Lightning. It proved to be twice as nice for the left wing when he netted another tally in his next game, on March 21 against Anaheim.
2. Earning his stripes
In his sophomore NCAA season, alongside his older brother Rylan, Schwartz was the Colorado College Tigers' scoring leader with 41 points (15 goals) in 30 games. "When you do have time to think back, you realize how lucky you are, and how hard you worked and that this is something you dreamed about growing up and worked toward. I felt Colorado College and college was the best place to get me ready for this. You just continue to learn but the odd times that you get to look back, it's obviously pretty special."
3. Happy Hockey Birthday!
Schwartz shares a birthday with fellow hockey players Doug Gilmour (1,474 NHL games played), Ken Hodge (880 games), Robert Reichel (830 games) and Greg Millen (604 games).
4. Making a point
Schwartz was named Forward of the Year in the United States Hockey League in 2009-10 after winning the USHL scoring title with 83 points (33 goals, 50 assists) in 60 games. He also had a team-high 47 points in 30 games for Colorado College in 2010-11, leading freshmen nationally with 1.57 points per game.
5. Giving back
Schwartz contributed to the building of the Colorado College on-campus Edward J. Robson Arena. In 2018, athletic director Ken Ralph said Schwartz made a "significant" donation that will be spread over three years.