Larkin honoured to carry the torch for Lindsay
Dylan Larkin found himself at a loss for words when he saw one of the most influential hockey players to have ever skated in the NHL walk towards him.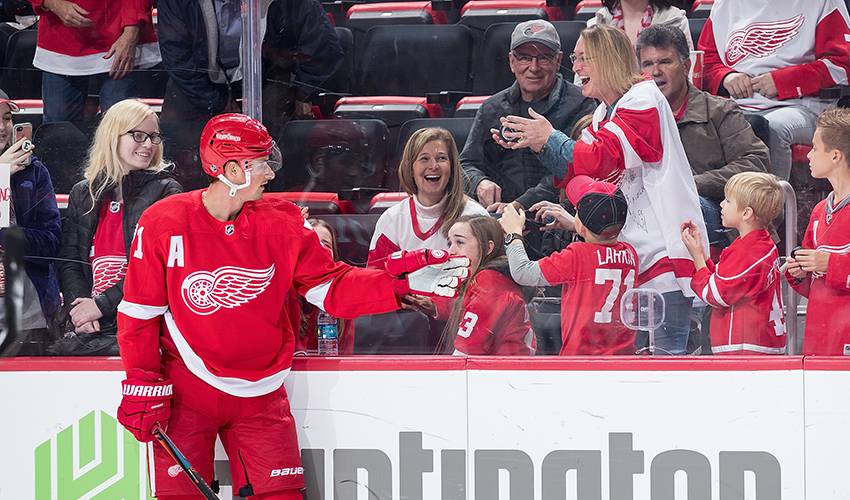 ---
"It's tough to put it down to one thing. For me, being from Detroit and being a Red Wings fan my whole life, meeting Ted Lindsay was one of the best days of my life."
Dylan Larkin was already nervous. He didn't need anything else to put him over the edge. So, when he saw one of the most influential hockey players to have ever skated in the NHL walk towards him, the forward, then a teenager, found himself at a loss for words.
In a matter of seconds, the man with the warm smile and kind words put him at ease.
"I always knew who Ted Lindsay was, but as a young kid, you don't pay attention to the charity work hockey players do and their involvement in the community," started Larkin. "My first day in the locker room, for unofficial practices before training camp, Ted was walking around and shaking everyone's hand. It was my first day there and I was already a bundle of nerves. And then I get to meet this hockey legend. I'll never forget it. I'll always remember how personable he was and no matter what had going on that day or how busy he was, he took his time and spoke with every person, asking them how their day was going. Each one of those conversations was all that mattered to him."
For the player drafted 15th overall by the Red Wings in 2014, it meant the world.
Lindsay, who played a major role in helping Detroit win four Stanley Cups, and was instrumental in the formation of the original Players' Association, has one of hockey's most coveted honours named after him.
The Ted Lindsay Award is given to the "most outstanding player" each season as voted by his peers. The Lester B. Pearson Award was reintroduced as Lindsay's namesake on April 29, 2010.
"It was very special in how giving and kind he was," said Larkin of the player inducted into the Hockey Hall of Fame in 1966 who established his own foundation to support autism and educational programs in 2001. "Through his foundation he has helped so many people out over the years. He spent time with so many people and wanted to make sure they felt loved."
In 2018, Larkin joined Lindsay's charitable organization as a board member and spokesperson.
Honored to join the Ted Lindsay Foundation and excited to be working towards raising awareness and supporting children with autism! https://t.co/UcIGRO0iZ9

—

Dylan Larkin (@Dylanlarkin39) October 23, 2018
"Dylan Larkin is a tremendous addition to our foundation," Lindsay said at the time. "At just 22 years old, he has already shown the drive and determination to make a difference, both on and off the ice. I'm honoured to have him on my team. Dylan will be an important part of the Ted Lindsay Foundation for years to come."
Those words have taken on even more meaning for Larkin after the player dubbed "Terrible Ted" passed away March 4 of this year.
"He means so much to so many people," said the centre who scored an NHL career-best 32 goals in 2018-19. "Honestly, he's one of the most amazing people I've ever met in my life. He's like a hero that I met, and knew who I was. He was a true gentleman. As a young player in the NHL, I don't think there was a better person to look up to than Ted Lindsay."
Larkin will be reminded of that coveted friendship through his efforts with Lindsay's foundation.
"I am so honoured to help carry his work on," said Larkin. "It's something that isn't about me. It's about Ted and his family, and what he's already started. From meeting him and having the utmost respect for him, it really does mean everything to me. It's a privilege to carry the torch that he started."
Ted Lindsay brought Dylan Larkin into his foundation in '18.

Jeff Blashill today: "If you had a chance to know Mr. Lindsay as Dylan has, the passion you're gonna pour into it, he won't just be a figurehead. It'll be passionate because you wanna represent him the right way." pic.twitter.com/iE0u5Qe9gr

—

Brad Galli (@BradGalli) March 5, 2019