Sissons rounding out game with finesse
What exactly does Colton Sissons do to help his team get the win? Just about anything you can think of.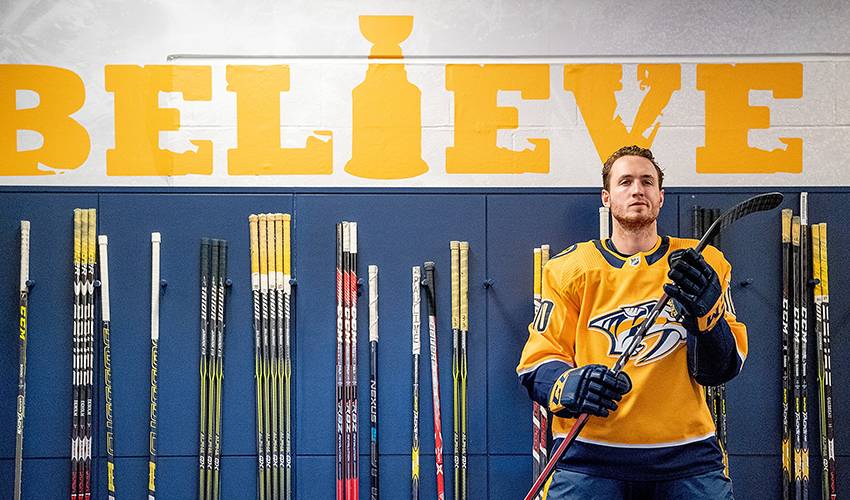 What exactly does Colton Sissons do to help his team get the win? Just about anything you can think of.
Ask the 25-year-old centre from North Vancouver what he would label a successful outing, and Sissons serves up a four-stat offering.
"I think I'd have a couple of hits, a couple of shots on net, chip in with a goal and maybe be over 60 per cent in the dot – I think that would be a good night," he said.
Having already scored an NHL personal-best 13 goals and a career-high 28 points, Sissons has become an ultra-dependable two-way threat for the Nashville Predators.
"Since junior, I've taken pride in being solid in all aspects of the game," said Sissons, who played three seasons in the Western Hockey League with the Kelowna Rockets, from 2010-13. "I needed to find myself some skills to get a full-time job in the NHL and to stick around. I think through that, you get more confidence and more ice time. You just want to get better at all the little things that can make a big difference. It's worked out really well."
Fashioning a plus-25 rating this year, Sissons continues to up his game in the face-off circle, a skill he's dedicated countless hours to over the years.
"That's allowed me to get a lot more time on the ice, especially when you are given the chance to take some key defensive zone face-offs near the end of a game," said the forward whose career strike rate in the dot is 53.2 per cent. "I've gotten better at face-offs over time and it's something I take a lot of pride in."
And while he admits scoring a goal is always a big deal, Sissons, who scored his first NHL goal on March 27, 2014, has come to embrace just how satisfying it is to contribute in other ways.
"There's a lot of little things you can do to make a difference," he said. "You just never know which one of those things is going to help the team win a hockey game."
The night of March 14 would be a perfect example.
In 13:23 of ice time, Sissons scored a goal, recorded an assist, dished out two hits, played 1:09 when the Predators were short-handed, earned a plus-two rating, and capped the evening off with First Star honours.
He'll look to deliver the same type of performance once the Stanley Cup Playoffs get underway.
But don't expect Sissons, who has 19 points in 49 career playoff games, to alter his approach once the post-season puck drop takes place.
"I don't change anything," said the player who scored a hat trick, including the game-winning tally, in Game 6 of the 2017 Western Conference Final.
"Obviously, everything is amped up in the playoffs and there's a lot more pressure, but I've always welcomed that with open arms. I think it brings the best out in my game and it elevates it further. When you are in those big games, like a Game 7, you love the chance to be in them."