Player of the Week | Johnny Gaudreau
Johnny Gaudreau entered a new year on the heels of a strong December while earning his fifth straight NHL All-Star nod and leading league scoring.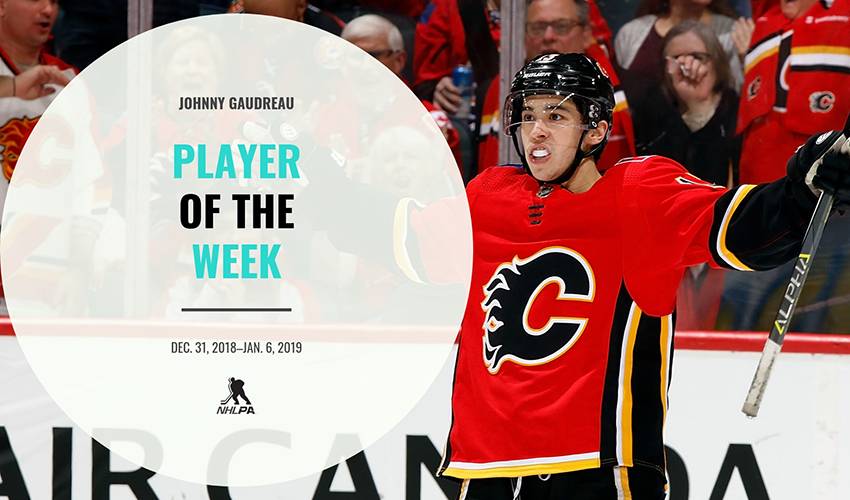 Johnny Gaudreau
DEC. 31, 2018-JAN. 6, 2018
5-6

–

11 OVER 4 GP
LED LEAGUE IN GOALS, POINTS
4-GAME POINT STREAK
AVERAGING OVER 1.44 POINTS PER GAME
62 POINTS IN 2018-19 (T-4 WITH CONNOR MCDAVID)
---
On the heels of a strong December, Johnny Gaudreau earned his fifth consecutive NHL All-Star nod while leading league scoring with five goals and 11 points to usher in 2019.
Gaudreau's six assists also ranked third among league scorers for the week – but he also took to helping out his teammates out any way he could.
The Salem, New Jersey, native ranked second in league scoring over the month of Decemeber with 11 goals and 26 points in 14 outings while posting nine multi-point games.
Over the first week of the the new year, Gaudreau brought his multi-point game total to 18 on the season while scoring his sixth game-winning goal. He also leads Calgary in all three major statistical categories with 24 goals, 28 assists, and 62 points.

LOOKING BACK

DEC. 31
2-2

–

4, 17:27 TOI, GAME'S FIRST STAR
---
CGY 8
SJS 5
In the final game of 2018 for the Flames, Calgary played host to the San Jose Sharks Monday night to keep a hold on first place in the Pacific Division with an 8-5 victory at Scotiabank Saddledome.
Gaudreau earned the game's first star with a four-point effort – including his fifth and sixth goals in a five-game span, which were scored just :41 apart.

JAN. 2
1-3

–

4, 4 SOG, 23:11 TOI, GAME'S FIRST STAR
---
CGY 5
DET 3
The Flames embarked on a four-game road trip to kick off 2019 and pulled into Detroit Wednesday night.
Before puck drop, No. 13 was named to the 2019 NHL All-Star Game as well as the league's second star of the month.
He showed just why they call him Johnny Hockey that night by having a hand in the first four goals scored by the Flames in a 5-3 win at Little Caesar's Arena.
Gaudreau built to his second straight four-point night and the game's first star once more by scoring the game-winner in the final frame after notching three second-period assists.

"This was a pretty wild day," said Gaudreau to reporters postgame. "I got those two incredible honors before the game, but the best part was another big win for us."

JAN. 3
1-1

–

2, 20:14 TOI, 6 SOG, GAME'S SECOND STAR
---
CGY 4
BOS 6
With Boston up next, the Flames closed out the second half of a back-to-back with a loss at TD Garden Thursday.
Gaudreau posted his third straight multi-point effort and earned the game's second star, leading game forwards in ice time while scoring his 61st point (23 goals, 38 assists) in 42 games to match a franchise record for fewest games to reach 60 points in a season (after Bob MacMillan in 1978-79 with the Atlanta Flames).

JAN. 5
1-0

–

1, 20:31 TOI, GAME'S THIRD STAR
---
CGY 3
PHI 2, F/OT
The forward extended his point streak to four games in a Saturday matinee with a 3-2 overtime win over the Flyers at Wells Fargo Center.
The goal was his 24th of the season and 62nd point – good for a share of fifth in overall league scoring, alongside Edmonton Oilers captain Connor McDavid. With the goal, he matched his 2017-18 output.


LOOKING AHEAD

The Flames, who sit atop the Pacific Division and Western Conference, continue their road trip to Chicago where Gaudreau can push his point streak to five games Monday night (8:30 p.m. ET).