With latest milestone in hand, Brouwer eyes postseason with Panthers
Troy Brouwer chalks it up to timing for his NHL chance, but it's postseason prowess that's helped him get to 800 regular-season games.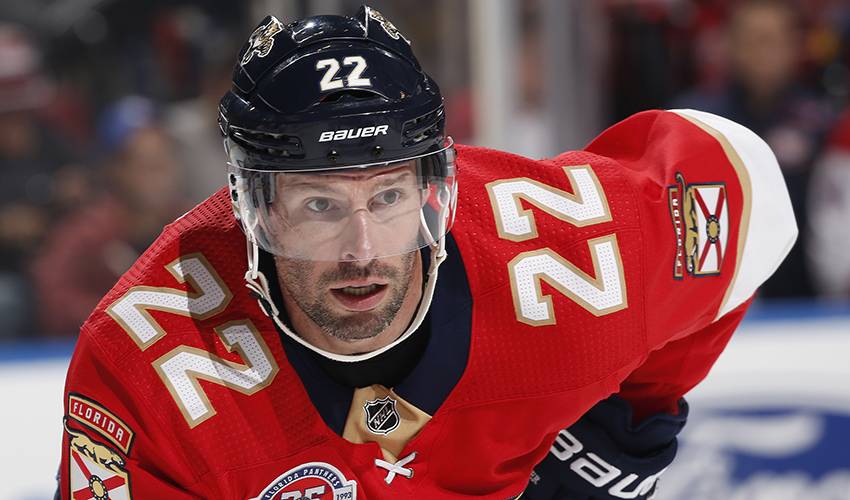 Florida Panthers forward Troy Brouwer skated in his 800th career regular-season game on New Year's Eve, a milestone he was stoked to achieve considering he waited until the seventh round (214th overall) to be chosen in the 2004 NHL Draft.
He became only the eighth player from his draft year to play in 800 games and the list he joined is impressive. The seven players who preceded him include Alex Ovechkin, Andrew Ladd, Travis Zajac, Evgeni Malkin, Blake Wheeler, Mike Green and David Krejci. All but Krejci, who was chosen in the second round, were first-round selections.
"That's a pretty good list," said the 33-year-old right wing, who was drafted by the Chicago Blackhawks. "Those little milestones are fun to achieve, especially for a guy who was happy to play one game, then 10 games, then 100. It's not lost on me."
While players like Ovechkin and Ladd were in rookies in the NHL in 2005-06, Brouwer returned to junior with the Moose Jaw Warriors as a 20-year-old overager. He enjoyed a strong 49-goal, 102-point season to not only win the Bob Clarke Trophy as the WHL's leading scorer – but he helped the Warriors advance to their first league final in club history.
After two more seasons in the AHL Brouwer finally won a roster spot with the Blackhawks.
"When people ask me why I'm in the NHL I tell them timing had a lot to do with it," Brouwer said. "There were a lot of players better than me but Chicago needed a player like me at that time. You get an opportunity and run with it."
Brouwer did run with it. In his first full season, he was part of a young Blackhawks team that advanced to the 2008-09 Western Conference Final. In his second year in Chicago, the he and the Blackhawks celebrated the team's first Stanley Cup Championship since 1961.
Brouwer earned plenty of fans for the way he performed in the 2010 Stanley Cup Final. It was an emotional time because his father, Don, suffered a brain aneurysm late in the regular season.
The son, however, honoured his dad with a two-goal performance in the Blackhawks' win in the opener of the final against the Philadelphia Flyers.
Don is doing fine nine years later and the younger Brouwer now cherishes the long playoff runs he enjoyed early in his career. He has made it back to a conference final only once, with the St. Louis Blues in 2015-16.
"That's why you work so hard in the regular season – to get into the playoffs," said the North Delta, B.C. native, who has played in 102 playoff games. "How you perform in the playoffs often defines you as a player."
Last year, in his second season with the Calgary Flames, Brouwer missed the playoffs for only the second time since his junior days. On the first occasion, the sting was reduced when he was invited to play for Canada at the 2014 World Championship. But his offseason began way too early eight months ago.
"It was not fun," he said. "I'm a competitive guy and I want the opportunity to compete for a Stanley Cup and when you don't have that opportunity it's tough."
The Panthers are no shoo-in for the postseason, but they have been on an upswing recently with six wins in their past eight games.
"For me, my focus is to get this team back into the playoffs," Brouwer said.
In South Florida, Brouwer was reunited with Panthers general manager Dale Tallon, who was running the Blackhawks when the club selected him 14 ½ years ago.
This also is the first time the hard-nosed Brouwer has avoided wintry climates after previous stops in his career in Chicago, Washington, St. Louis and Calgary.
"Love it," he said when asked about his new hockey home. "It's been an easy transition. My daughter's school is three, four blocks away. I skateboard with her to school. She rides her scooter.
"I have a coffee outside every morning, wear shorts and sandals to practice. The only downside is being so far away from family back in B.C."