Player of the Week | Louis Domingue
Louis Domingue continued to do his part to help his league-leading Tampa Bay Lightning (23-7-1, 47 points) to a perfect week while extending his personal winning streak to a career-high five games.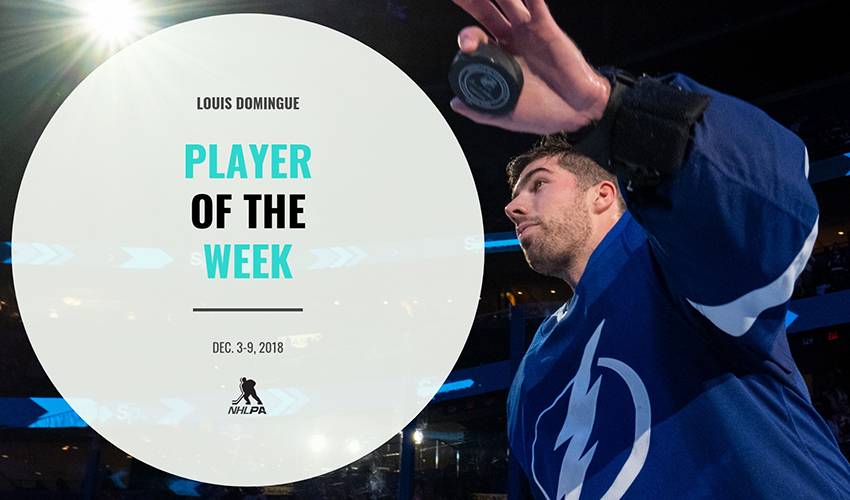 Louis Domingue
DEC. 3-9, 2018
3-0-0 OVER 3 GP
.957 GAA 1.33 SV% (BOTH MARKS 2ND BEST AMONG GOALIES WITH 2+ STARTS)
13 WINS T-3 THIS SEASON
CAREER-HIGH 5 STRAIGHT WINS
88 SAVES ON 92 SHOTS
Since stepping into the starting role for the Tampa Bay Lightning, Louis Domingue has proved himself more than up to the task.
Domingue helped his team to a perfect week by winning three of his starts as part of four straight victories for the Lightning, who remain atop the league (23-7-1, 47 points).
With Andrei Vasilevskiy on the sidelines with a fractured left foot, Domingue has won five straight starts and 11 of 13 overall, while his club is also currently enjoying a six-game winning streak.
LOOKING BACK

DEC. 3
W, 27 SA, 26 S, GAME'S THIRD STAR
---
TBL 5
NJD 1
Domingue picked up his 11th win of the season Monday with 26 saves in a 5-1 win on the road over the New Jersey Devils. The victory earned the netminder his third straight win and third star of the game.
With the second of a back-to-back on the road Tuesday night, Domingue was given the night off as Edward Pasquale made his NHL debut for the Lightning in a 6-5 shootout win.

DEC. 6
W, 35 SA, 33 S, GAME'S SECOND STAR
---
TBL 3
BOS 2
Domingue continued to look strong in net Thursday night home at Amalie Arena by guiding the Lightning to a 3-2 win over the Boston Bruins. The 26-year-old earned the game's second star with 33 saves – one of which teammates took particular notice to.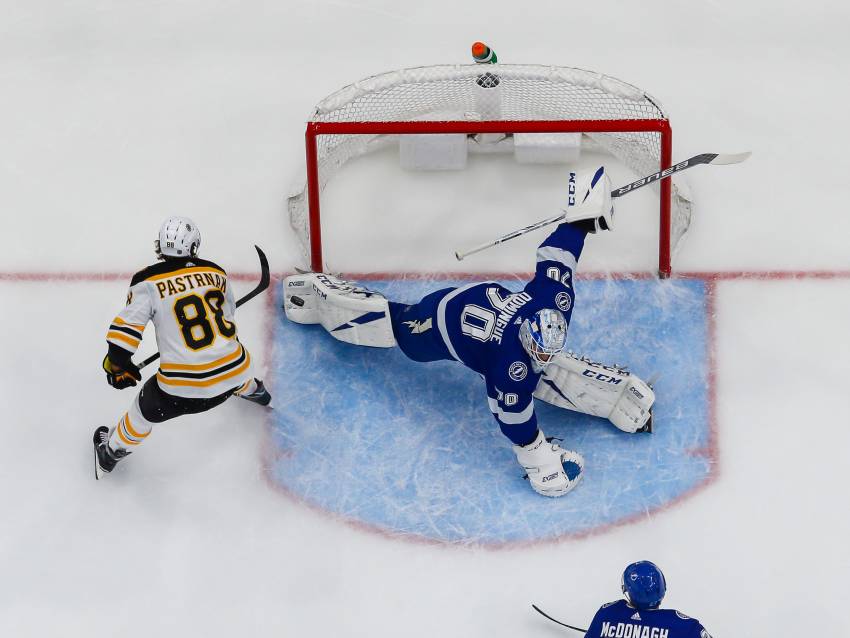 "The save on Pastrnak gave us a huge lift," Anthony Cirelli told reporters postgame. "That's one of their best players coming down on a breakaway, he makes the save and that's a huge momentum swing for us."

DEC. 8
W, 30 SA, 29 S
---
TBL 7
COL 1
Teammate Steven Stamkos had a four-point night (2-2–4) and Domingue made 29 saves to help Tampa Bay win its sixth straight game and his fifth in a row.
The native of St-Hyacinthe, Quebec, now has 13 wins on the season, tied for third overall with Connor Hellebuyck of the Winnipeg Jets.
Domingue's five-game win streak dates back to Nov. 29.
LOOKING AHEAD
With Vasilevskiy participating in morning skates but still on the mend, Domingue will get the start Monday night as the Lightning will continue their four-game home with the visiting New York Rangers in town. Puck drops at 7:30 p.m. ET.