There is no one healing process when it comes to losing a loved one: Foligno
Marcus Foligno thinks of his mother every day.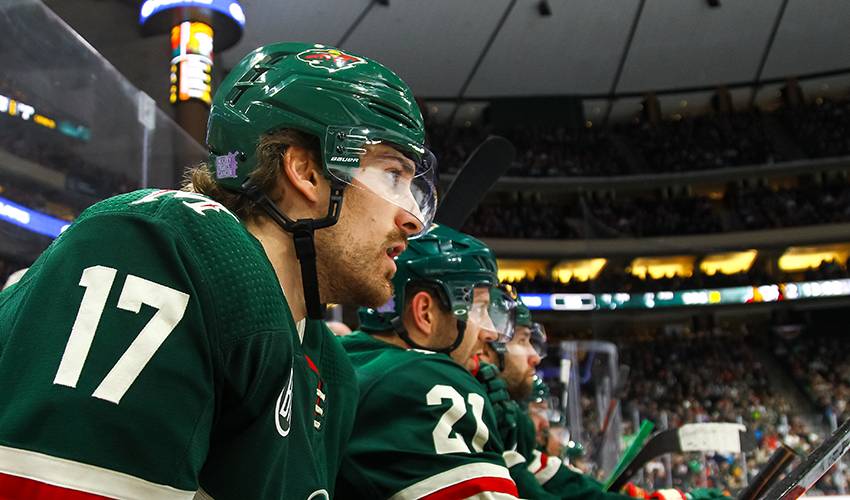 Marcus Foligno thinks of his mother every day. Come November, those thoughts take on special meaning.
It was July of 2009 when Janis Foligno passed away after her battle with breast cancer. She left behind her husband, Mike, and children – daughters Lisa and Cara, and sons, Marcus and Nick.
Nine-plus years after her death, the siblings and their father continue to honour her legacy through the foundation that bears her name, one that helps a variety of causes, programs and initiatives – including the Sudbury Regional Hospital Foundation's Breast Cancer Equipment Fund, the Vale Hospice and Meals on Wheels, just to name a few.
For Marcus, now in his eighth NHL season, and his family, ensuring the foundation maintains its impactful ways remains a top priority.
It's something he's often reminded of, especially during the annual Hockey Fights Cancer (HFC) campaign, which began on November 1. HFC is joint initiative between the NHLPA and NHL as well as a program of the National Hockey League Foundation and NHL Foundation.
Bringing together the hockey community in support of cancer patients and their families, the initiative features ceremonies, observances, and fundraising efforts throughout the month, with participation of all 31 member Clubs and the players.
"It hits home pretty hard," Marcus told NHLPA.com. "I lost my mother to breast cancer 10 years ago come this July. I always think of my mom but this month brings out a lot of those memories with her. Every team has a Hockey Fights Cancer night, where the hockey community comes together and honours those who won, lost or are currently battling cancer. The NHL and NHLPA do a great job raising awareness for cancer."
Long before Janis was diagnosed with breast cancer and even during her toughest times battling the disease, Marcus saw a person that always put others' needs before her own.
Whether it was volunteering with Meals on Wheels, sitting down with shut-ins and listening to their stories, participating in the Walk for A Cure in Toronto and The Relay for Life in Sudbury, Ontario, or helping raise funds and awareness for women to get screened, Janis was an inspiration to her family, community and countless others.
She was also on the Sudbury committee for the Canadian Cancer Society's annual Luncheon of Hope and was a contact person for women who were diagnosed with cancer. During the Christmas season, she would look around the house, often for hours, looking for items to donate to charity.
"My mom taught me many things," said Marcus. "She always wanted us kids to be ourselves. Be you! Don't let anyone change who you are. That lesson came with how I play on the ice to who I am off the ice. She always demanded that we respect and care for people around us. She was always someone who took time to help others and she wanted us to do the same."
What message does the 27-year-old want to share with others whose lives have been affected by cancer?
"I believe there is no one healing process when it comes to losing a loved one," offered Marcus. "It takes time, it takes family support and friend support. That would be my advice, to be around family and friends. Don't hide your emotions and it's okay to talk about the one you lost. Remember the time you had with them and how grateful you are for that time."
It's something Marcus Foligno does every single day.
For more on the Janis Foligno Foundation, visit www.janisfolignofoundation.com.
---
A new NHLPA and NHL joint initiative that complements this year's Hockey Fights Cancer program features Phil Kessel and other NHLPA members as part of a nine-player, limited edition Upper Deck hockey card set.
The special offering showcases cancer survivors Kessel, Brian Boyle and Olli Maatta, as well as Alexander Ovechkin, Henrik Lundqvist, Zdeno Chara, Connor McDavid, Auston Matthews and Devan Dubnyk.
The cards, specifically designed to raise awareness and funds for Hockey Fights Cancer, will be available soon.