Hayes: It's never too early to get checked
Hope. It's the one message Jimmy Hayes constantly conveys to anyone he meets whose lives are affected by cancer.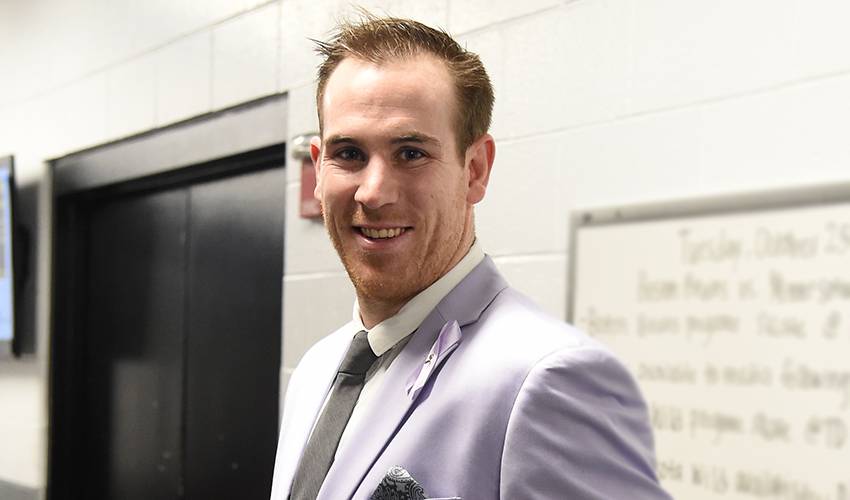 Hope. It's the one message Jimmy Hayes constantly conveys to anyone he meets whose lives are affected by cancer.
He knows the conversations will never be easy, but he never shies away from them. Whether it's a short chat, a longer talk or simply to listen, the 28-year-old pro hockey player is engaged every time.
It's easy to understand why he is.
Hayes, whose brother Kevin plays for the New York Rangers, was in Grade 5 when his mother, Shelagh, was told she had colon cancer. He had just started his NHL career when he found out his father, Kevin Sr., was diagnosed with throat cancer.
"Obviously, it was a shock, not just once, but twice," said the Massachusetts native who has played in 334 NHL games. "It's tough to see anyone struggling with cancer, to see how much energy it takes out of someone. My mom would get radiation and then come home and take care of all five of her kids. My dad, even when he was sick, he'd do the same with us. Fortunately, they both beat it. "
"Twice my family faced cancer, and twice we got through it," said Kevin Hayes in his MSG blog last November. "I am grateful now to have a platform to inspire others every chance I get – sharing my experience with children and others dealing with cancer."
It's equally important to Jimmy.
"When I'm able to meet someone who is affected by cancer, I want to share my story, to tell a young kid or anyone going through it to not give up, to have hope."
That's exactly what Hayes saw in his former New Jersey Devils teammate Brian Boyle.
The 33-year-old forward is a cancer survivor himself. Diagnosed with chronic myeloid leukemia on Sept. 19, 2017 after a blood test during a training camp physical showed abnormal results, Boyle received treatment and was back on the ice last November. He was also the recipient of the League's Masterton Trophy (best exemplifying qualities of perseverance, sportsmanship and dedication to hockey).
This October, he announced his cancer is in remission.
On November 5, Boyle netted his first NHL hat trick. Fittingly, it came on Hockey Fights Cancer night in Pittsburgh.
"Amazing," said Hayes. "It was very inspiring to play alongside Brian last year. To see my parents beat it and then seeing the good news he had, I couldn't be happier."
It gives Hayes three impactful stories to share with people who are dealing with cancer, especially during Hockey Fights Cancer month in November.
And it also reminds him of his continuing advocacy for early detection.
"I had to learn the hard way," said Hayes. "My mom had to tell me that she had colon cancer. Luckily, her doctor was someone who checks 10 years earlier than most would. For someone like myself – I'm turning 29 next week – it's right around the time where I'm going to get my first colonoscopy. If you can get ahead of it, I think it's something a lot of people should be proactive about. It's never too early to get checked."
Currently, Hayes is playing with Pittsburgh's American Hockey League affiliate in Wilkes-Barre/Scranton, who have also partnered with the Hockey Fights Cancer initiative.
Hayes remains committed to those affected by cancer.
"I want to be there for anyone going through it," he said. "I'm always willing to talk with or listen to anybody that's dealing with it."
---
A new NHLPA and NHL joint initiative that complements this year's Hockey Fights Cancer program features Phil Kessel and other NHLPA members as part of a nine-player, limited edition Upper Deck hockey card set.
The special offering showcases cancer survivors Kessel, Brian Boyle and Olli Maatta, as well as Alexander Ovechkin, Henrik Lundqvist, Zdeno Chara, Connor McDavid, Auston Matthews and Devan Dubnyk.
The cards, specifically designed to raise awareness and funds for Hockey Fights Cancer, will be available soon.