20th annual Hockey Fights Cancer begins today
Hockey Fights Cancer will feature special events, observances, and stories from people around the hockey community.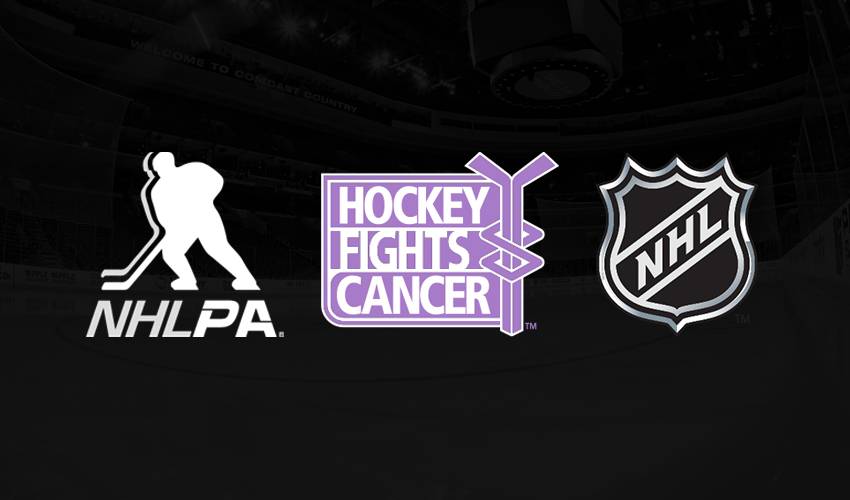 20TH ANNUAL HOCKEY FIGHTS CANCER INITIATIVE BEGINS TODAY
'HFC Assist' Brings the Campaign to Youth Hockey Teams Across North America
New Hockey Fights Cancer Ambassador Lauren Boyle Joins the Campaign
---
NEW YORK/TORONTO (Nov. 1, 2018) – Hockey Fights Cancer™, a joint initiative between the National Hockey League (NHL) and National Hockey League Players' Association (NHLPA), begins today. The 20th annual campaign, which has been uniting the hockey community in support of cancer patients and their families since 1998, will feature special events, observances, and stories from people around the hockey community.
All 31 NHL Clubs will host a Hockey Fights Cancer awareness night in-arena, featuring lavender jerseys, dasherboards, decals on player helmets, and "I Fight For" cards. New this season, youth hockey teams across North America can host their own Hockey Fights Cancer awareness nights in their community rinks via the HFC Assist program. Hockey communities that sign up will receive a package including official helmet decals, lavender tape, "I Fight For" downloadable cards, and tips on how to engage their community to raise funds and awareness. Communities can register at HockeyFightsCancer.com.
Also new this season, Lauren Boyle – wife of New Jersey Devils forward Brian Boyle – has been named an official Hockey Fights Cancer ambassador. The trials of cancer are all too familiar for Lauren who has been a major support system for her husband. Brian was diagnosed in September 2017 with Chronic Myeloid Leukemia, a type of bone marrow cancer. NHL.com will publish special columns by Lauren this month detailing her personal experience, as well as an interview with her and last year's ambassador Nicholle Anderson, cancer survivor and wife of Ottawa Senators goaltender Craig Anderson.
Returning for a second consecutive season, esteemed national organizations American Cancer Society and Canadian Cancer Society have partnered with Hockey Fights Cancer. The American Cancer Society operates 32 Hope Lodge facilities across the U.S. and Puerto Rico, providing more than 5 million nights of lodging since 1984. In Canada, the Canadian Cancer Society operates seven lodges across the country, providing meals, accommodations, transportation, activities, and emotional support for hundreds of cancer patients each day.
For a sixth season, Hockey Fights Cancer is partnering with the Movember Foundation, focused on men's health. Fans are encouraged to get involved at Monetwork.co/NHL to support their favorite NHL team or player, or to raise money with family and friends. Fans also can donate to the page of legendary moustache owner George Parros, NHL Senior Vice President of Player Safety and longtime supporter of the Movember Foundation.
Last year, donations in support of the Hockey Fights Cancer initiative provided more than 5,000 nights of lodging for patients and their families; transportation, including more than 15,000 rides to and from treatment facilities; telephone assistance, providing vital support services for patients and their caregivers; and pre- and post-treatment support for more than 1,300 men battling prostate cancer. Fans can continue to donate to the Hockey Fights Cancer initiative by visiting HockeyFightsCancer.com. Donations will aid cancer patients undergoing treatment as well as cancer care facilities.
On Friday, Nov. 9, NHL Network™ will host a Hockey Fights Cancer night in-studio across NHL Now™, NHL Tonight™ and On The Fly™. Throughout the month, NHL Network personalities will wear official merchandise (including ties and pins), the in-studio demonstration rink will feature lavender tape, and programming will include Hockey Fights Cancer stories from across the NHL. Fans also can tune-in to Hockey Fights Cancer national broadcasts on Sportsnet, Saturday, Nov. 3 (TBL @ MTL, 7 p.m. ET) and NBCSN, Tuesday, Nov. 6 (EDM @ TBL, 7:30 p.m. ET).
Also returning this season, as part of its Every Save Counts™ initiative, Cigna will donate $1 for every save made during the NHL regular season and playoffs, and will match donations of $25 or more by U.S. donors made online at HockeyFightsCancer.com, subject to a maximum of $100,000.
Fans can get involved and share their stories using the official hashtag #HockeyFightsCancer and by visiting the official website to download an "I Fight For" card. Merchandise is available at shop.nhl.com.
###
About the American Cancer Society
The American Cancer Society is a global grassroots force of 1.5 million volunteers dedicated to saving lives, celebrating lives, and leading the fight for a world without cancer. From breakthrough research, to free lodging near treatment, a 24/7/365 live helpline, free rides to treatment, and convening powerful activists to create awareness and impact, the Society is attacking cancer from every angle. For more information go to www.cancer.org.
About the Canadian Cancer Society
At the Canadian Cancer Society (CCS), our vision is a world where no one fears cancer. With the support of our volunteers and donors, we improve and save lives by taking a comprehensive approach to our work against more than 100 types of cancer. CCS funds research, provides services to those living with cancer, advocates on important cancer-related issues and educates and empower people to make healthy choices. For more information, visit cancer.ca or call our toll-free bilingual Cancer Information Service at 1-888-939-3333.
About the Movember Foundation
The Movember Foundation is the leading charity dedicated to changing the face of men's health around the world. With a singular goal to stop men dying too young, the Foundation supports the following causes: prostate cancer, testicular cancer, mental health and suicide prevention. Since 2003, the support of more than 5 million participants has funded over 1,200 innovative projects across more than 20 countries. Since partnering with Hockey Fights Cancer in 2011, $800,000 has been raised to help fund ground-breaking projects that tackles the biggest health issues faced by men. To donate or learn more, please visit Movember.com.
About Hockey Fights Cancer
Since its inception in 1998, Hockey Fights Cancer -- a joint initiative by the National Hockey League (NHL) and National Hockey League Players' Association (NHLPA) -- has resulted in donations of more than $20 million to support national and local cancer research institutions, children's hospitals, player charities, and local charities. Hockey Fights Cancer is also a program of both the National Hockey League Foundation (in the US) and NHL Foundation (in Canada). Lavender, the official color of Hockey Fights Cancer, represents all cancers and will be featured prominently throughout the campaign. To join the conversation, use the official hashtag #HockeyFightsCancer.
NHL and the NHL Shield are registered trademarks and Hockey Fights Cancer name and logo, Le Hockey Pour Vaincre Le Cancer name and logo, NHL Network, NHL Now, NHL Tonight, NHL On The Fly and Every Save Counts are trademarks of the National Hockey League. NHL and NHL team marks are the property of the NHL and its teams. © NHL 2018. All Rights Reserved.