Long and winding path leads to veteran status for Muzzin
A Stanley Cup, a World championship and World Cup of Hockey title, but nothing has come easy for the Los Angeles Kings veteran defenceman.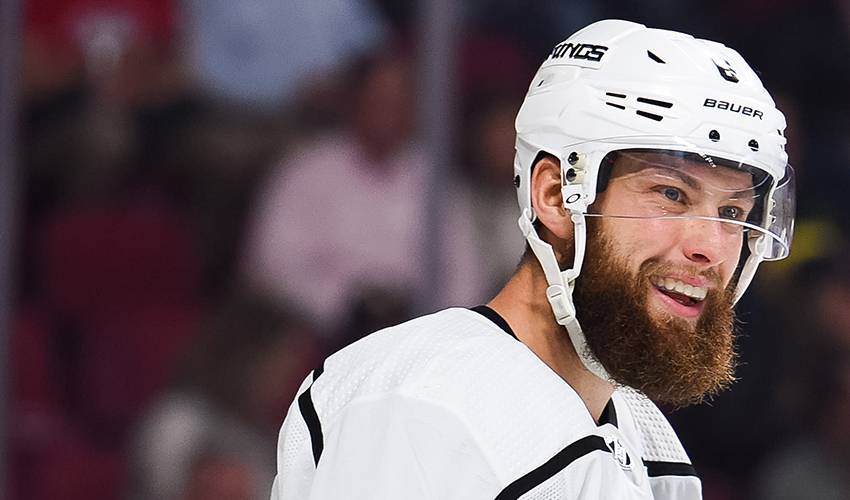 Jake Muzzin has won a Stanley Cup, an IIHF World Championship and World Cup of Hockey title, but nothing has come easy for the Los Angeles Kings veteran defenceman.
"Yes, I have a bit of a different story of making it than the guys who were high draft picks," the bearded 29-year-old native of Woodstock, Ontario, said. "That would have been the easy way to do it. It took me a while to find my way."
When Muzzin was 16, his hockey career was derailed after he suffered a herniated disc. He underwent surgery to repair the precarious ailment and wound up missing more than a year of action.
"For a little bit it kind of felt that hockey was done for me," he said. "It was a difficult time and it made me not take hockey for granted.
"When you're that young and out for over a year with a back injury it's a difficult situation to deal with."
But Muzzin had belief in the surgeon and the recovery plan. He returned in time to play the final 37 games for the 2006-07 Sault Ste. Marie Greyhounds and two rounds of the playoffs. He exhibited enough for the Pittsburgh Penguins to select Muzzin in the fifth round (141st overall) of the 2007 draft.
But the teenager failed to demonstrate enough in the next two seasons of junior for the Penguins to sign him to an entry-level contract. Therefore, Muzzin re-entered the draft in 2009, but his name wasn't called as he sat through seven rounds and 211 selections.
So he returned to Sault Ste. Marie for his overage season. His game clicked. He won the 2009-10 Max Kaminsky Trophy as OHL defenceman of the year and the Kings saw enough in Muzzin to sign him as a free agent.
"Sure there were a few bumps along the way," he said. "I started junior at 16 and I don't think I figured it out until I was 21. It showed that I had some perseverance and belief in myself."
Muzzin, however, had to show his perseverance once again as a young pro. After his overage season concluded he joined the Kings AHL affiliate, the Manchester Monarchs, for their regular-season finale and playoff run. But he required two years in the AHL to develop.
After that second season had finished in Manchester, Muzzin was summoned to the Kings as one of their Black Aces. He had a front-row seat as Los Angeles won its first Stanley Cup.
"It showed me what takes to win," he said. "It showed me the importance of being prepared. It was an intense time yet I thought the guys were laid back and they had belief in the team and the system. It actually made me a lot hungrier to make it and to be a playing part of the team instead of just watching."
Muzzin played an important part two years later when the Kings won another Stanley Cup, this time performing alongside Drew Doughty. All of a sudden, after a long and winding road to get there, Muzzin was an elite defencemen.
That was evident when he was invited to play for the gold-medal winning Canadian team alongside Sidney Crosby, Taylor Hall, Nathan MacKinnon and Brent Burns at the 2015 World championship in Prague, Czech Republic. Muzzin also was part of Canada's win at the 2016 World Cup of Hockey, sharing the championship with Doughty.
"I'm grateful for that time and what I have learned playing alongside Drew," Muzzin said. "We have a good friendship."
With Muzzin spending the summer in Woodstock and Doughty 40 minutes away in London, the two spend plenty of time together on the golf course.
"He's taught me a lot, mainly to be relaxed and to have fun with the game," Muzzin said. "It helped me as a younger player when you're stressing as you try to make your way."
And Muzzin has found his way.