Duchene: When push comes to shove, people help people
"There are lot of bad things going on in the world these days, but when push comes to shove, people help people."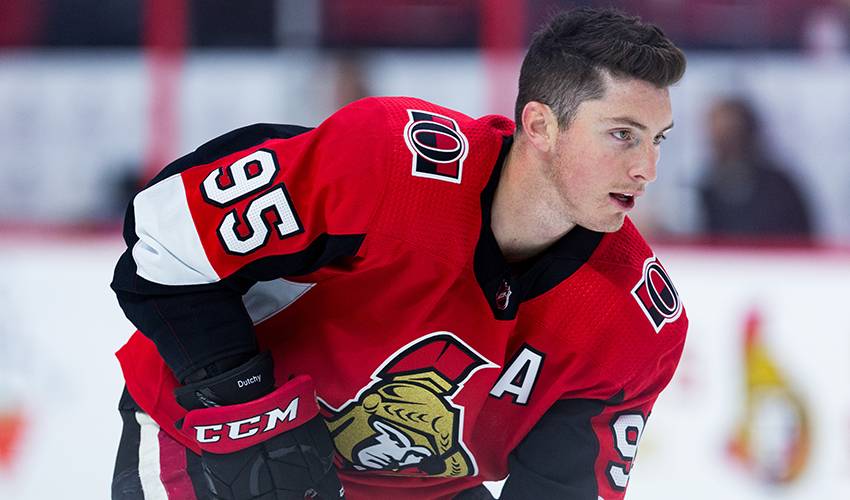 "There are lot of bad things going on in the world these days, but when push comes to shove, people help people."
Matt Duchene sensed something bad was coming well before he arrived at Canadian Tire Centre for the Ottawa Senators' home exhibition game against Chicago on September 21.
"Even driving to the rink, it felt like my truck didn't want to move because the wind was so bad," he recalled. "I got out of the truck and my suit was blowing all over the place. It was weird because it was kind of overcast, but still really, really hot. It was strange weather, so it didn't surprise me what happened."
The 'what' he speaks of were the tornadoes that ripped through communities in Ottawa and Gatineau (Quebec) just over a week ago, leaving behind a trail of destruction in their wake.
"When I heard of the devastation, I was in shock," said the 27-year-old forward who is set to begin his second season in a Senators jersey. "I think all of us were. To hear that people lost their homes… it's just horrible."
So Duchene and his teammates did what hockey players do – they stepped up immediately to help those in need.
A locker room conversation amongst the group quickly turned into a spontaneous fundraiser.
"We all started thinking about what we could do to help out," recalled Duchene. "One thing we did really quickly was to get an envelope and start collecting cash. Our goal was to collect $10,000 and we got there very fast. We have a few different organizations that are going to match us, so that number could go higher pretty quickly. Obviously, it's a small dent in the grand scheme of things, but we – the (team) foundation, the organization and the players – are looking at what else we can do. We're ready to continue to help everyone that was affected."
The team unveiled plans for a month-long food drive that will take place at each event and Senators hockey game at Canadian Tire Centre until the end of October.
As the efforts of the first responders, the employees at Hydro Ottawa and Hydro-Quebec and the Canadian Red Cross continue to provide relief efforts for citizens the region, the Ottawa Senators Foundation launched a GoFundMe campaign.
Along with a $100,000 donation from the Ottawa Senators Foundation, the GoFundMe campaign has raised over $340,000. The NHLPA and NHL also jointly contributed $25,000 to the cause.
Ben Milks (@Brian5of6), a Senators superfan and social influencer, raised money from the sale of his team-inspired merchandise that was donated to the GoFundMe initiative.
Duchene and his teammates are looking at other ways to assist those impacted by the tornadoes.
"We're very blessed to do what we do and this is a tough go for these people," said Duchene. "They're our fans and we need to support them the best we can. The other thing we're planning on doing is picking a day, after we practice, where we go and help the volunteers who are working hard to clean things up – whether we're bringing food to them or getting our hands dirty ourselves – and do what we can. We're not finished helping. It's a small community, but it's a strong community. I feel like it's our responsibility to do whatever we can."
The widespread support, from near and far, doesn't surprise Duchene.
"Especially up here in Canada, everybody is always willing to lend a hand to help each other. I think you're seeing that right now."