Brouwer looks to complement Panthers' up-tempo game
As Troy Brouwer recalls, it wasn't much fun facing the Florida Panthers. He doesn't have to worry about that now.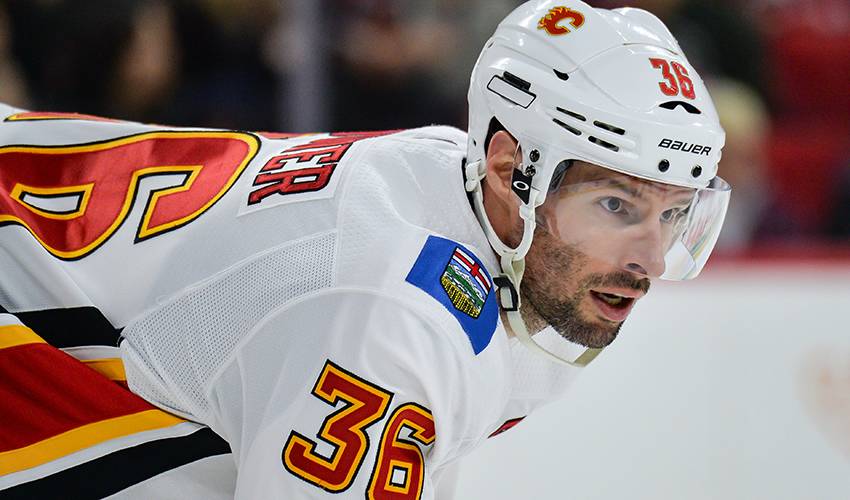 As Troy Brouwer recalls, it wasn't much fun facing the Florida Panthers. He doesn't have to worry about that now.
It was after the first period of Calgary's road tilt against Florida on January 12 when the veteran forward took a deep breath and readied for the next 20 minutes at BB&T Center.
"I love how they play the game," said Brouwer. "After the first, we were almost overwhelmed by just how fast they play, that up-tempo game where the defencemen are up in the rush and making plays. They backcheck hard and they didn't give you a lot of time and space. That's a lot of hard work all over the ice. I thought they played their system very well, one that complements their team very well. "
'Their' team is now Brouwer's team.
The 33-year-old right wing signed a one-year contract with the Panthers on August 27.
Brouwer has recorded 169 goals and 341 points over his 12-year NHL career with the Chicago Blackhawks, Washington Capitals, St. Louis Blues and Calgary Flames. He's a three-time 20-goal scorer and won the Stanley Cup with Chicago in 2010.
"When it arose, I was really excited about it," said Brouwer. "Not knowing what was going to happen or who was going to be interested – Dale (Panthers GM, Tallon) called me and wanted to know if I had interest – it was great to have that conversation with him. When you look at the team, you think about it right away. It's a young, exciting team that has great superstars and a lot of good depth throughout the lineup. They have great d-men that skate and move the puck well, too. You saw a team, especially at the end of last year, that had a great finish."
Despite the strong surge, the Panthers missed out on the playoffs by one point.
Brouwer, who has skated in 102 NHL post-season games, knows he's joining a team that's eager to get back into the Stanley Cup mix.
"To go there and play with these guys, especially at such an exciting time where the team is growing and getting better, you can see something special happening. It's going to be a lot of fun."
The Vancouver-born Brouwer is eager to contribute wherever he can.
He's looking to use the 763 games of NHL experience he's racked up to help the Atlantic Division club reach its playoff goal.
"With the way it ended in Calgary, it wasn't ideal," said Brouwer. "You get a hunger. Sitting here the last three and a half weeks or whatever it's been, you go through a lot of emotions. There was a lot of talk with a bunch of different teams, which is always encouraging, but you're just waiting for the right fit.
"Me coming into Florida – not stepping on anyone's toes – I feel like I can bring a lot to this team, especially at this stage of my career and the stage of where that core group and that team is going. I feel like I've got a lot of good hockey left in me. I'm coming into this season with something to prove, a lot of hunger and a lot of ambition."
Don't expect Brouwer to don a Hawaiian shirt, sunglasses and sandals while blasting Jimmy Buffett tunes when he walks in to meet his new teammates for the first time.
"I have to figure out what my grand entrance is going to be," he said with a laugh. "Something out of Major League style."