10th annual NHLPA Rookie Showcase wraps up in Toronto
The 10th annual NHLPA Rookie Showcase brought together 25 of the top NHL rookies and prospects for an eventful weekend in Toronto.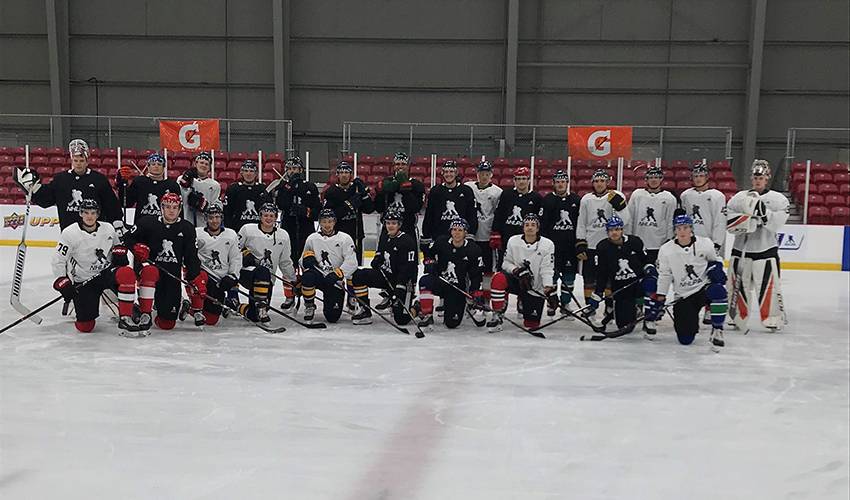 The 10th annual NHLPA Rookie Showcase brought together 25 of the top NHL rookies and prospects for an eventful weekend in Toronto.
The event started on Saturday with the players taking in a Toronto Blue Jays game together before finishing up with Sunday afternoon with them lacing up the skates for a fun team scrimmage at Mastercard Centre.
After a summer of training and preparing for the upcoming season, the young players were excited to catch up with friends and getting the opportunity to meet some new faces.
"All of us here are in the same boat getting ready for camp," said Casey Mittlestadt, Buffalo Sabres' 2017 first-round draft pick. "So it was nice to come up here for a couple of days this weekend, kick back and mess around on the ice because it's something you don't get to do that often."
This is one of the last stops before each player will report for training camp. Seven players in the group already got a glimpse of what life in the NHL is like with more looking to make an impact when training camp opens.Henrik Borgstrom, Daniel Brickley, Ryan Donato, Adam Gaudette, Jordan Greenway, Casey Mittelstadt and Dylan Sikura all suited up for their NHL clubs before the close of the 2017-18 season.
The main focus of the event was for Upper Deck to gather photo and video shots of the players in their NHL team jerseys to use for their first official rookie cards. Throughout the different stations, the players had some fun too, from interviewing fellow rookies to showing off some poses.
Upper Deck also gave the players packs of their latest collection of hockey cards so the players could test their luck while opening some of them.
Another enjoyable station for the rookies was with EA Sports who were taking head scans in order to capture each player's facial features for the NHL19 video game.
"When I was sitting in there it was pretty cool to see all the different camera angles, and the different poses you have to do to make it," said Robert Thomas, St. Louis Blues' 2017 first-round draft pick. "When I played it, you got to customize your guy or use the pro faces and when you spin around you get to see everything, so it was cool to see that process."
It has been a common theme to see players tweet out their ratings on social media and players like Nick Suzuki are using it as motivation going into this season.
"I got my rating tweeted a couple of days ago, it's a bit lower but it gives rooms for improvement," said Suzuki, Vegas Golden Knights' 2017 first-round draft pick.
This year's group of NHL rookies and prospects included Vitaly Abramov (Blue Jackets), Rasmus Asplund (Sabres), Rudolfs Balcers (Sharks), Drake Batherson (Senators), Kieffer Bellows (Islanders), Henrik Borgstrom (Panthers), Evan Bouchard (Oilers), Daniel Brickley (Kings), Ryan Donato (Bruins), Dillon Dube (Flames), Adam Gaudette (Canucks), Jordan Greenway (Wild), Carter Hart (Flyers), Miro Heiskanen (Stars), Jordan Kyrou (Blues), Timothy Liljegren (Maple Leafs), Casey Mittelstadt (Sabres), Michael Rasmussen (Red Wings), Ilya Samsonov (Capitals), Dylan Sikura (Blackhawks), Nick Suzuki (Golden Knights), Robert Thomas (Blues), Brady Tkachuk (Senators), Juuso Valimaki (Flames) and Filip Zadina (Red Wings).