de la Rose reflects on Swedish greats ahead of first World Championship
Role models for all hockey players on and off the ice for almost two decades, the Sedin twins were particularly influential young Swedish players like de la Rose.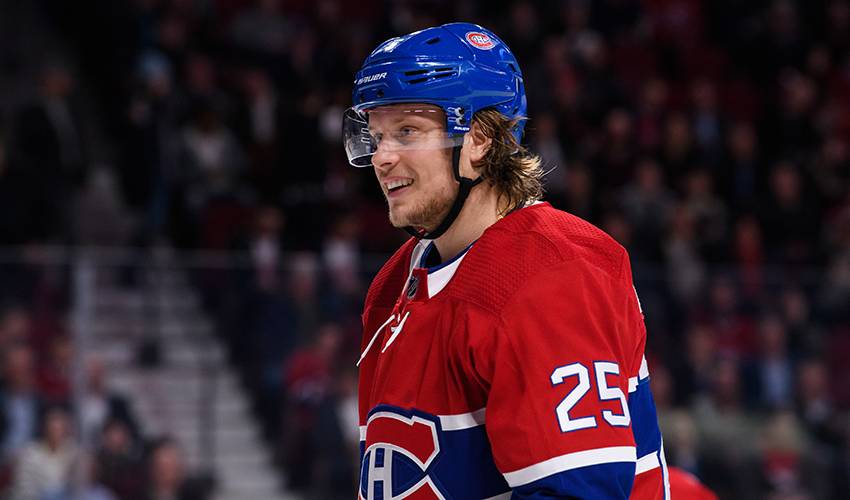 Montreal Canadiens forward Jacob de la Rose always has been a student of the game.
That's what happens when your father, Anders, played hockey for a few seasons with the local pro team in Arvika, Sweden in the mid-1990s, and later coached youth hockey.
That's what happens when your older brother Erik also plays the game. Two years older, Erik is a defenceman with Dukla Jihlava in the Czech Republic.
When Jacob was a youngster growing up in Arvika, Sweden, he often stayed up in the wee hours of the morning to watch on television Nik Lidstrom, Henrik Zetterberg and a handful of other Swedes perform for the Detroit Red Wings. He also closely followed his favourite player, Peter Forsberg, because of the of the way he competed every game.
de la Rose also liked to take in games involving Daniel and Henrik Sedin and the Vancouver Canucks.
"Growing up, I watched them a lot," the 22-year-old de la Rose said. "It has been a pretty cool story in the way they were drafted together and played together basically every shift of their careers. It's awesome. They're Hall of Famers for sure."
Henrik and Daniel Sedin announced at the beginning of the final week of the regular season that they were going to retire at age 37 after 17 seasons in the NHL.
They have been role models for all hockey players on and off the ice for almost two decades, particularly young Swedish players like de la Rose.
That's why the Canadiens forward made an effort to follow as much as he could the Sedins final three games on Tuesday, Thursday and Saturday last week, even though Vancouver and Montreal played on the same nights.
"We played in Detroit on Thursday, but as soon as we landed I went to Twitter to follow the game," said de la Rose, who was referring to the Sedins last home game, a 4-3 win against the Arizona Coyotes, in which Henrik set up Daniel for the game-winner.
"The way they ended their final game on home ice was awesome," de la Rose said. "I saw the goal and it brought a smile to my face."
de la Rose's hometown of Arvika is a nine-hour drive northeast up the E4 highway to Örnsköldsvik, the hockey-mad town where the Sedins were raised as well as Forsberg.
de la Rose has never met the twins, just played against them in the NHL a few times. But the young Montreal forward has admired the Sedins from afar, particularly after the 2013 World championship in Stockholm.
"They came home after their season was done and played the last four games," de la Rose recalled. "They absolutely dominated and brought home the gold. That's why they're so popular back home in Sweden."
de la Rose knows what it's like to play with a brother, but it's not the same. Erik is a defenceman. So the younger de la Rose can only imagine what it has been like for the twins — Henrik, a centre, and Daniel, a left wing — to play together.
"Obviously, you try to pick up things when you watch them," de la Rose said. "But they are different kind of players than me. Still, you pick up the odd little move they would make. I love watching them. They're incredible. I enjoyed last week seeing all the highlights."
de la Rose is coming off a season in which he played a career-high 55 games. He was a well-regarded teenage prospect, having played for Sweden in three World junior tournaments. He won silver in 2013 and 2014 and captained the 2015 team to a fourth-place finish.
Now after his decent season with Montreal, de la Rose has been invited for the first time to play for Sweden at the World championship in Denmark next month. Something he knows all the great Swedes, like Forsberg and the Sedins, have done before him.