The outdoors agree with J.T. Miller
J.T. Miller's penchant for coming up big on the outdoor sporting stage isn't just limited to hockey.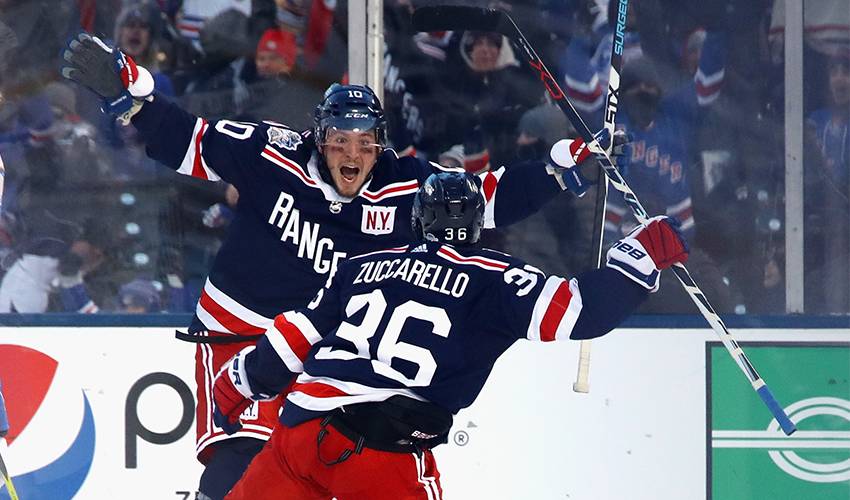 J.T. Miller's penchant for coming up big on the outdoor sporting stage isn't just about hockey.
Years before his overtime tally delivered the New York Rangers a 3-2 win in the 2018 Winter Classic against the Buffalo Sabres, Miller had already experienced some outdoor sports magic of his own.
Although hockey was his game of choice from an early age, it was football that was the predominant sport in East Palestine, a town of just under 4,800 people that's situated about 90 miles southeast of Cleveland.
And while strapping on the skates has always been his first love, Miller also had some memorable moments on the gridiron, too.
He played a variety of positions on both sides of the ball, including quarterback and linebacker.
"I played all through middle school – fifth grade to eighth grade," recalled Miller. "I played a little bit of quarterback, tight end and running back. I pretty much played linebacker the whole time.
"Football was pretty much for fun," he continued. "I think we knew I'd probably have more success in hockey. All my friends played football when I was a kid and it was a blast. The practices for hockey and football were generally around the same time, so it got to the point where you had to choose one over the other. Hockey was serious for me, so I had to drop football before high school."
At the very least, Miller ended his football life on a high note.
"My last ever game in middle school, I remember it was really cold out and I had three interceptions playing linebacker," he said. "I wasn't really a big defensive player when I played, but I came up with three interceptions that day. That was definitely my best moment for that."
Hockey, however, was and still is No. 1 for Miller.
As a kid, he spent countless hours on the rink his father built in the backyard of the family's home.
While the rink was modest in size, the aspiring NHLer put it to good use.
"It was awesome," said Miller. "Not many people had the luxury of having an ice rink in their backyard where I'm from. It's not really a big hockey town. But he built that rink for me. It was just enough for a couple of little kids to skate and shoot on, along with a net and a goalie."
The 24-year-old was reminded of those days after his Winter Classic winner in front of 41,821 fans.
"I got some nice text messages after the game," he said. "Nothing too crazy. But it was great to be part of it all."
And something Miller can add to his list of outdoor sporting achievements.