Michigan life is the good for Luke Witkowski
Even before Nikita Kucherov became the hottest goal scorer on the planet the Muscovite made quite an impression on Detroit Red Wings newcomer Luke Witkowski.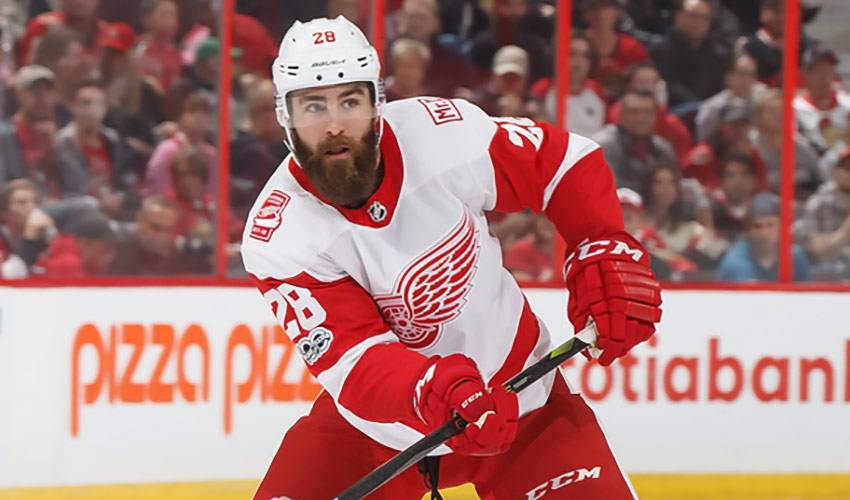 Even before Nikita Kucherov became the hottest goal scorer on the planet right now the Muscovite made quite an impression on Detroit Red Wings newcomer Luke Witkowski.
Witkowski and Kucherov were teammates for four seasons with the Tampa Bay Lightning and AHL Syracuse Crunch.
Kucherov has emerged out of the gate with goals in each of his first seven games. His impressive early-season pace has him in the same company as by big names like Mario Lemieux (12 games, 1992), Mike Bossy (10 games, 1984), Wayne Gretzky (eight games, 1983) Ken Hodge (seven games, 1973) and Tony Tanti (seven games, 1983).
"He is so happy to be playing in the NHL," Witkowski said. "If you're coming to work that happy, you're going to produce. He always has a smile on his face."
Somewhere behind that bushy beard, Witkowski also is smiling these days, too. Trust us. He's smiling about Kucherov's fantastic start and Witkowski is smiling about playing for the Red Wings.
The versatile right wing, who also can play defence, was raised in Holland, Michigan, about an hour southwest from Grand Rapids, where the Red Wings have housed their AHL affiliate.
But Witkowski doesn't come from "a traditional hockey family." His father John was a high school football star and ran track. His Mom Kristen also ran track as did his brother. In fact, Luke was a middle-distance runner before he was hit by the hockey bug.
Maybe it the strong legs from running that helped develop Witkowski into a strong skater, despite his large 6-foot-2, 210-pound frame. After all, Hockey Hall of Famer Raymond Bourque used to run 400-metre sprints as part of his off-season conditioning.
"Maybe," Witkowski recalled. "The 400-metre is the hardest race in track. But it's more likely the fact I was roller skating around Lake Macatawa when I was two years old."
Witkowski fell for hockey in 1998, when the first indoor rink, Edge Ice Arena, was opened for business in Holland.
He had skated before on frozen over tennis courts, but playing in the indoors peaked Witkowski's athletic spirit. It didn't hurt that his friend Jim Cubbage also played hockey and they were taught by Cubbage's Vancouver born-and-raised Dad, Chris.
In addition to these factors, Witkowski began to closely follow the Red Wings, who won back-to-back Stanley Cups in the spring of 1998. After two years of junior in the USHL, the Lightning selected Witkowski in the sixth round (160th overall) in the 2008 draft. But he had accepted a scholarship to Western Michigan University.
So he didn't play his first game in the NHL until the 2014-15 season with Lightning.
"I guess it was the love of the game," Witkowski replied when asked what kept him going. "There were no expectations for me to play in the NHL. But I love the game and I felt that if I worked hard, continued to get better the rest would take care of itself."
Patience also has been a big part of Witkowski's makeup.
"I'm a fisherman, so I have to be patient," he said with a smile.
It was at Western Michigan in Kalamazoo he became a teammate, sometimes defence partner and roommate of current Red Wings standout Danny DeKeyser. In Witkowski's sophomore year, current Detroit head coach Jeff Blashill ran Western Michigan's bench.
So when the Red Wings needed to boost their team toughness, there was plenty of familiarity in the organization to take a chance on Witkowski and sign him to a two-year contract last July.
To play for the Red Wings has been a special treat for the Michigan native.
"It's pretty awesome," Witkowski said. "So many family and friends reached out to me as soon as I signed with Detroit. At the same time, there is a little more pressure because I know more of them are keeping a close eye on me."
At training camp, the first time Witkowski pulled on a Red Wings sweater, he couldn't help think about all the great players in Detroit's impressive history.
Then, when he arrived at his dressing room stall at the brand new Little Caesars Arena, there among all the photos of legends there was a picture of Kris Draper.
"It's funny, but I was married a week before training camp [to Erin] at Walden Lake near Traverse City where training camp was being held. At the bar beside the facility we held the reception there was Kris Draper. He was so classy and sent over a round of drinks."