Friendly competition bonds young Calgary Flames
"Johnny was on the team a couple of years before I was there and he made it a really comfortable environment for me to walk into," recalled Matthew Tkachuk. "You feel lucky to play with him."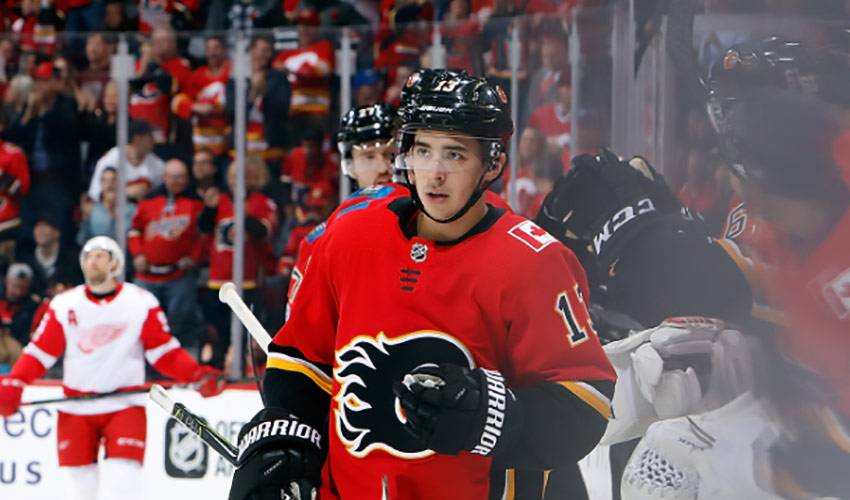 They don't often cross paths in practice, but off the ice, it's game on for Calgary teammates Matthew Tkachuk and Johnny Gaudreau.
Relief. It's the first word Tkachuk uses in describing what it feels like to avoid Gaudreau, one of hockey's slickest offensive stars.
But if the pair ever does go one-on-one during a Flames morning skate, a little chat will take place before the whistle blows.
"I'll skate up to him and say quietly, 'Come on, now. Nice and easy,'" said Tkachuk with a laugh. "He's just really elusive with the puck. His feet and his hands, they move so fast, you don't know what's going on or what his next move is going to be. It would definitely be a challenge to go up against him every day in practice, but he makes me and the whole team better."
Gaudreau, pardon the pun, is on fire for the Flames this year.
The 24-year-old New Jersey native has been an offensive juggernaut for the Western Conference club, scoring seven goals, while netting 24 points in 17 games to date.
It puts him on pace for 34 goals and 116 points, both of which would represent career-best marks.
For those who know him best, the numbers don't even begin to tell all you need to know about the player dubbed "Johnny Hockey."
"I think one thing that really stands out for me is the energy that he brings," praised Tkachuk. "He brings that energy all the time. He loves the game and you can see that when he's on the ice."
Gaudreau's will-to-win ways also spill over to his time spent away from the rink.
Gaming get-togethers typically bring out the competitive side between teammates, including Tkachuk and Gaudreau.
"Actually, we're just playing the new Call of Duty game, so a bunch of the guys are into that, offered Tkachuk. "Right now, I think he believes he's the best at it – and I'm not saying I'm the best either – but I definitely think I'm better than him at it."
All fun and games, noted Tkachuk.
"We're always having fun together," he said. "Having some young guys on the team – we all kind of go at it, some friendly competition. There's a lot of love between our team. We have a lot of great guys."
That list happens to include one of hockey's most creative point-producing forwards.
"Johnny was on the team a couple of years before I was there and he made it a really comfortable environment for me to walk into," recalled Tkachuk. "You feel lucky to play with him."
And just as lucky to avoid him come practice time.