Janis Foligno inspired sons to make a difference
A big part of Janis Foligno's life was the happiness she found through helping others. It's something her sons, who both realized their NHL dream, have never forgotten.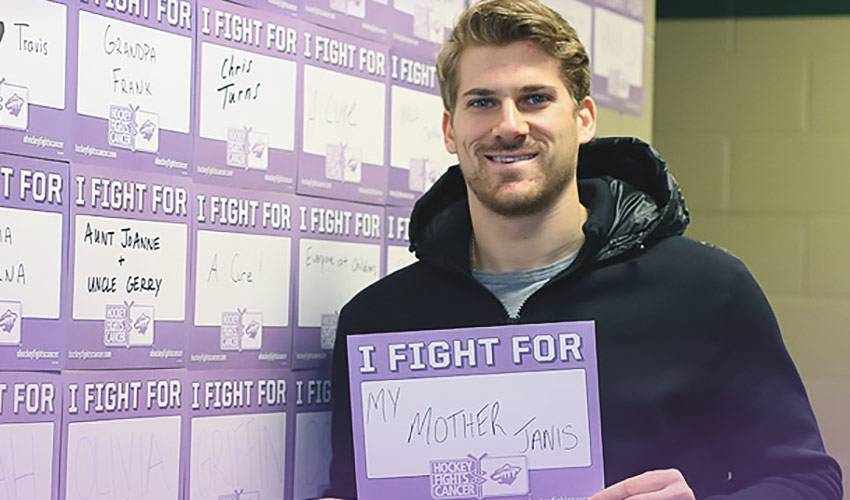 A big part of Janis Foligno's life was the happiness she found through helping others. It's something her sons Marcus and Nick, who both realized their NHL dream, have never forgotten.
What he saw time and again was never about seeking recognition. It was, recalled Nick Foligno, captain of the Columbus Blue Jackets, countless humble acts that came from the heart.
"I think it taught me how important being selfless and giving is," he started. "My mother and father (former NHL forward Mike Foligno) both instilled that in us and I'm so proud of that and love that I can carry that on now with my own family. You have an understanding of how fortunate you are in life and using that to help others in a positive way. It provides you so much more in life."
Janis Foligno was tireless in her desire to make a difference right up to her passing on July 27, 2009 after a battle with breast cancer.
If someone was in need, she was always there.
She volunteered her time with Meals on Wheels, delivering food to shut-ins and recovering patients, often spending time with people after her rounds to lend an ear, give them a hug or just to let them know someone cared. She participated in the Walk for A Cure in Toronto and The Relay for Life in Sudbury, Ontario, helped raise money and awareness for women to get screened and championed the fight against Breast Cancer.
Janis was also on the Sudbury committee for the Canadian Cancer Society's annual Luncheon of Hope. She assisted as a contact person for women that had been diagnosed with cancer.
Come Christmastime, she always found something to bring to the Salvation Army or Goodwill.
"Being unselfish is a characteristic that my mom had and is something we were taught," said Marcus Foligno, a veteran of nearly 370 NHL games playing in his first season with the Minnesota Wild. "Putting others before you, such as teammates or friends and family, is what I believe makes you a better person."
When Janis died eight years ago, her family wanted to honour her memory in an appropriate and heartfelt way. Less than one year later, the Janis Foligno Foundation was established.
"I think the thing I'm most proud of is the fact that we're carrying on our mother's name in the way that she cared for so many people while she was alive," said Nick. "She gave. She always was donating her time and energy to those in need whether through charity or even just friends and family. I'm also very proud of the fact that we are seeing the funds really make a difference. Whether it's a breakthrough in research where you feel a small part of it or finding a piece of equipment for early detection, I know we helped make a difference in the fight against cancer."
The foundation has supported numerous charities and initiatives since it was launched, including the Sudbury Regional Hospital Foundation's Breast Cancer Equipment Fund, the Vale Hospice, Meals on Wheels, the Children's Hospital of Eastern Ontario (CHEO), the Ican Independence Centre & Network in Sudbury and the House of Kin.
"Obviously, the money that has been raised is something special, but I believe the one thing that makes me very proud about the Janis Foligno Foundation is that other charities and people in northern Ontario have donated and helped our foundation," said Marcus. "People have recognized that we donate everything and help a lot of people. We can't thank the people enough who have thought about helping out this foundation through their charities. We always look forward to donating and giving back to cancer research and volunteers."
Not a day goes by without the siblings thinking of their mother. Before or after games, on a day off, during family gatherings, events through the foundation – Janis is constantly in their thoughts.
"I think the biggest thing I want people to know about my mom is that although she was in the background mostly raising our family – and she definitely wanted it that way – she was truly the rock of our family," said Nick. "She made the difference each and every day for all of us. I think she taught us all a lesson in how life is supposed to be lived. She cared and always did things for the right reasons. She left a mark on this world through her family and all the people she met and cared for."
For more on the Janis Foligno Foundation, visit www.janisfolignofoundation.com.