Richards Ready To Wear Red & White
Kenora, Ontario native is pumped to represent Canada at the 2010 Olympic Games in Vancouver.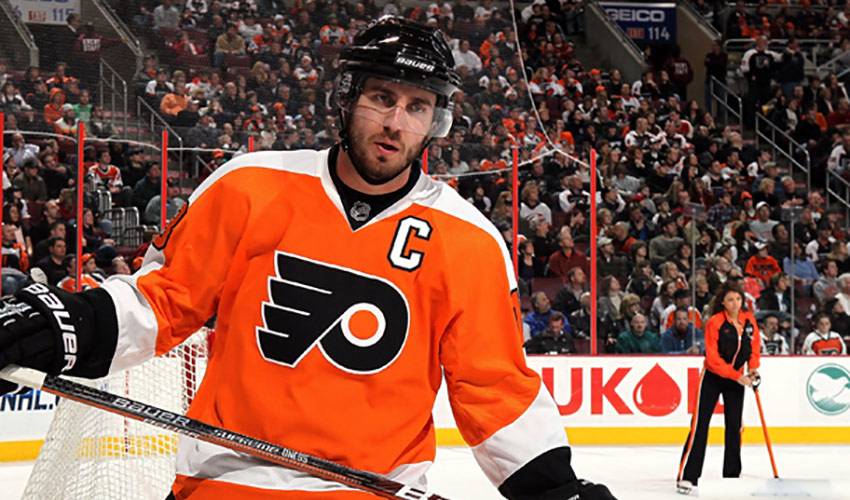 Making the Canadian Olympic hockey team had been in the back of his mind for a year. So when Mike Richards finally got the call, it was part relief and pure elation.
Earning a coveted spot on Canada's entry at the 2010 Winter Games was hardly an easy task. There were any number of worthy candidates, Richards included, who had a legitimate shot at wearing the red and white jersey in Vancouver.
And while those considered might have belied their true feelings leading up to the announcement in late December, it likely caused a few sleepless nights for the players whose names were being bandied about.
"It's always in the back of your mind I think when you're playing games, and obviously you want to do your best for your team right now in the present," said Richards, who was named the 17th captain in Flyers history on September 17, 2008. "But at the same time you always want to do your best.
"I think it's kind of been in my mind for the last, probably about a year, and obviously we had the summer camp and then it's kind of something that was always in my mind first half of the year. Obviously it's a great team to be on and be named and it's going to be a good experience. Especially to have it in Canada, in Vancouver, it's going to be pretty special."
Richards will be hoping for the same result as his previous Team Canada experience. Five years ago, the native of Kenora, Ontario, was a member of the squad that bested Russia 6-1 in the gold medal match.
Current NHLPA members Patrice Bergeron, Dion Phaneuf, Sidney Crosby, Ryan Getzlaf, Corey Perry, Andrew Ladd, Braydon Coburn, Cam Barker, Shea Weber, Brent Seabrook, Jeff Carter, and Richards made up the core of a team that is widely regarded as the best World Junior team ever.
And when he's not wearing the maple leaf on his sweater, Richards tunes in to watch his fellow countrymen shoot for gold.
"I'm always excited to watch Canadian teams go at it," said Richards. "I watch the world championships whenever I get the opportunity. I grew up on the world junior championships watching that. Whenever you see different countries play against each other, especially Canada, you always want to see your home country do well, and really it's just good hockey to watch as a hockey fan. I enjoy watching it."
What made Richards such an attractive choice for Team Canada's 2010 Olympic entry is his versatility. A capable offensive threat, the sturdy 5'11", 200-pounder is a major physical presence, dishing out hard hits or providing strong forechecking.
"It's always nice to put the Canadian jersey on," acknowledged Richards, who began his major junior career with the Kitchener Rangers of the Ontario Hockey League (OHL) in 2001–02 and was a member of a dominant 2003 Kitchener team that captured the Memorial Cup, leading the team in scoring during the regular season with 87 points. "I know myself, as well as a lot of other people, are proud to be Canadian, and whenever I get the opportunity to play for Team Canada it's always a thrill."
So much so, in fact, that Richards, who plays a huge role and logs big minutes in Philadelphia, isn't concerned with ice time, linemates or power play time come the Olympics. All the 24-year-old cares about is taking home gold in front of the home crowd in Vancouver.
"I think the good thing about the Canadian team is there's going to be so many different players that you can put in different situations," offered Richards, who was selected 24th overall in the 2003 Entry Draft. "There are a lot of great Canadians out there that play different styles and different types of games."
Just don't expect Richards to wilt under the tremendous pressure that comes with competing on the world stage.
"I think the only pressure that you have is the pressure that you put on yourself," offered Richards, who signed a 12-year contract with Philadelphia in 2008. "Obviously you're not going to want to change your game or your style too much. You just want to go out there and play the game."
It's an approach that has served Richards well in one of hockey's most demanding cities.
"They are very passionate," said Richards, of the Flyers faithful. "Even though they kind of display their displeasure sometimes, they will also cheer. They are a fan group that will cheer you on as long as you work hard. If you show the effort, they are going to cheer you on, and obviously every city likes to be a winning team. It's nice to go to the rink and know that they are going to be there and cheer passionately for you if you have a good game and if you're playing well."
A standing ovation in Vancouver wouldn't be so bad either.