Fleischmann is Sneaky Good
Czech forward flies under the radar in Washington; having a strong 2009-10 season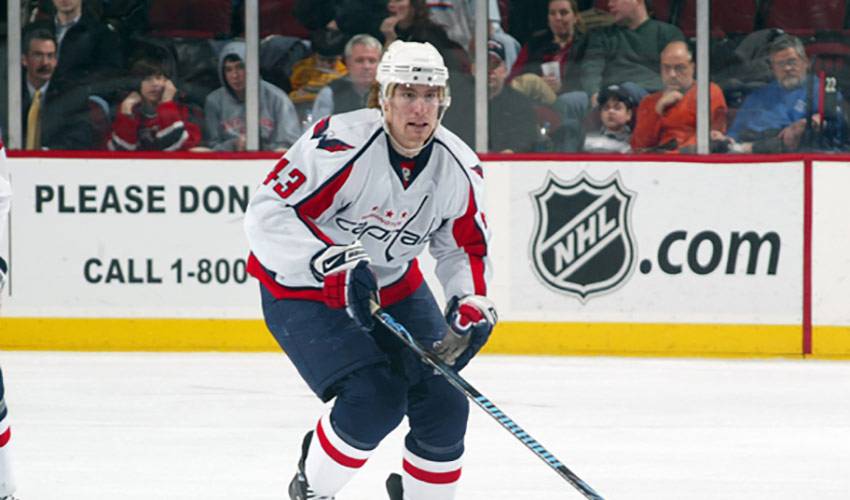 He isn't usually the centre of attention in Washington for the Capitals, but when given the chance, Tomas Fleischmann certainly makes the most of it.
Fleischmann took advantage of the opportunity he was given to play the centre position on January 5, 2010, scoring once and adding two assists in Washington's 4-2 triumph over Eastern Conference rival Montreal.
In spite of his stellar first-star performance, the soft spoken forward wasn't exactly gloating the day after his three-point night.
"I guess it wasn't too bad of a game," said Fleischmann, who is on pace to have his most productive NHL season to date. "I'm just really happy we were able to win the game."
The victory was even more special considering it was two-time Lester B. Pearson Award winner Alex Ovechkin's first as team captain.
While the Russian superstar was held of the scoresheet – a rare occurrence – Fleischmann provided the offensive firepower in the important home win.
"Coach (Bruce) Boudreau likes good, pressure-type hockey and that is good for my game," said the left-winger, who missed the first 11 games of the season recovering from deep vein thrombosis in his leg, returning on October 29 at Atlanta. "You want to make the most of any chances you get and that's the way I always approach hockey."
Sitting on the sidelines to start the 2009-10 campaign did little to diminish Fleischmann's spirit.
"I just kept on reminding myself that I was going to get back and that it wasn't that much time to be away from the game," said the 25-year-old, who, in his second game back, and first on home ice, recorded two goals in a 4-3 overtime loss against the New York Islanders on October 30, beginning a career-long nine-game point streak. "I wanted to be out there, it was just a matter of time."
Selected by Detroit in the second round, 63rd overall, in the 2002 Entry Draft, Fleischmann was traded to Washington by the Red Wings with Detroit's first-round choice in the 2004 Entry Draft (Mike Green) and Detroit's fourth-round choice in the 2006 Entry Draft (Oskar Osala) for Robert Lang, on February 27, 2004.
Fleischmann was no stranger to playing hockey in North America, suiting up for the Moose Jaw Warriors of the Western Hockey League from 2002-04.
In 2002-03, he appeared in 65 games for Moose Jaw and recorded 71 points, including 21 goals. He ranked second on the team in points and assists, and tied for third on the team with nine power-play goals. In 12 playoff games, Fleischmann recorded four goals and a team-high 11 assists.
So much for feeling homesick.
"I really didn't feel homesick," recalled Fleischmann. "I had been traveling to play hockey since I was 13 or 14. When I came to Canada when I was 18, I was happy with the decision. I learned a lot right away. It was a very good place to become a better player."
And it was a very good place to act as a launching pad towards a possible NHL career.
After 60 games with Moose Jaw in 2003-04, setting career highs in goals (33) and points (75), while finishing second on the team in goals, points and assists (42), Fleischmann, who skated in the American Hockey League with Portland in 2004-05 and Hershey in 2005-06, got his first taste of NHL action in late 2005.
"You always dream of what it would be like to play in the NHL," said Fleischmann. "And it is everything you hoped it would be. For me, I always try to become better each year. That's what I work at."
Coming off a 37-point season in 2008-09, Fleischmann has enjoyed a breakout campaign, playing the best hockey of his career.
Couple that with the recent news he'll be part of the Czech Republic entry at the 2010 Winter Olympics in Vancouver, and Fleischmann admits life is indeed good.
"I received the news in the morning that I was selected to play in the Olympics," recalled Fleischmann, who has previously represented his country in two major international events, the 2003 and 2004 World Junior Championships. "It was a great feeling. To be able to compete against the best players is just great."
And what about the prospect of winning gold like the Czech side did in 1998?
"We have amazing fans, they love hockey and they love sports," said Fleischmann, who hails from Kop?ivnice, a town in the Moravian-Silesian Region of the Czech Republic. "I am really excited about playing in the Olympics. We have great players and hopefully we can win it all."
Until then, Fleischmann will look to build on an already impressive season.
"Whatever I can do to help the team, I will," he offered.
As for what his biggest asset is, Fleischmann laughs when he recalls the words of teammate Boyd Gordon.
"He once told me I am sneaky out on the ice, that I can find places to be where no one notices and then I can get into a good spot to try and score or make a pass. At first, I didn't know what he meant when he said I was sneaky. I guess it's a good thing."
Or a bad thing, depending on what colour jersey you happen to be wearing.