Schultz's Play A Plus For The Capitals
Washington defenceman is leading the league in plus/minus so far this season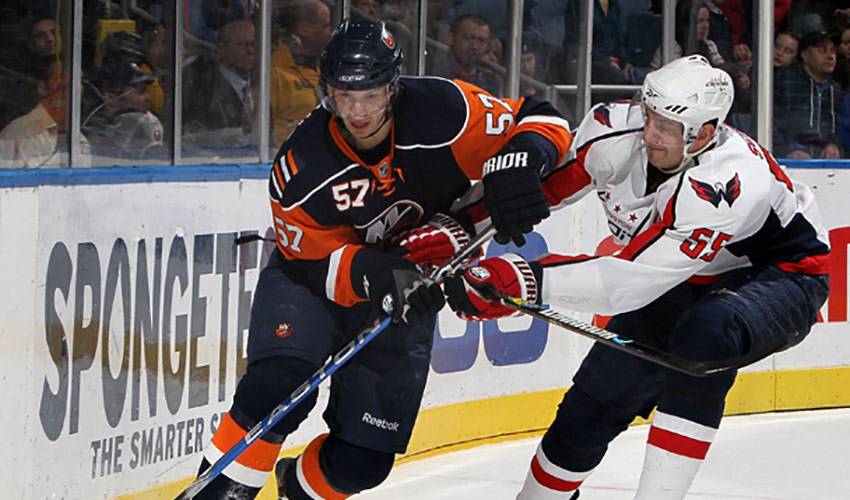 Jeff Schultz might not be a numbers man himself, but it hasn't stopped others from taking notice.
It's easy to get lost in the shuffle when you play on a team that is stacked with some of hockey's most notable players, a group that includes two-time Lester B. Pearson Award winner Alex Ovechkin, offensive studs Nicklas Backstrom and Alexander Semin, along with point-producing defenceman Mike Green.
But when you are leading the league in a key statistic, namely the plus/minus category, people tend to take notice.
"I am definitely not what you would call a stats guy," said Schultz, Washington's towering 6'6", 220-pound defenceman. "But I have to admit, it really does bring a smile to my face when the guys talk about that plus/minus number."
Hovering around plus-27, Schultz, who was selected by the Washington Capitals in the first round, 27th overall in the 2004 NHL Entry Draft, is not what one would term an offensive-type blueliner.
In fact, the Calgary native, who spent four seasons (2002–03 to 2005–06) playing in the Western Hockey League with his hometown Hitmen, has just 13 points in 47 games this season.
But the 23-year-old is anything but a liability when he's on the ice.
"I take a lot of pride in being able to neutralize the other team's best players," said Schultz, who made his NHL debut for the Capitals on December 22, 2006 against the New Jersey Devils. "It's a role I really enjoy."
And one he is quite proficient at.
Last season, Schultz appeared in 64 games with the Capitals, scoring one goal, adding 11 assists along with a plus-13 rating. It was the second consecutive campaign in which he upped his plus/minus mark.
Yet rather than try anything radical in an attempt to improve his game, Schultz looked elsewhere for motivation.
"I really didn't do anything in particular in terms of my game heading into this season," offered Schultz. "My confidence level was sky-high coming into this year. If anything, it was my approach to the game that has changed over time."
The ability to put a bad shift in perspective has been the key to his success.
"I think I'm a laid-back player," said Schultz. "You learn to deal with things better as you go along in your career. When you start out, you agonize over a bad play, a mistake, or a goal. When that happens now, it still irks you, but it doesn't impact on the balance of the game. You don't let your emotions get the better of you. You just focus on what you need to."
Schultz's teammates have taken notice of what he brings to the rink. And while he might not be the one local media members flock to after practice or games, it doesn't mean he isn't being mentioned.
"That's a very rewarding part of playing for this team," noted Schultz. "The media could be talking to Ovechkin, Backstrom, Semin or Green, but each guy will acknowledge what the role players bring to the team. You might walk by and you'll hear them saying something about how important everyone on the team is."
All of which makes Washington an ideal place to play the game, even more so with the Capitals poised to make a serious bid at winning the Stanley Cup.
Schultz wouldn't trade places with anyone.
"We have really high expectations," said Schultz. "But we know that it's a lot easier said than done. I think everyone in the room knows what we're capable of, but we can't get too far ahead of ourselves. Once you do that, you tend to lose the focus you need."
Which is why free agent forwards Mike Knuble and Brendan Morrison, in their first seasons with Washington, have been strong influences on and off the rink.
"They are veteran guys, great guys, who all the young players look up to," offered Schultz. "Even for us on defence, we go to them, too. They make you feel very comfortable."
Schultz has accomplished the very same, a player whose stock continues to rise as the season goes on.
And as the games take on more meaning, Schultz is more than ready to step up to the challenges that await him and his teammates.
"I take a lot of pride in taking care of things in our own zone," he said. "You hope to be a player that can be counted on to be at your best when you have a lead or the game is on the line."
Although Schultz might not know it, the numbers just don't lie.