Oh Danny Boy!
Carcillo and the Flyers are advancing in the Stanley Cup playoffs after surprising the Devils in Round 1. The rugged, but skilled winger knows that he and the team still have much work to do this spring.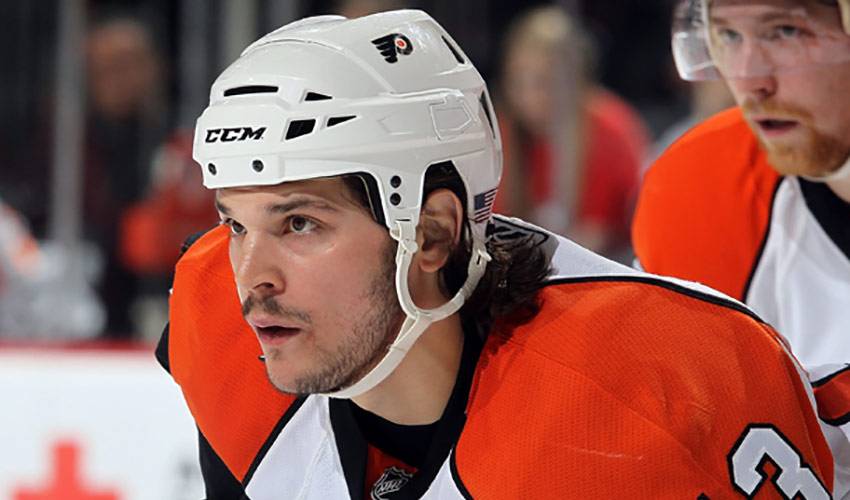 It was a moment Dan Carcillo knew he'd eventually have to put behind him. But for one night and part of the next morning, Philadelphia's tough-as-nails forward thoroughly enjoyed the biggest goal of his career.
In many ways it seemed like an eternity as Carcillo stood in front of the New Jersey Devils' crease, wide open and ready to pounce if the puck came his way.
Knotted at one goal apiece, the Flyers and the Devils needed overtime to solve their Game Three Eastern Conference quarter-final matchup.
He hadn't played nearly as many minutes as some of his teammates, but it didn't matter to Carcillo when he fired home a rebound just as a Philadelphia power-play had finished, all to the delight of a boisterous home crowd.
As the puck made its way to Carcillo, he only had one thought.
"I just wanted to make sure it went in," the 73rd overall selection of the Pittsburgh Penguins in the 2003 NHL Entry Draft told NHLPA.com. "It all happened so quickly. I was in a good position, away from everyone else, and it came to me."
The expression on the left-winger's face said it all as he was mobbed by his teammates, a grateful group who were just as thrilled that it was Carcillo who put them up two games to one against their rivals.
Did Carcillo have any thoughts of trying to extend the celebration by making his teammates chase him down while he celebrated?
"They were on my pretty quick, so I wouldn't have had the opportunity even if I wanted to," said Carcillo, who was traded to the Phoenix Coyotes for Georges Laraque on February 27, 2007. "They swarmed me, but I'm not complaining. It was a great feeling to know that you played a part in the win."
Carcillo, who had a league high 324 penalty minutes in 2007-08, admits it was a special moment on a personal level.
"When I was drafted and when I started in the league, I was looked at as someone who could do a little bit of everything," said the King City, Ontario, native, who was traded to the Philadelphia Flyers on March 4, 2009 for Scottie Upshall and a 2011 second-round draft pick. "That's what I've strived to do at this level. When you come to the NHL, you want to show that you are capable of being a player who will do what it takes to help the team. For me, that's been fighting, playing physical and bringing a lot of energy to every shift."
This season, it's also meant making an offensive impact, namely, 12 goals and 22 points.
And while Carcillo didn't shy away from dropping the gloves – 17 times, to be exact – he lived up to his billing as a player capable of providing various duties.
"There are times where I have gone overboard, but I've tried to settle down and be as effective as I can be," admitted Carcillo, whose first goal as a Flyer came in Game 4 of the first round of the 2009 Stanley Cup Playoffs against Pittsburgh. "I feel very fortunate to be part of such a storied organization."
Carcillo is also understandably happy at how Philadelphia has played so far in the post-season, a team that had an up-and-down 2009-10 regular season.
But that doesn't mean Carcillo is taking any of it, personally or otherwise, for granted.
"It's funny that when you are fortunate enough to score a game-winning goal in the playoffs, you can't really dwell on it too much," offered Carcillo, who played his junior hockey with the Sarnia Sting and Mississauga Ice Dogs, both of the Ontario Hockey League. "And that's the way it should be. Things are vey intense and you remind yourself that you always have to be better each game."
As for what else he'd like to accomplish this post-season, Carcillo wouldn't mind delivering another clutch goal.
More importantly, though, he'd love to deliver Philly faithful with another Cup championship.
"We are happy with how things have gone so far, but we know there is still plenty of hockey left to play," said Carcillo. "We have a lot of players who are really strong in their roles. Hopefully for us, we can continue to work hard and put ourselves in a position to get the results we want."
It's something Dan Carcillo has already mastered.