Win a Piece of Olympic History by Joining 'Hockey for Haiti'
With bidding starting at 99 cents, hockey fans from around the world have the opportunity to own a piece of Olympic hockey history, while supporting the Hockey for Hait relief project.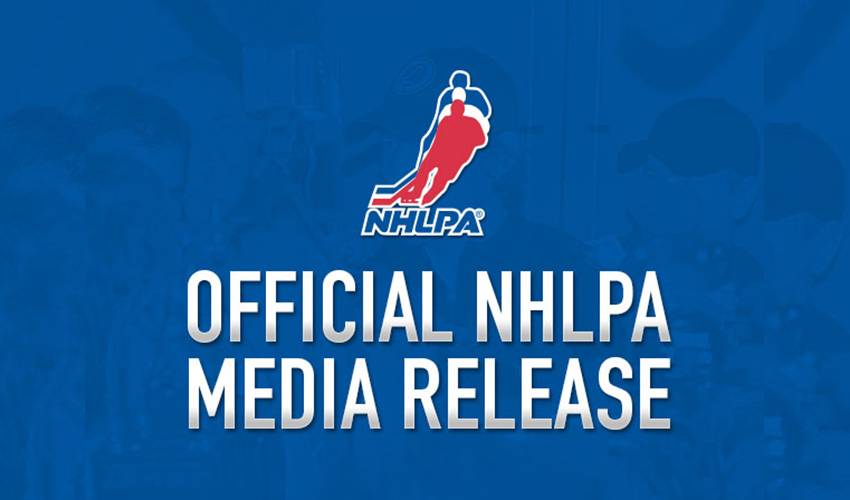 HOCKEY FANS CAN OWN A PIECE OF OLYMPIC HISTORY BY JOINING THE NHLPA IN SUPPORTING HOCKEY FOR HAITI RELIEF EFFORT
NHLPA auctioning 140 game-worn 2010 Olympic hockey jerseys; Bidding starts tonight on eBay.ca
TORONTO, ON (May 11, 2010) – With bidding starting at 99 cents, hockey fans from around the world have the opportunity to own a piece of Olympic hockey history, while supporting the "Hockey for Haiti" relief project. Jerseys worn by NHL players during the 2010 Olympics, including Sidney Crosby, Jarome Iginla, Ryan Miller and Alex Ovechkin will be auctioned off by the National Hockey League Players' Association (NHLPA) on eBay.ca. Bidding on these unique items starts tonight at 7:00 p.m. ET.
All proceeds will go to "Hockey for Haiti", a joint initiative between Georges Laraque, the NHLPA and World Vision. In total, 140 Olympic hockey jerseys, worn by NHL players from 12 different countries, during the 2010 Olympics are up for auction.
To launch this one-of-a-kind auction, 23 jerseys from Team Canada players, including the jersey worn by Sidney Crosby when Canada faced off against Germany during their qualification round match-up and also the jersey worn by Jarome Iginla – who scored two goals in the February 23rd Canadian victory – will be up for bidding.
Schedule of Auction Phases:
May 11th – Team Canada, including Roberto Luongo, Jonathan Toews
May 18th – Team USA, including Ryan Miller, Pat Kane
May 25th – Team Finland, including Teemu Selanne, Saku Koivu
June 1st – Team Slovakia, including Jaroslav Halak; and Team Sweden, including Nicklas Lidstrom, Henrik Sedin
June 8th – Team Russia, including Alexander Ovechkin; and Team Czech Republic, including Tomas Kaberle
June 15th – Team Switzerland, including Mark Streit; Team Belarus, including Ruslan Salei; Team Norway; Team Germany, including Christian Ehrhoff; Team Latvia, including Oskars Bartulis
Each auction will last for seven days.
"We're thrilled that the NHLPA is starting all of the auctions at 99 cents," said Andrea Stairs, country manager of eBay Canada. "Hockey fans should bid early and often to get in on the action and keep in mind that all of the money raised goes towards the Hockey for Haiti program."
Hockey fans looking to bid on a jersey, should visit www.ebay.ca/nhlpa or www.nhlpa.com/auctions.
NOTE TO EDITORS: Images of Olympic hockey jerseys available upon request.
About "Hockey for Haiti"
In January, following the devastating earthquake that struck Haiti, the NHLPA and veteran NHL player, Georges Laraque, announced a partnership with World Vision to support the people of Haiti through the "Hockey for Haiti" project. "Hockey for Haiti" is seeking to help strengthen Haiti's ability to provide critical medical supplies and healthcare to the survivors and affected communities by helping to build and support a health clinic in one or more of World Vision's Area Development Programs; Helping to reconstruct the damaged Grace Children's Hospital; Contributing to World Vision's Haiti emergency relief efforts and long-term development work. To launch the players' relief support for Haiti, the NHLPA Goals & Dreams fund pledged an initial donation of $100,000.
About the National Hockey League Players' Association
The National Hockey League Players' Association (NHLPA), established in 1967, is a labour organization whose members are the players in the National Hockey League (NHL). The NHLPA works on behalf of the players in varied disciplines such as labour relations, product licensing, marketing, international hockey and community relations, all in furtherance of its efforts to promote its members and the game of hockey. In 1999, the NHLPA launched the Goals & Dreams fund as a way for the players to give something back to the game they love. Over the past 10 years, more than 40,000 deserving children in 22 countries have benefited from the players' donations of hockey equipment. Goals & Dreams has donated more than $18-million to grassroots hockey programs, making it the largest program of its kind. For more information on the NHLPA, please visit www.nhlpa.com.
About eBay
Founded in 1995 in San Jose, Calif., eBay Inc. connects millions of buyers and sellers globally on a daily basis through eBay, the world's largest online marketplace, and PayPal, which enables individuals and businesses to securely, easily and quickly send and receive online payments. We also reach millions through specialized marketplaces such as StubHub, the world's largest ticket marketplace, and eBay Classifieds sites, which together have a presence in more than 1,000 cities around the world. In Canada, eBay was visited by nearly 8.3 million Canadians in March 2010. (comScore Media Metrix).