A Little Help From My Friends
Troy Brouwer doesn't get as much attention as some of his high-profile teammates, but his play and contributions at key times in the 2010 playoffs have helped the Blackhawks reach the Stanley Cup Final.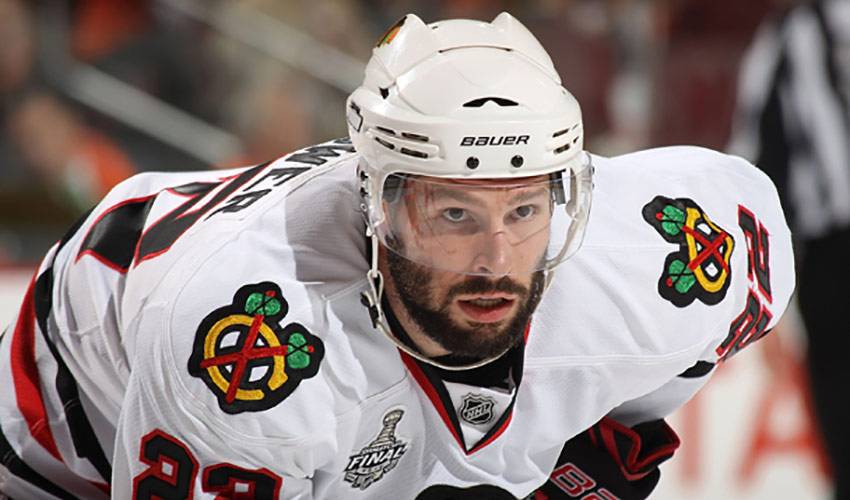 It would be easy to get lost in the shuffle playing on a team loaded with big-name talent. But not Troy Brouwer. He has a way of making people take notice.
With names like Jonathan Toews, Patrick Kane, Marian Hossa, Brent Seabrook and Duncan Keith on your roster, it's by no means an easy task to garner a great deal of attention at any point of the season.
But for Brouwer, the 214th overall selection of the Blackhawks in the 2004 NHL Entry Draft, his no-nonsense approach and effectiveness at both ends of the ice have made him an invaluable member of a Chicago club looking to land the city its fourth Stanley Cup and first since 1961.
Brouwer did his best to increase the odds of it happening, contributing two goals and one assist in the 'Hawks thrilling 6-5 Game 1 Cup final win over the Philadelphia Flyers.
And while having to battle back from three one-goal deficits wasn't what they had scripted, the 24-year-old native of Vancouver was happy to skate away with the hard-fought win.
"It was a little nerve-wracking, that's for sure," said Brouwer, after the series curtain-raiser. "Some of the guys in the series, it's their first time in the Final. Nerves might have had a little to do with it. It's a real emotional game. Lots of back and forth, a lot of up and down. You just try and stay composed, stay with it and stick to the game plan."
The perseverance Brouwer displayed in his solid regular season, one that yielded a career-best 22 goals and 40 points, has spilled over into the post-season. In 14 games, the 6'2", 215-pounder has four goals and two assists.
And while he doesn't have the flash some of his teammates possess, Brouwer's workmanlike efforts have played a major factor in aiding Chicago's spirited playoff run, one that has seen them oust Nashville, Vancouver and San Jose en route to the championship.
Brouwer spent his major junior career in the Western Hockey League (WHL) with the Moose Jaw Warriors. In his final campaign with the Warriors in 2005–06, he was selected as team captain and led Moose Jaw with a team-best 49 goals and 53 assists. His 102 points also led the league, landing him the Bob Clarke Trophy.
Assigned to the Norfolk Admirals, the Blackhawks' American Hockey League (AHL) affiliate in 2006–07, Brouwer registered 79 points and was named to the AHL All-Rookie and Second All-Star Teams. He also made his NHL debut that season, playing 10 games with the Blackhawks.
With Chicago, Brouwer joined three of his previous minor hockey teammates, Colin Fraser, Brent Seabrook and Andrew Ladd, who all played in Vancouver as members of the Pacific Vipers.
In 2007–08, Brouwer was in the AHL with the Rockford IceHogs, Chicago's new AHL farm team. He scored a franchise-record 25 power-play goals. Called up by the Blackhawks for two games, Brouwer notched his first NHL point, an assist on March 23, 2008, against the St. Louis Blues.
Things have only gotten better for Brouwer, who is making the most of playing on the same line as Marian Hossa.
"'Hoss' is obviously a great player in this league, and everybody knows it," said Brouwer. "He has been for a long time. So the other team is going to key on him a little bit more. That gives me an opportunity to get open, and he's so good with his puck possession and vision.
"You saw that in the first goal (Brouwer's initial tally in Game 1 against the Flyers). He fended off two or three guys in the corner, brought it to the front and was able to make a great backhand pass to me. With him you just kind of got to let him do his thing and get open, and he'll find you."
All of which makes playing for an offensively savvy club a genuine thrill for Brouwer.
"We're a team that likes to play a fast-paced game," offered the right winger. "I don't think it's much of a mystery. They have a great transition game, and they're able to move the puck up the ice. They caught us a couple of tiour coverage.
"For us, I don't know if we want to slow the game down at all. We just want to be able to play our game and just be able to do what makes us successful."
The team's play, along with his, has helped lift the spirits of Brouwer's father, who suffered a brain aneurysm in April, one that required emergency surgery.
Delivering a Stanley Cup to his dad would be the ultimate gift.
"I wanted to have a good game and really get some confidence for the series."
All it took was a look at the scoresheet and high praise from his teammates to see Troy Brouwer achieved both of his goals.