The Spirit of St. Louis
Lightning winger has built an impressive career, and trophy case since proving to the hockey world he could excel in the NHL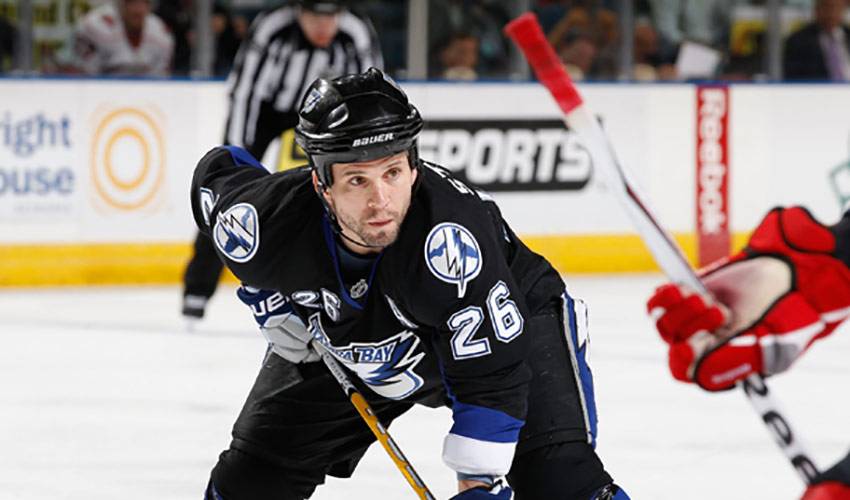 The list of trophies he's won, including hockey's most coveted individual honour, continues to grow. But Martin St. Louis' ego is still very much in check.
He was undrafted, and to many in the NHL world, at least in the late 1990's, he was unknown. And the early stages of his National Hockey career did little to suggest he would become one of the game's most decorated performers. But St. Louis never wavered in his belief that he could be an impact player against hockey's elite.
"This is the best game in the world," said St. Louis, an NCAA all-star and three-time Hobey Baker Award finalist for U.S. college player of the year honours, who was the 2010 recipient of the Lady Byng Award as the NHL's most gentlemanly player. "This is the highest level. This is what every kid dreams of doing to put your name on the trophy. I couldn't be happier to win this trophy. I know I've been nominated, but I think back in my career as a kid, and if you told me I would have a Stanley Cup, a Hart, an Art Ross, a Ted Lindsay and now a Lady Byng, I don't think I would have believed you. It's a special night."
It's been a special career for St. Louis.
He led the NHL in scoring with 94 points in 2003-04 and netted the overtime goal in Game 6 of the Stanley Cup Finals, helping the Tampa Bay Lightning defeat the Calgary Flames for the Stanley Cup.
At season's end, St. Louis won both the Hart Memorial Trophy as the most valuable player to his team and the NHLPA's Lester B. Pearson Award (now known as the Ted Lindsay Award) as league MVP voted by his peers. He became the first player since Wayne Gretzky and only the eighth in NHL history, to win the Art Ross Trophy, the Stanley Cup, and the Hart Memorial Trophy all in one season.
"You don't think about winning the Lady Byng and going to make it to the NHL when you're a non-drafted player," said the forward, who recorded a personal high of 102 points (43 goals, 59 assists) in 2006-07. "I had a chip on my shoulder more when I was younger. But I think with the rules changes, I was able to, I wouldn't say play differently, but I didn't have to prove anybody like I have to play bigger than my size. I couldn't just go and play and not worry about -- is he too small?
"I could go and I could fight through that early on in my career," he continued. "I think the last few years with the rule changes, it's really trying to push it to the limit without getting caught. I don't see myself as a guy that doesn't hustle or plays tough or hard to play against kind of thing. I just try to push it as far as I can without getting caught."
Nearly 750 regular season games after launching his big-league career, St. Louis has cemented himself as one of the most consistent players in the game.
"It was tough at times, that's for sure," said St. Louis, who signed with the Flames as an undrafted free agent in 1998. "All you look for is a chance to show you belong and when it doesn't work out, you get frustrated.
"Anytime you get to this level, you have to work hard and try to get better. A lot of good players don't make it."
St. Louis is showing he still has the goods to deliver.
In 2009-10, he scored 29 goals and finished the campaign with 94 points, his second-best total at the NHL level.
Missing the playoffs for three consecutive campaigns, however, doesn't sit well with St. Louis.
"Having a chance to win the Stanley Cup is what you play the game for," he offered. "You have to remain focused on doing whatever you can to help make it a reality."
The 5'9", 177-pounder wouldn't mind seeing his name etched on the Cup again.
"Obviously we all play for a Stanley Cup," he said. "But when you get recognized for other stuff besides a team trophy, it's neat. It's something that nobody can take away from you."
And as St. Louis, whose main goal was to "become a dominant player in the NHL," has proven, you can't take away a childhood dream.
"I never wanted to quit and even though there were some disappointing things that happened along the way, I'm very happy that I stuck with it. You can never give up on something that you really work hard for."