Working out the kinks
Players ready to get going as all 30 NHL training camps set to open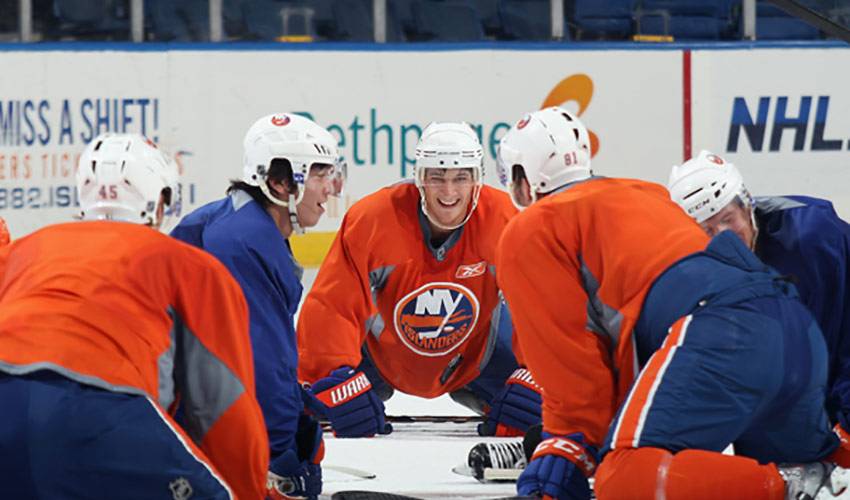 Only a few hours separate us from the true beginning of the NHL season, with 30 training camps set to kick off on Friday morning. The 2010-11 rosters for all teams are far from set in stone, and, besides the benefits of rounding into shape, training camps provides a three-week competition and time-frame for unknowns to make names for themselves, learn team systems and to bring players together with a common goal.
Rookies, defined by the Collective Bargaining Agreement as anyone that has played less than 50 career NHL games, have technically already been in training with their clubs and teammates since last Friday. During that time, recently acquired prospects mesh with "veteran" prospects that have already been in the system for two or three years, continuing the cycle that perpetuates itself every season in pro sports.
While invites to main camps and a chance at an NHL roster spot are on the line, these rookie camps are often seen as an unnecessary nuisance to media and fans, yet they are anything but to the young players who attend them. Often the first time these players have worn their team's jersey since draft day, it reinforces in their minds the commitment that will be required to wear it on a full-time basis at some point in their career.
For many of the full-time and established NHL players, training camp has lost some of the initial excitement and the butterflies that their younger cohorts feel. Having been through the pre-season grind in the past always takes away some of those feelings and training camp is often viewed by the veterans as a crucial time to immerse new players into the culture of the dressing room, as well as work on the systems and line-combinations that will be employed when things kick-off in earnest in October.
Blending in amongst the veterans are the players new to the teams, who have arrived by trade, free agency or the waiver wire. This is often their first chance to meet their teammates and carve identities out in their new cities, adding that buzz and thrill that they may not have felt during training camp in years. Some are highly coveted players, who were brought in specifically to fill team needs, while others are moving on from their previous teams, hoping to land a job. As the camps go on, the roles that are not currently being filled on the team will become evident and it is usually up to one of those latter players to adapt and work himself into that opportunity.
While training camps are focused on training and getting back into game-shape, the sub-plots surrounding the players are always make for the most interesting story lines. Players are jockeying for position during camp and the coaching and management staff are evaluating and making decisions that will acutely affect the team during the upcoming season; ones that anoint a first-string goalie, a captain, a top defensive pairing or a checking-line centre. Training camp is essentially a three-week job interview played out in the public's view.
For a player to get the opportunity to compete against the other 29 teams in the league, he must first compete against those on his own team to prove himself capable in the eyes of management, the fans and his teammates. While these coming three weeks will have no immediate effect on the standings with no games won or lost, it would be foolish to think there is no long-term gains to be made in camp. Remember that the man who back-stopped the Blackhawks to the Stanley Cup last year, Antti Niemi, only made the squad last year out of training camp.
Important weeks lie ahead in the hockey world, with pressure to make the team set to build on the players, while general managers and coaches feel their own pressures to put the best teams they can unto the ice. Many say that training camps don't count in the standings, but that may be the only place they don't count.