A Game Changer, To The Max
Pittsburgh forward Talbot has become a key part of Penguins team chemistry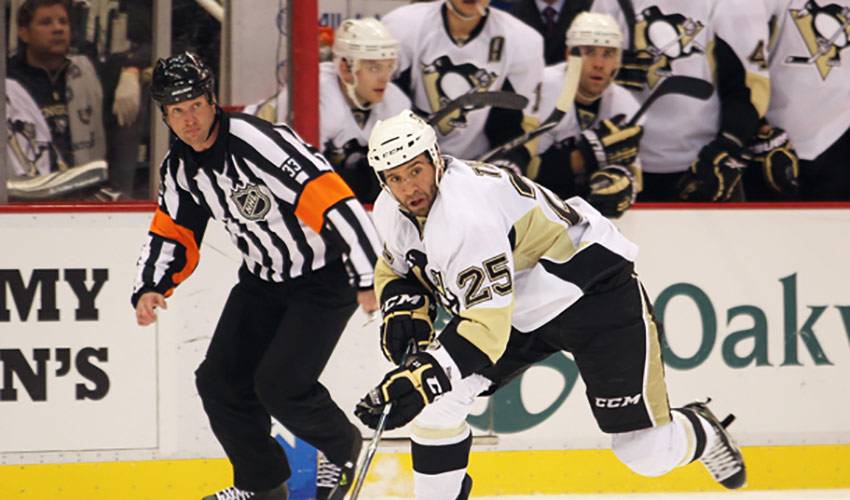 He might not get a fraction of the press some of his teammates do, but Maxime Talbot has done everything and more to earn his label as a big-game player.
When you are part of a team that features two of hockey's most high-profile stars in Sidney Crosby and Evgeni Malkin, your contributions might not get the notice they deserve.
But for Talbot, all 5'11" 190 pounds of him, he always manages to make people take notice. And for good reason, too.
Selected 234th overall by the Pittsburgh Penguins in the 2002 NHL Entry Draft, the Quebec native has established himself as a player that comes up big in pressure situations. When the game is on the line, Talbot, who was chosen by the Rouyn-Noranda Huskies in the first round of the 2000 QMJHL Draft, knows how to deliver. And not just at the NHL level.
In the 2003–04 season, Talbot finished third in scoring in the QMJHL with 98 points (25 goals, 73 assists) in 51 games with the Gatineau Olympiques. He led the team to a second consecutive QMJHL championship, while being named playoff MVP and leading the league in post-season scoring once more. He was the first to earn back-to-back Guy Lafleur Trophies (Playoff MVP) since Marc Saumier in 1987 and 1988.
"I had a lot of great teammates," said Talbot, who was named team captain of the Olympiques in 2002-03, finishing the campaign with a career-best 46 goals and 104 points in 69 games, good for fifth in league scoring, along with QMJHL Second All-Star Team honours. "As you go along, you get more and more confidence in what you can do. Some games you might not score, but you find ways to do something, maybe even small things, to make an impact."
Talbot, who helped team Team Canada win a silver medal as an alternate captain in the 2004 World Junior Championships in Helsinki, played 48 games with the Penguins in 2005-06, along with 42 games with their American Hockey League affiliate in Wilkes-Barre/Scranton. He scored his first NHL goal on October 14, 2005, from centre ice against the Philadelphia Flyers.
While he didn't display the same type of offensive flair he showed throughout his junior career, mainly due to his role as a penalty killer, it became readily apparent the forward was capable of scoring timely goals, complemented by an energetic crash and bang style.
His tenacious work on the penalty kill and ability to chip in offensively earned Talbot rave reviews from the organization, leading to his re-signing with the Penguins on December 19, 2008, a two-year contract extension through the 2010–11 season.
"Max has developed into one of the key players in our organization," said Penguins' Executive Vice President and General Manager Ray Shero. "He has shown his versatility and plays in all situations for our hockey club. He played an integral role in helping our team reach the Finals and we look forward to having him for the coming years."
Pittsburgh returned to the Stanley Cup Finals for the second consecutive year against the Red Wings in 2008-09. Fittingly, Talbot scored both of the Penguins' goals in the seventh and deciding game of the series to capture the franchise's third Stanley Cup.
"It was something I will never forget," said Talbot, who had eight goals and five assists in the 2008-09 post-season. "It was tough to lose in the finals the year before and all you wanted was another chance. We were lucky to get that chance. We played well and we really gelled. It really doesn't get any better than winning the Stanley Cup."
Limited to just 45 regular season games in 2009-10, a campaign that saw the Penguins bow out of the playoff picture in the second round, Talbot, who had to contend with a myriad of injuries, is as motivated as he's ever been.
"You always dream of playing in the NHL and you always dream of winning the Stanley Cup," said Talbot, who was sidelined for 21 games last season after shoulder surgery."Everyone here wants to do their part to reach our ultimate goal."
For Talbot, it translates into doing what he's always done: coming through in the clutch.