The Buck Does Not Stop Here
Wild forward Cal Clutterbuck always brings a solid work ethic & has his sights set on a long NHL career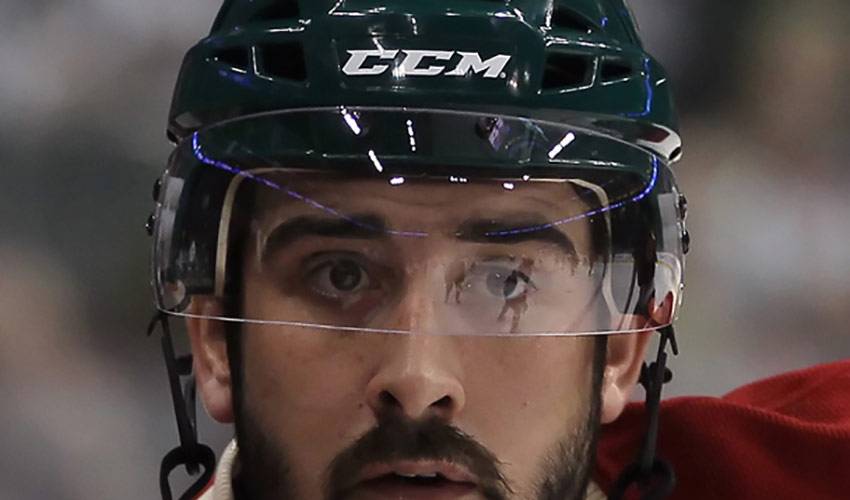 In spite of playing less than 200 contests at hockey's elite level, 23-year-old Cal Clutterbuck has, at every stage of the game, proven to be a bit hit…literally.
Standing 5'11" and weighing in at a sturdy 215 pounds, Clutterbuck, who patrols the right wing for the Minnesota Wild, never scrimps when it comes to dishing out body checks.
In fact, the player with the catchy name put his name into the record books in 2008-09 when he recorded 356 hits, the most ever in the NHL.
And while it is undoubtedly a staple of his game, punishing opponents with stiff checks is far from Clutterbuck's only contribution.
Back-to-back 35-goal seasons with the Ontario Hockey League's Oshawa Generals from 2005-07 are accurate indicators of what the native of Welland, Ontario can do once he gets the puck on his stick.
"He shoots the puck well and he's definitely not afraid to go to those tough areas," said Chris DePiero, General Manager and Head Coach of the Generals, who was an assistant coach during Cluttebruck's time in Oshawa. "The best way to describe Cal's game here was that he played hard all the time, the very same way he does it now in the NHL."
Taken by the Minnesota Wild in the 3rd round, 72nd overall in the 2006 NHL Entry Draft, Clutterbuck was assigned to their American Hockey League affiliate, the Houston Aeros, to start the 2007–08 season.
He was recalled to the Wild on October 23, 2007, after an injury to Pavol Demitra, and appeared in his first NHL game five days later against the Colorado Avalanche.
"I didn't have time to be nervous because the first game went by so fast," Clutterbuck recalled. "I just remember our fans being so loud and really into the game."
In the early months of the 2008–09 season, Clutterbuck was called up from the Houston Aeros to play with Minnesota. He became an instant fan favorite, appearing in 78 games. On November 24, 2008, he scored his first and second NHL goals against the Washington Capitals.
DePiero liked what he saw from the former General.
"He has that 'take no prisoners' mentality every time he gets on the ice," he said. "There's never any holding back with Cal. I credit him for that approach. When he was here, he practiced hard and he played hard. That's the only way he knew."
Oshawa fans certainly took notice of Clutterbuck.
"They absolutely adored him," noted DePiero. "He was so easy to pick out when he was out there. But he was more than just a popular player for what he did on the ice. He was a great ambassador for us. In the community, he was huge. He was always comfortable talking to anyone – adults, kids, the elderly. You couldn't ask for anyone better."
Clutterbuck hasn't wasted his opportunities in the NHL, utilizing his high-tempo game to help create scoring chances and negate the opposition's opportunities.
It's a familiar scene for DePiero.
"He's the type of guy who can do just about everything, someone you feel comfortable putting in any situation," praised DePiero. "Cal has that ability to do so many things for a team."
That would also include getting under the skin of other players.
"He would absolutely be the poster child for that," laughed DePiero. "Cal's the type of guy you want on your team, but not the guy you want to play against."
Clutterbuck has no designs of having a short NHL career.
"I always wanted to make it to the NHL and now that I'm here, I know that you have to work harder than ever," he said. "I like it here."
But that doesn't mean he's forgotten his time in Oshawa.
"When I was traded to Oshawa from the Toronto St. Michael's Majors, things began to take off for me," said Clutterbuck. "That's when I realized I had a shot to make it in the NHL.
"Oshawa was a great atmosphere, a great place to play hockey. The city reminded me of Welland and that made it very comfortable. The fans were amazing. I think my style of play endeared me to the fans."
DePiero concurs.
"It's easy to see why people took to him. I can't pinpoint a time when I thought he was destined for the NHL, but when you saw do the same things he did here when he played in the AHL, you knew he had a big shot."
Which, when it comes to Cal Clutterbuck, can mean any number of things.