The Brightest Star in Raleigh
Sharp named MVP as All-Star Weekend wraps-up in Hurricane country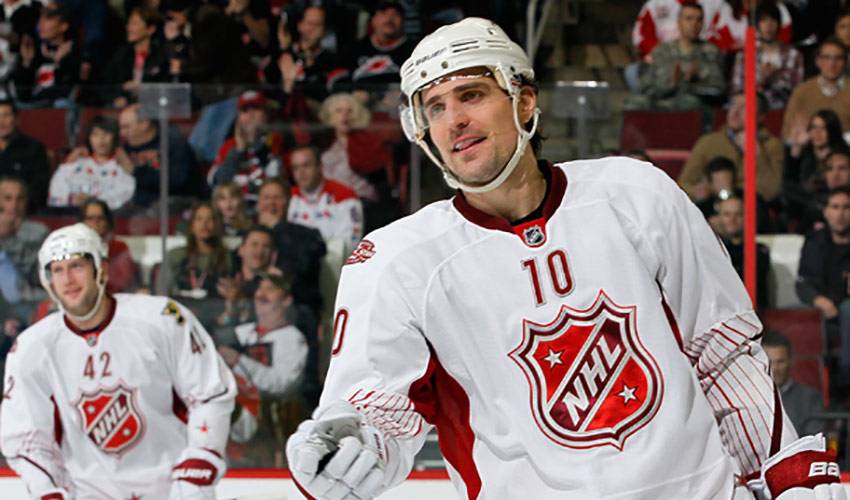 He wasn't on the original All-Star ballot, but that didn't prevent Patrick Sharp from skating off with MVP honours at Sunday's mid-season event in Carolina.
His numbers were certainly worthy of being a first-liner, but that's not how it worked out for Sharp, one of the hockey's most consistent and capable offensive performers.
Yet, it did little to hinder the Chicago forward's outstanding performance on Sunday at the 2011 All-Star Game, as Sharp, who has 26 goals heading into the second half of the season, was at his best, recording three points en route to his MVP honour.
"I'd guess I'd be lying if I said I wasn't a little bothered by it," said Sharp, whose Team (Eric) Staal lost 11-10 to Team (Nicklas) Lidstrom. "But it was motivation to play well this year and I really can't argue with it. The Blackhawks have a ton of big names and great players and a lot of guys that deserve to be here. So I'm proud to be a Blackhawk in the All-Star Game and things worked out."
Sharp, who has reeled off five consecutive campaigns of 20 goals, is on pace to easily surpass career-high marks in several offensive categories.
Operating at almost a point-per-game clip, the 95th overall selection in the 2001 NHL Entry Draft has never been better.
Still, Sharp, part of the Blackhawks team that won last year's Stanley Cup, isn't preoccupied with his lofty numbers. Instead, the Thunder Bay, Ontario native is eager to duplicate the success he experienced in 2010.
He also knows it won't be easy.
"Well, we just have to keep things going," offered Sharp, who contributed 11 goals and 11 assists during Chicago's playoff run last season. "It's a simple answer. But I feel like we've been playing good hockey as of late. We're healthy. It's the first time in a while. And we feel good about the last 30 games here."
A glance at the standings, however, is all the motivation Sharp and his teammates need as the push for a post-season berth begins to heat up.
"So I think you look at the Western Conference, everything's so tight that you have a good week or bad week and things are going to change quite a bit. I know I'm excited about it. I know my teammates are excited about starting on Tuesday, and we can't wait to get to Columbus."
Until then, though, he'll have plenty of memories to draw upon from this weekend's festivities.
"I think this will be topic of conversation, definitely I'll be sure to bring it up a few times," said Sharp, who was traded by the Philadelphia Flyers, along with Éric Meloche, to the Chicago Blackhawks on December 5, 2005, for Matt Ellison and a third-round pick in the 2006 NHL Entry Draft. "And Jonathan (teammate Toews) and I have some unfinished business with the shooting targets there, the accuracy shooting. So we'll have to do something back in Chicago. But all in all I think it was a great weekend for the Blackhawks, the coaching staff, the four players in the game, I think we all had a lot of fun and represented the team well."
Sharp had plenty of praise for his All-Star linemates and others who contributed to his MVP performance.
"It's tough to get too motivated for an All-Star game," said the veteran of nearly 500 NHL regular season games. "I think I just wanted to go out there and play well. I was lucky to be playing with Claude Giroux making good passes out there and David Backes, a guy I see quite a bit playing against the Blues, so it's nice to team up with him instead of being his enemy for once.
"It was tough to see the other guys on the other team. They won the game. I got the trophy. So I guess everybody's happy. But Buff (former teammate and Atlanta defenceman Dustin Byfuglien) gave me a nice pass on one of the goals. He set up Giroux and I got the tap in. So I have to thank Buff for the great pass there."
There's no doubt Chicago is grateful to have Sharp in the fold.
The 29-year-old is proving he's amongst the NHL elite when it comes offence, a strong skater and steady performer who will be counted on to put the 'Hawks in prime position once the playoffs get underway.
His efforts in Carolina will no doubt be motivation to continue his consistent ways. Not that he really it in the first place.
"All in all I think it was a good weekend," noted Sharp. "I think Carolina should be proud. Cam Ward did a great job. Jeff Skinner, I got to meet him. He seems to be a fan favorite here. And our team captain, Eric Staal, I think did a great job all weekend. Gotta thank him for putting me on his team, and I think that everyone here in Carolina should be proud of those guys."
It's certain Chicago fans will be raving for years to come about a great performance from one of their very own.
But they won't be the only ones who'll have fond memories of Sharp's memorable game.
Panini, in partnership with the NHLPA, ran a contest, the 2011 MVP All-Star Challenge, which asked people to select the NHLPA member who would skate away with top honours in the event.
And, as he does night in and night out, Sharp delivered big-time for the fans.