A Son's Dream & A Father's Pride
Ducks rookie Cam Fowler & his father Perry discuss the culmination of a hockey journey to the NHL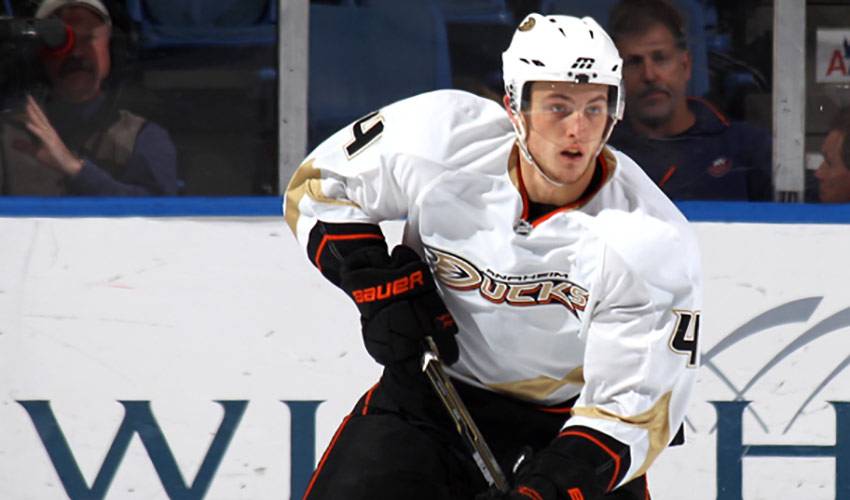 Cam Fowler couldn't have scripted his first NHL game any better: playing in familiar territory, in front of family and friends, and against one of his childhood idols.
As far as personal milestone moments go, Fowler, in the midst of his rookie NHL campaign as a member of the Anaheim Ducks, won't soon forget this one.
Hailing from Windsor, Ontario, but calling Dearborn, Michigan home since his early days, Fowler's first big-league game happened to be a road contest, when his Ducks faced off against the Detroit Red Wings at Joe Louis Arena.
Even now, Fowler, the 12th overall selection of Anaheim in the 2010 Entry Draft, still has no trouble recalling a multitude of moments from his first game.
"It was a rollercoaster of emotions," recalled Fowler, a dual citizen, who represents the United States internationally, winning a gold medal as a member of the American entry at the 2010 World Junior Hockey Championships. "Being in Detroit, in front of my friends and family, it was a huge milestone. It was pretty memorable.
"Once things settled down, I was focused. To look across and see (Detroit defenceman and future Hall of Famer) Nicklas Lidstrom, who I grew up watching and idolizing, was something special."
It was also a special moment for Fowler's personal cheering section, including his father, Perry.
"We weren't necessarily thinking that would be his first game," recalled Perry. "But it was absolutely incredible. It was pretty wild.
I watched Cam stretching, getting ready before the puck dropped and I could see him looking over at the Red Wings. To hear the national anthem and see him there, it might sound cliché, but it was surreal."
As for who was more nervous, both of the Fowler men managed to keep their emotions in check leading up to the opening face-off.
"It was a little nerve-wracking before the game actually started," noted Perry. "I was working that day and probably should have taken it off. But to be honest, right before the start, we weren't nervous at all."
Nor was the rookie rearguard.
"There is that nervous energy you have leading up to the start of the game, but as soon as the puck dropped, you are focused on what you have to do."
Cam has found an ideal group of players to skate alongside, a team that features one of hockey's most dynamic offensive performers in Teemu Selanne.
For Fowler, the man known as the 'Finnish Flash' is the ideal teammate and role model.
"He treats everyone like equals," remarked the 19-year-old, who was a member of the 2010 Windsor Spitfires team that won the OHL championship as well as the Memorial Cup. "He's so easy to talk to.And he continues to amaze me. He has one speed…fast. I think anyone would love to have a career like he has had."
Fowler has equally kind words for the rest of his teammates.
"It would be unfair of me to single out one guy that has made me feel welcome," said the Memorial Cup All-Star Team selection, who scored his first NHL goal on October 17, 2010 against the Phoenix Coyotes.
"Growing up, I put the NHL and the players on a pedestal. And when you get here, they are normal guys, people that really look out for you and only want the team to succeed. For me, it's been great. It's a close-knit group that gets along really well."
It's also a group that is bent on making the playoffs, especially after missing out on the Western Conference final eight last season.
"This organization has such high standards," offered Fowler. "Missing the playoffs would be a failure. I know not making it in last season left a bad taste in everyone's mouth. And even though it's a huge battle to get a playoff spot this year, this is a resilient group. We don't put too much pressure on ourselves so that we crack. We know what we have to do to get into the playoffs."
Whether the Ducks make it or not remains to be seen. And if they don't achieve their goal, it certainly won't alter the feelings of a proud father.
"To see Cam out there, going up against Alexander Ovechkin, Sidney Crosby, the Sedin brothers and all the other great players in the league, and see him holding his own, it's remarkable," said Perry. "It's great to see Cam living his dream."
But seeing his son keep pace against the world's elite hockey players isn't the biggest reason Perry Fowler is beaming.
"To see how hard Cam has worked to get to this point, his dedication, those are things that come to mind. But first and foremost, it's the person that he is. He doesn't take any of this for granted. He's a great young man."
A great young man that has all the tools to be a great NHL defenceman.