Non-Emergency Ward
In a tight playoff race, Joel Ward describes how the Predators have embraced the challenge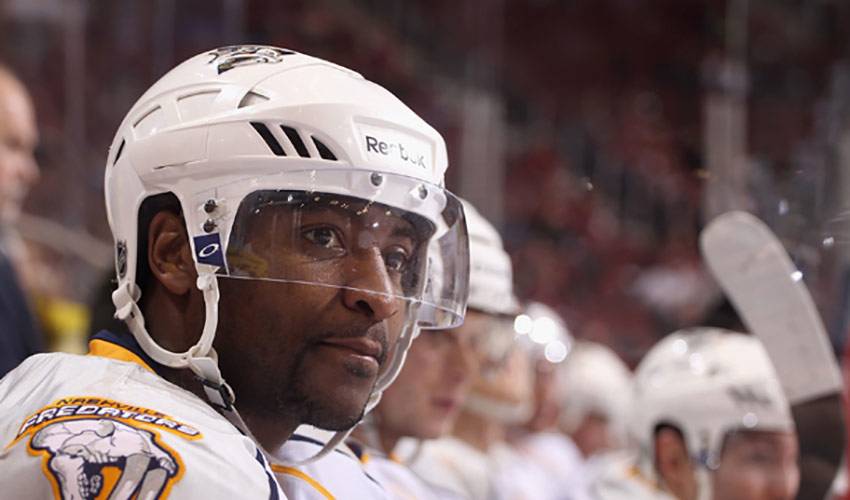 It's the most pressure-packed point of the NHL season, a make or break time for teams in search of a playoff spot. But you'd never know it when you speak with Joel Ward.
He's been asked the question at least a dozen times in the past week: How are you dealing with the pressure of fighting for a post-season berth?
For Ward, Nashville's multi-talented forward, the tight race and the uncertainty is anything but a burden.
"We all get asked that a lot these days," said Ward, in reference to the Western Conference playoff chase. "But I love it. It's great. It's exciting, it's dramatic and it's fun. I think we've all embraced that feeling and we're going to do all we can to make this a memorable season."
It certainly helps when your team is playing some of their best hockey.
The Predators, who are one of the league's hottest clubs of late, haven't just been winning games, they've been getting the job done in dramatic fashion.
In a recent game against the Buffalo Sabres, Nashville erased a late two-goal deficit and then proceeded to notch a 4-3 win in overtime, less than 30 seconds into the extra frame.
That was preceded by a 3-1 home victory over Western heavyweight Detroit the evening before, a hard-earned victory for the Central Division squad.
Ward recalls a boisterous dressing room after the win in Buffalo.
"You could definitely say there was some electricity in the room," said the 30-year-old right winger. "It was a great game for us. Blake Geoffrion had the hat trick, we battled back from what looked like it would be a loss and then did in overtime. It was one of those wins that really stirs the emotions and gets you pumped up."
Ward, now in his third season with the Predators, has done an excellent job of stirring up his teammates with his play.
Undrafted in the NHL, Ward played in the Ontario Hockey League with the Owen Sound Platers. After finishing his four-year junior career and his final year of eligibility with the Platers in 2000–01, Ward found a roster spot with the Long Beach Ice Dogs of the West Coast Hockey League to end the season.
An unsigned free agent to start the 2001–02 campaign, Ward went to the Detroit Red Wings training camp on a try-out, but wound up playing collegiate hockey with the University of Prince Edward Island Panthers of the Canadian Interuniversity Sport.
Awarded top rookie honours and a three-time MVP while earning a degree in sociology in his four-year collegiate career, Ward was invited to the Minnesota Wild's training camp in 2006. In his first full professional season, the North York, Ontario native was assigned to the Wild's American Hockey League affiliate, the Houston Aeros, signing his first professional contract for the entire 2005–06 season.
His hard-working ways landed Ward a two-year deal with the Wild on September 27, 2006. He appeared in 11 NHL games with Minnesota during the 2006–07 season, but played a majority of his time with Houston, improving his points totals in each of his three years.
On July 15, 2008, Ward signed as a free agent with Nashville. He made the opening night roster out of training camp for the 2008–09 season and scored his first NHL goal in his first game as a Predator against the St. Louis Blues on October 10, 2008.
In his NHL rookie campaign, Ward netted 17 goals in 79 games and his reliability as a defensive forward and success as a utility scoring forward led him to be re-signed to a two-year contract on July 1, 2009.
It's been a good fit for Ward, who finds himself part of a tight-knit group intent on making inroads towards bringing a Stanley Cup to Tennessee.
And if it's true defence wins Stanley Cups, Ward likes what he sees in Nashville.
"I think we have one of the best defensive teams in the league," offered Ward. "Our blueline is excellent and Pekka Rinne has been a beast. We like what we have here. We feel we have a legitimate shot at doing something special."
As for his contributions, Ward, whose multi-dimensional style makes him a key part in the Predators' playoff fortunes, is primed and ready to deliver.
"I just really want to maintain consistency in my game," said Ward. "I want to be aggressive on the forecheck, try and create some offensive chances and bring energy to every single shift. Whatever I can do to help the team be successful, that's all I want."
A Stanley Cup ring wouldn't be too bad, either.