Making Music in Philadelphia
Ville Leino wields his hockey stick & his guitar as the Flyers get ready for the Cup chase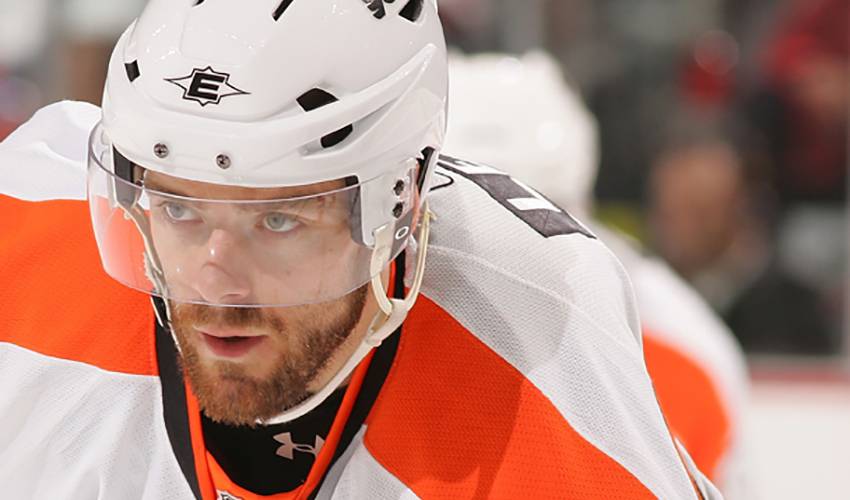 When it comes to getting away from the pressures of the upcoming Stanley Cup Playoffs, there is one pursuit in particular that is literally music to Ville Leino's ears.
He's a key fixture on a Philadelphia team eager to shed last year's tough loss to the Chicago Blackhawks in the Cup final. He's also a man who knows how to truly unwind away from the game.
On the cusp of his first 20-goal NHL campaign, Leino, who is also in his second full big-league season, has found an ideal way to relax when he's not in uniform.
"I love music and I love to play the guitar," said the native of Savonlinna, Finland, which plays host to an opera festival every summer at St. Olaf's Castle, built in 1475. "I listen to a lot of music and I decided a little while ago that I wanted to play guitar. I love it. It's a great way to do something that doesn't take a lot of energy."
On the ice, Leino has provided an abundance of energy in 2010-11 for the Flyers.
It was Leino who scored in the sixth round of a shootout to give the Flyers a 3-2 win over the Dallas Stars in March, securing their 35th trip to the playoffs. Recently, the Finnish forward led Philadelphia to a key 5-2 triumph over state rival Pittsburgh, recording two goals and one assist to pace the attack.
The big efforts, including the three-point night against the Penguins, didn't have the laid-back Leino, talking big.
"I got some lucky chances and I was able to capitalize on them," said Leino, who at age 17, played for his hometown team SaPKo in the Suomi-sarja, before he was recruited into the SM-liiga (the top league in Finland) by Ilves, and later moved on to HPK, where he led the team in scoring in the 2005-06 season. "It was a big win for us. You want to build momentum at this time of the season and to be able to come out on top against a good team, it was important to us."
While the mood was distinctly celebratory in the aftermath of the win, Leino knows the road to the Cup will only continue to get more demanding.
"Everyone was obviously very happy with the win," offered Leino, who broke the Jokerit franchise record for most points in the regular season when he surpassed Timo Sutinen's record of 73, in 2007. "But it takes a lot of effort and dedication to get to the finals. We experienced that last year. We all want to get back there again."
Sitting atop the Eastern Conference in 2010-11, the Flyers, who needed a shootout win in the final game of last year's regular season to make it into the post-season picture, have great expectations this time around.
Leino, however, isn't overwhelmed by the pressure.
"If you focus on what you do best, you don't need to worry," said the 27-year-old, who scored in his NHL debut on January 31, 2009. "Confidence is a big key. When you get a big win or you score an important goal, you build from it."
Leino, who played soccer and volleyball before finally finding hockey, is hoping to continue his hot hand as the regular season nears its conclusion.
"I try my best to focus on puck possession and being able to cycle the puck in the opposition's zone," said the man who was the Finnish league's MVP after recording 28 goals and 49 assists in 55 games for Jokerit in 2007. "The more you are able to control the flow, the more chances you or your linemates will have to score."
As for what he's most proud of when it comes to his game, Leino points to an aspect of his game that has nothing to do with points.
"I wanted to be strong defensively this year and I think it's worked out well," said Leino, who is hovering around the plus-16 mark to date. "When the big games are on the line, defence is key. The more you can neutralize your opponent, then you can get some offensive chances. Playing well in our own end will be a big factor in the playoffs."
And when he's not digging in the corners and creating scoring opportunities for a hungry Flyers squad, Leino will kick back and relax in his favourite way.
"I like when I have the time to either listen to music and play the guitar," offered Leino. "Playing the guitar is something I will always do."
As for whether he has a better shot of becoming a famous musician or playing in a thousand NHL games, Leino goes with the latter.
"I would love to play for a long time in this league" he said. "I enjoy the game and I want to play for as long as I can."