Hockey is life for Marleau
Sharks forward is excited for Cup run & playing the game with his son on the home front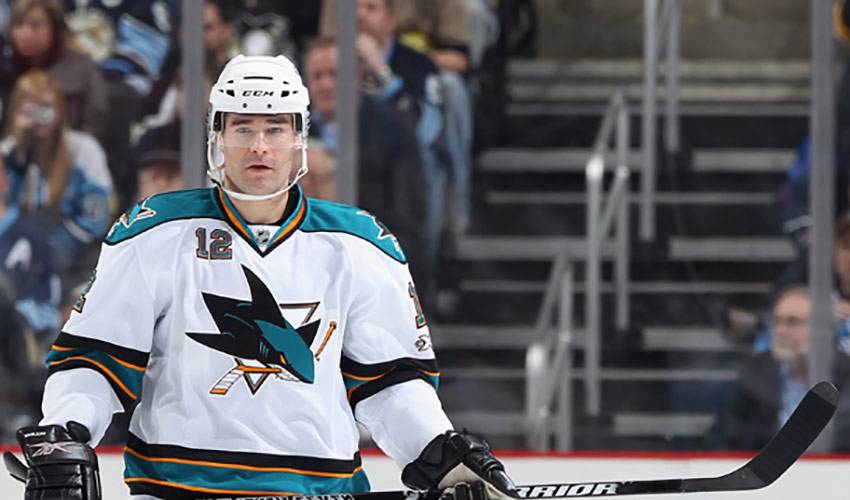 Patrick Marleau doesn't always need a packed-to-the-rafters NHL rink to bring out his love for the game. Sometimes he can get that same rush right in his very own home.
Shortly after Marleau and the San Jose Sharks, the second seed in the Western Conference, sent the Los Angeles Kings to the sidelines courtesy of Joe Thornton's overtime winner, hockey was still on the front burner for the native of Aneroid, Saskatchewan.
"We're obviously elated that we were able to beat a very good team," said Marleau, of the six-game triumph over their California rivals. "But hockey didn't quite end for me the day after. My oldest child is 4 ½ and he just can't seem to get enough of hockey. We play street hockey, kitchen hockey, basement hockey – believe me, if there's a place to play, we do it. I'm sure it drives my wife crazy at times, but its fun."
The post-season, at least so far, has been fun for Marleau and his teammates.
One of the premier offensive talents in the game, the veteran of 1,035 NHL regular season games has carried his strong play into the playoffs, scoring twice and adding three assists so far.
He's hoping to continue to produce in the second round against the Nashville Predators, who eliminated the Anaheim Ducks in six games in their opening-round matchup.
Marleau also knows he and the Sharks can't take anyone lightly.
"Well, it was a huge relief in some ways to get through the first round," said Marleau, who enters the second round with 47 goals and 80 points in 112 career playoff contests. The series had a bit of everything in it for us, some ups and downs and some wild games. Hopefully, we don't have to deal with too many more of those."
It also had one of the more memorable overtime celebrations.
"That was great," said Marleau, of Joe Thornton's spinning back slide on the ice after netting the goal. "To have him score it, a guy who is more known for his passing, is great. He's such an amazing player. And his reaction was priceless. Of course we've been teasing him a bit, but it's all in good fun."
Would Marleau, the all-time Sharks leader in goals, even strength goals, power play goals, points, shots, and games played, consider mimicking Thornton's exuberant celebration if he nets an overtime tally?
"I don't think that will happen," said Marleau, who has spent his entire NHL career with the Sharks since being selected second overall by the franchise in the 1997 NHL Entry Draft. "I'd probably end up hurting myself."
Another thing Marleau, who played in the NHL All-Star Game in 2004, 2007 and 2009, won't be doing is looking back at San Jose's series win over Los Angeles.
"There is no time dwell on things at this time of the year," said the former Western Hockey League standout, who played his NHLPA-recognized 1,000th NHL game on January 17, 2011 against the Phoenix Coyotes. "That's one of my favourite things about the playoffs. You can have a bad game or a bad shift and you just put it out of your mind. You can't worry about things that didn't work out. You always have to look straight ahead."
Marleau doesn't mind looking side-to-side, either, namely taking stock of who he has the luxury of playing with.
"Obviously, you're happy to be playing with these guys rather than against them," offered Marleau of his teammates. "Whether it happens to be younger guys or veterans, we have a very solid lineup. We've hung in there through some rough patches this year and we are all dedicated to doing what we can to be successful."
Marleau, who won a gold medal with Canada at the 2010 Winter Olympics in Vancouver, is hopeful this is the year the Sharks can make a big splash.
"We're confident, but we also recognize what it takes to win the Cup," he said. "It's only going to get tougher and we have to be ready for those challenges."
At the very least, not all the hockey games Marleau takes part in this year will determine San Jose's fate.
"I really enjoy playing hockey with my son," he said. "He loves it. He'll even do the commentating when we're playing."
Maybe dad can get him to announce Marleau as this year's playoff MVP recipient?
"I like the sound of that," laughed Marleau. "But I like the idea of winning it all even better."