The Pursuit of Perfection
Ryan Kesler has been a force for the Canucks, yet his drive to be the best is unrelenting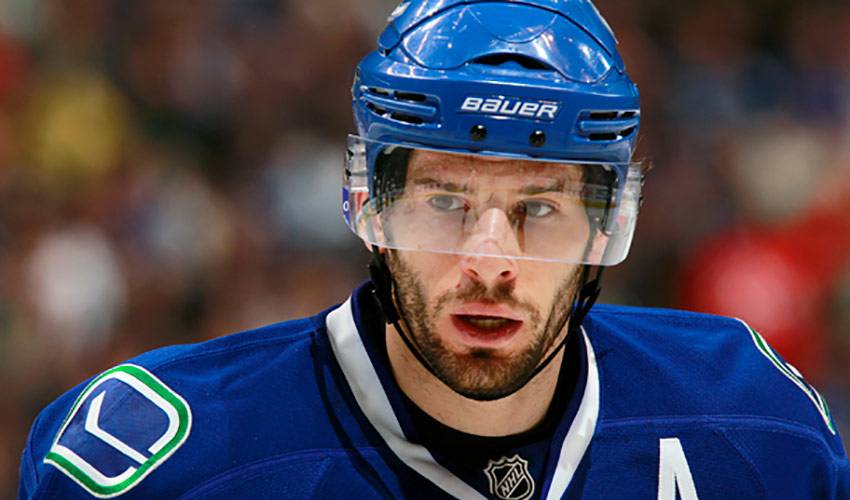 His face tells the tale of just how tough and demanding the Stanley Cup Playoffs are. But Ryan Kesler, Vancouver's Mr. Everything, isn't bemoaning the bruises, bumps and welts that come with the territory.
He's once again a Selke Trophy finalist and his name is also being bandied about as a top contender for the Conn Smythe Trophy as the NHL Playoffs most valuable player.
But it hasn't been all rosy for one of hockey's most complete players.
During Game Five of the Canucks' second-round set against the Nashville Predators, Kesler took a deflected puck to the chin, resulting in stitches and the loss of one tooth.
On this day, though, just two days removed from Vancouver's conference semifinal victory, Kesler can find some humour in the look he's sporting.
"I don't know if my wife ever found my mug that pretty to start with," said Kesler, when he spoke with NHLPA.com. "I suppose my beard would get a passing grade, but there's still some work to be done there."
And there's still work to be done for Kesler and his Vancouver teammates as they continue their push towards delivering the franchise's first Cup triumph.
While there's plenty to speak of when it comes to his contributions this post-season, be it his scoring touch or picture-perfect set-ups, the player who had 15 points in 13 games heading into the Canucks Western final date with the San Jose Sharks, isn't overly keen when the subject turns to his own performance.
"I'll be honest, I don't really like to talk about myself," said Kesler, the 23rd overall selection of the Vancouver Canucks in the 2003 NHL Entry Draft. "For me, to hear the things people say, it truly is humbling and I'm very grateful. But I'm not comfortable speaking about my game."
Plenty of people are, however, including his teammates. From defenceman Kevin Bieksa, to forward Mason Raymond, to goaltender Roberto Luongo, each and every Vancouver player has rave reviews for Kesler, never needing to be prompted when it comes to No. 17.
Others are equally impressed.
Nashville head coach Barry Trotz compared Kesler to Mark Messier, one of hockey's all-time great performers and leaders.
"I'm grateful for all of it, but for me, it's all about how we are doing as a team," explained the 26-year-old native of Livonia, Michigan, who played junior hockey with the U.S. National Team Development Program, from where he accepted a scholarship to play college hockey with the Ohio State Buckeyes of the Central Collegiate Hockey Association. "I don't like resting on any laurels."
But is he happy with the way he's played so far?
"I'm happy that we made it past the second round," chuckled Kesler.
"Obviously, you take pride in scoring. Everyone loves to do that, to come up with a highlight-reel play. But for me, I like things like catching someone from behind and doing those little things that hopefully make a big difference."
Kesler, who played minor hockey in Detroit for teams such as Compuware, Honeybaked, and Little Caesars of the Midwest Elite Hockey League, once considered calling the game quits when he was around 15.
But his competitive drive and willingness to work overtime on every part of his game pushed him to forge on.
He's certainly happy at the decision he made. He also knows that he has and always will be his own harshest critic.
"My assistant coach here in Vancouver called me a perfectionist," offered Kesler, who was also named as a finalist for the Selke Trophy in 2009 and 2010. "He said I'll never be happy with my game."
Kesler is, however, thrilled with the way the team has performed in the playoffs, including the effort of Jeff Tambellini in Vancouver's 2-1, series-clinching win over Nashville.
When a Predators' forward broke free and bore down on Luongo, Tambellini took up the chase, tracked him down, knocked him off the puck and prevented a high-percentage scoring opportunity.
"It was a series-changing moment," recalled Kesler. "When I saw how far back Jeff was, I thought there's no way he's going to get him. I really didn't think he had a chance. And yet he stayed with it the whole way, knocked him down and didn't take a penalty. It was unbelievable."
And while unbelievable is an apt way to describe Kesler's play, the 6'2", 200-pounder doesn't like to go down that road.
Still, he admits it's somewhat humbling to see his name and number on the backs of the Canucks' jerseys fans are sporting.
"It's pretty cool to see that. It really is. Anyone that wants to put your name on their jersey is special."
And anyone that gets to watch one of hockey's best two-way stars working his magic will certainly have plenty to talk about.
That's just the way Ryan Kesler would prefer it.