A Great Person, A Great Athlete
Ted Lindsay Award finalist, Daniel Sedin is a strong presence both on and off the ice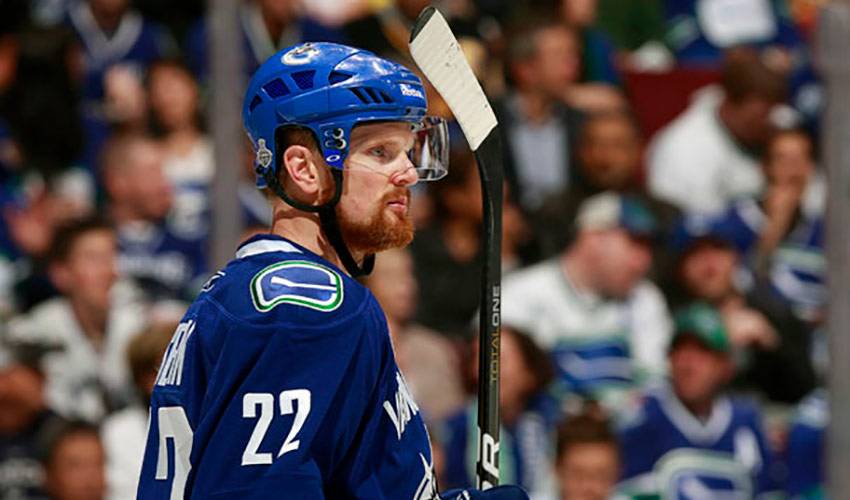 When Ryan Kesler refers to his teammate as 'fantastic, 'great' and 'first-class,' those terms aren't referring to what Daniel Sedin does on the ice.
It's been a banner year indeed for Sedin, who, along with his twin brother, Henrik, have become one of hockey's top one-two offensive punches.
But for all he accomplished in 2010-11, including his status as a finalist for the NHLPA's Ted Lindsay Award (the Most Outstanding Player as voted by the members of the NHLPA), those who know him best are equally appreciative of the person as they are the athlete.
"For as much as you can talk about what he's done over the years, including how great he was this season, I think you can't overlook just how great Daniel is as a human being," said Vancouver teammate Ryan Kesler, of the man who won the Art Ross Trophy as the league's leading point-scorer and was nominated for the Hart Memorial Trophy as the league's most valuable player in 2010-11. "You can say the same of Henrik, too. You won't meet two more first-class people."
Kesler and Sedin have played together since 2003-04 (with the exception of the 2005-05 NHL lockout campaign). And while their playing styles and personalities differ on many levels, the duo has great respect for the other, both on and off the ice.
A veteran of nearly 500 NHL regular season games, Kesler has watched, first-hand, as Sedin, who has nearly 800 games to his name, blossomed into a bona fide superstar and a fan favourite.
"He really does seem to get better and better every year," said Kesler, of the second overall selection in the 1999 NHL Entry Draft.
"That's one thing you obviously admire about him. He works hard on every part of his game and wants to get stronger in every facet."
Born and raised in hockey-rich Örnsköldsvik, Sweden, Sedin began his professional career in the Swedish Elite League with Modo Hockey in 1997 and was co-recipient, with Henrik, of the 1999 Golden Puck as Swedish player of the year.
He played four seasons with Modo (including a return in 2004–05 due to the NHL lockout), helping the club to consecutive appearances in the Le Mat Trophy Finals, in 1999 and 2000. Sedin moved to the NHL in the 2000–01 season and has spent his entire NHL career in Vancouver. Following a breakout 2005–06 season with the Canucks, Daniel has since recorded six consecutive campaigns of at least 20 goals and 70 points.
On the international stage, Sedin has competed for the Swedish national team. In addition to being a two-time Winter Olympian, he has skated in two European Junior Championships, two World Junior Championships and four World Championships. He won a gold medal at the 2006 Winter Olympics in Turin, and bronze medals at the 1999 and 2001 World Championships.
His impact on the game, however, extends far beyond the rink.
In March of 2010, Daniel and his wife, Marinette, made a joint $1.5 million donation, along with Henrik and his wife, Johanna, to the BC Children's Hospital's $200-million project for a new building. The two families requested the funds be put towards a pediatric intensive-care unit and a diagnostic imaging area.
"That's a perfect example of just who Daniel and Henrik are," said Kesler. "They are extremely giving people that care about their community and in wanting to make a difference. They have great respect for the fans and for the people of Vancouver."
Mike Gillis, General Manager of the Canucks, sees Daniel and Henrik in much the same light.
"They are two guys that have incredible character and are great leaders here on our team, and they've taken their game to another level," praised Gillis. "They have been nothing but exemplary both on and off the ice, and they will be the players that define this organization moving forward."
Kesler is grateful to be in the position of playing with the Sedins rather than having to play against them.
"Definitely," he said. "You consider yourself pretty fortunate to play alongside two great players and to be associated with two great people. Everyone on the team feels that way. I'm happy that Daniel is a finalist for the Ted Lindsay Award. He's had a great year for us."