The Silver Stick Club
Hal Gill feted in both Pittsburgh and Montreal in honour of his 1,000th game played milestone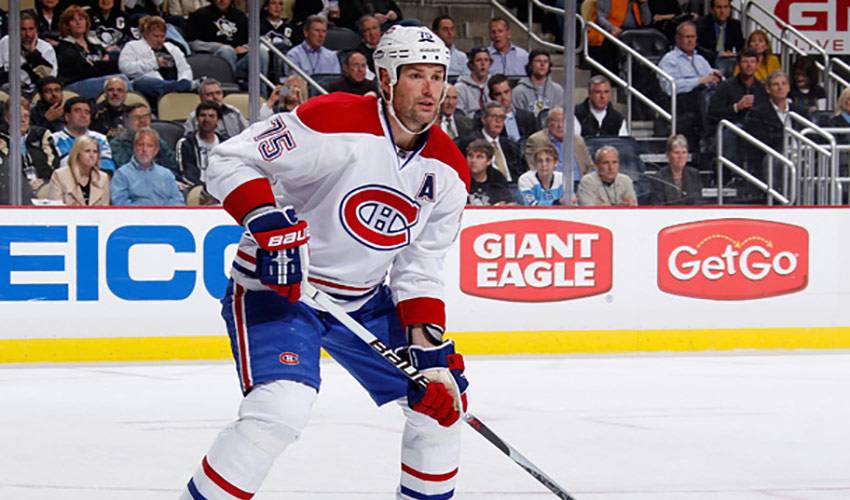 It's not often that home fans offer a heartfelt ovation to a member of the opposition. But that's just what Hal Gill received in a recent road trip game in Pittsburgh.
On the eve of his 1,000th NHL game on October 20, Gill, who patrols the blue line for the Montreal Canadiens, was given a standing ovation during a TV timeout, a warm welcome back for the player who left the Penguins to sign as a free agent with the Habs just over two years ago.
His time in Pittsburgh was captured on the arena's big screen, showing Gill hoisting the Stanley Cup in 2009, a gesture that was thoroughly appreciated by the 36-year-old Massachusetts native.
"It was nice and I certainly wasn't expecting it," said Gill, in speaking with NHLPA.com the day after his milestone moment. "I love Pittsburgh and the organization. The fans were great to me when I was there."
But, for anyone who knows Gill, the most memorable, or least memorable, to be more specific, memory of the game, was the 3-1 loss to Pittsburgh, as the Canadiens continued their early-season struggles.
"I would be much happier if we could get some points and wins, to be honest," said Gill, who was also given a silver stick by Canadiens legend Henri Richard on behalf of the organization on October 22, prior to Montreal's home game against Toronto. "It's been a tough start, but we're all focused on turning that around."
Having a veteran presence like Gill, who was selected in the eighth round, 207th overall in the 1993 NHL Entry Draft by the Boston Bruins, in the mix, will certainly go a long way in reversing their current fortunes.
He spent four years playing for Providence College, entering the NHL ranks during the 1997–98 NHL season, where he played in more than 600 regular season games over eight seasons with the Bruins. During the canceled 2004–05 NHL lockout season, Gill played for Lukko in the Finnish SM-liiga.
On July 1, 2006, Gill inked a three-year deal with the Toronto Maple Leafs. Two and half years later, he was dealt to the Penguins for a second-round draft pick in the 2008 NHL Entry Draft and a fifth-round pick in the 2009 NHL Entry Draft.
Gill played a large part in helping the Pens win the Eastern Conference and advance to the 2008 Stanley Cup Finals, where they lost in six games.
One year later, he and his teammates celebrated a Cup victory when they defeated the Detroit Red Wings at Joe Louis Arena in seven games.
"It's been better than I could have ever imagined," said Gill, of his long NHL career. "I've been lucky in many ways, including not having to deal with any big injuries."
His philosophy hasn't changed since he skated in his first big-league game.
"The way I've always approached the game is to do something to help the team, whatever it may be," said the 6'7, 250-pounder. "You hope to make a difference in some form. I suppose early on my outlook was to do whatever I could to keep my job."
His formula for success has certainly worked, as Gill, an alternate captain with the Canadiens, shoots for another Stanley Cup with a team he has seen 25 games of playoff action with.
Gill, understandably, has no regrets opting for a hockey career over a chance to shine as a football quarterback, something he did with great success during his days Nashoba Regional High School in Bolton, Massachusetts.
"I guess I did the right thing," he said with a laugh. "But you never know, maybe I could have given (Canadian Football League superstar) Anthony Cavillo a run for his money, I suppose we'll never know."
And as for his inclusion into the 1,000 games played club, Gill believes it will become even more meaningful once he finally hangs up his skates.
"When you're in the midst of everything, you really don't have much time to reflect on your career," said Gill, who was joined this week by fellow NHLPA member Joe Thornton as the newest entrants to hit the 1,000-game mark. "But I'm truly appreciative of everything, including the support of my family, friends and the fans. Hopefully, there are still more good things to come."
Based on Hal Gill's track record, it seems like an absolute certainty.