Never Giving Up His Fight
After going undrafted, Devils forward David Clarkson continues to proves his naysayers wrong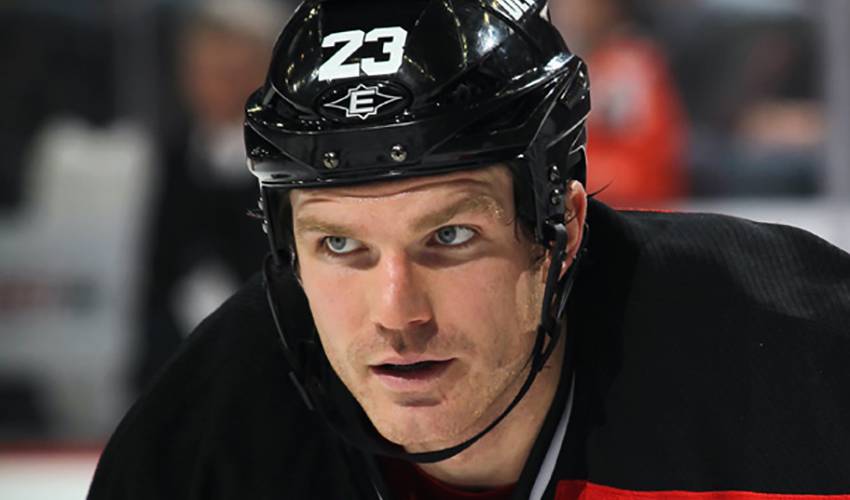 He was undrafted, seemingly unwanted and unsure if he'd ever find a spot in the NHL. But patience, perseverance and passion for the game delivered David Clarkson just what he was looking for.
It's not as though Clarkson, who hails from just outside of Toronto, was lacking solid credentials, traits that would make him an attractive pick for any big-league team.
But, for whatever reason, the feisty forward who showcased physical prowess and capable offensive skills, didn't hear his name called during the NHL Draft. Clarkson, in typical fashion, didn't give up the fight.
"There certainly weren't any guarantees and at one time, I wasn't quite sure if I would ever make it," said Clarkson, who scored 17, 22 and 33 goals, respectively, in his three Ontario Hockey League seasons with Kitchener (he also appeared in three games with Belleville Bulls), winning a Memorial Cup with the Rangers in 2003. "You can't always control your own destiny. All you can do is work hard and hopefully, someone sees something in you that they think would make a good fit for their team."
Enter the New Jersey Devils.
After a 54-point campaign in just 31 games with Kitchener in 2004-05, Clarkson, then 21, was signed as a free agent by the Eastern Conference squad.
He was assigned to the Albany River Rats of the American Hockey League one month later and went on to play the majority of the 2006–2007 season with the Devils' new farm team, the Lowell Devils, before being a late season call-up to New Jersey.
Clarkson appeared in his first game on March 15, 2007 at Carolina. Two days later, he scored his first NHL goal and recorded his first assist in a 7–2 loss to the Carolina Hurricanes. In seven games, he contributed four points.
The following season, Clarkson took part in the ""Young Stars" game in Atlanta during the 56th NHL All-Star Game event, scoring once and adding two assists.
Not bad for a player who at one time wasn't on the radar of any NHL teams.
"I've tried to bring a style of hockey where people hopefully say, 'That guy is giving it his all and goes hard each time he's on the ice,'" said Clarkson, who had an NHL career-best 17 goals in 2008-09, appearing in all 82 regular season games. "I suppose it comes down to a belief in yourself and a realization that you can always get better at something."
Clarkson, who had 24 points in 46 games in 2009-10, also understands a tough campaign isn't always a negative.
"Last year, I don't think anyone in our room could put up their hand and say it was a good one," offered Clarkson, who tallied 12 times in a season that saw the Devils miss out on the Eastern Conference playoffs. "It was a tough year. I worked on some things over the summer, hoping it would make a difference this season."
His blueprint for success certainly seemed to be a well-designed one.
Already in double digits in goals, Clarkson is playing some of the best hockey of his career, combining his physicality with a touch of offence, as New Jersey seeks a return to the post-season.
"I want to be the player who is out on the ice with a minute left and the game is on the line," he offered. Maybe I block a shot trying to keep a 1-0 lead, or maybe it's something else that can help get us the win."
It's just the way his childhood idol, Wendel Clark, played the game.
"The way he'd score a big goal or take the guy down in a big fight, I always admired the way he played," said Clarkson, of the veteran of 736 NHL games who was known as 'Captain Crunch.'
He laughs when he recalls meeting Clark at recent Hall of Fame inductee Doug Gilmour's house a few years ago.
"Doug had a charity bowling tournament and invited a few guys back to his place after," recalled Clarkson, who was honoured with the Ted Scharf Award in 2002-03 and 2003-04 for being the Kitchener Rangers Humanitarian of the Year. "I turn around and there's Wendel Clark. He said something like, 'Hi, David, it's nice to meet you.' Then, it was dead quiet. There I am, at 24 years old, and I was speechless."
Clarkson, however, isn't at a loss for words when it comes to his career and how things have panned out.
"You think about those times when you played seven games in three days at a tournament, or when you were on the outdoor rink and you'd be out there for a long time, come in for dinner, and then be right back out," offered the 27-year-old, whose Clarky's Kids charity helps Kitchener families dealing with childhood cancer. "To be where I am now, it's been great. There was a time where there was a perception I wasn't big enough or tough enough to play at this level, but I'm glad the way things have gone."
Even better, David Clarkson will proudly tell you, than he could have ever imagined.